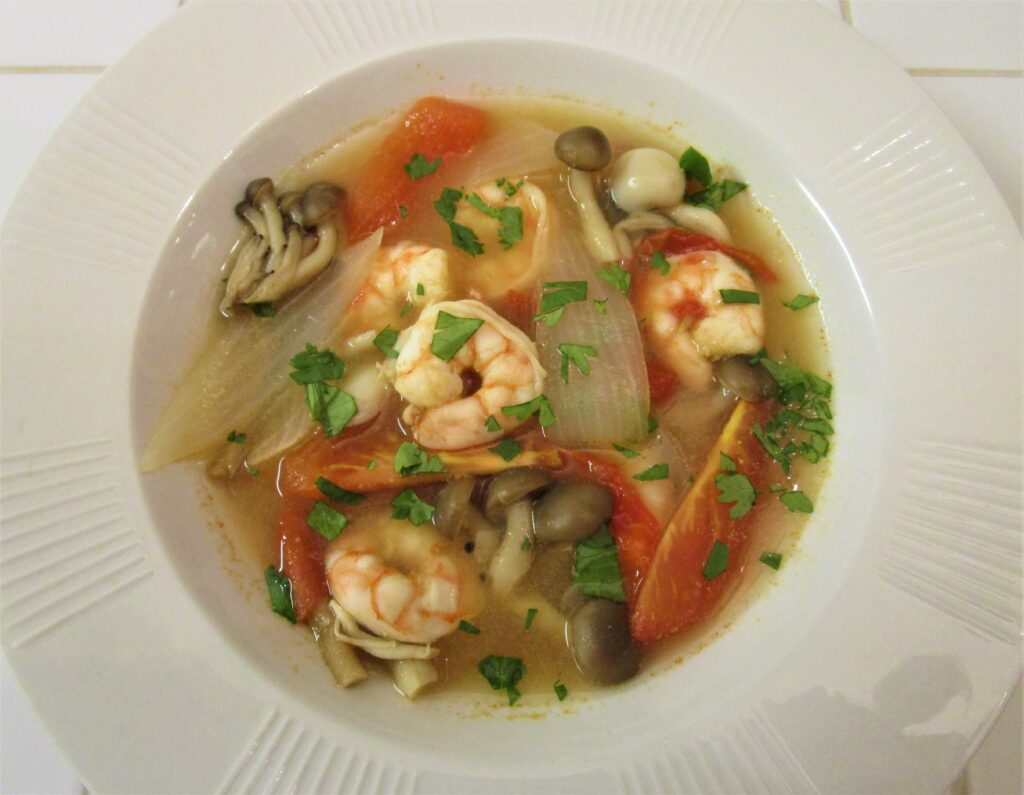 "One year on my birthday/Easter weekend, a college friend was passing through town with his family and stopped by to have lunch with me. We went to my favorite Thai restaurant and ate family style, which was nice since I got to try some dishes I had never had before. One of them was Tom Yum Soup. It was surprisingly addicting. This recipe tastes exactly like what I had there in the restaurant." – April Ferre
Tom Yum Soup (Tom Yum Goong Nam Sa)
Ingredients
3

Cups

Water

1/2

Cup

Chicken Broth

10

Ounces

Whole Prawns

– Or Shelled Prawns and 1 1/2 Teaspoons Shrimp Paste

2

Stalks Lemongrass

– Or 1 Tablespoon Lemongrass Paste

1.5

cm

(3/5-inch) Piece Galangal, Cut Into 4 Slices

– Or the Approximate Equivalent Dried Galangal Slices

5

Makrut Lime Leaves

Torn (See Note)

1 to 2

Thai or Birdseye Chilies

3

Large Garlic Cloves

1/2

White Onion

Cut Into Wedges

4

Ounces

Oyster Mushrooms

2

Roma Tomatoes

Cut Into Wedges

1

Teaspoon

Sugar

3

Tablespoons

Fish Sauce

3

Tablespoons

Lime Juice

Cilantro

Chopped, For Garnish
Instructions
For Broth:
Note: If using dried galangal, rehydrate in warm water approximately 30 minutes before cooking. Do not discard water, use it as part of the 3 cups water in the broth.

Into a large Dutch oven place:

Prawn heads and shells: If using whole prawns, place heads and shells in a Dutch oven, set tail meat aside. If using shelled prawns, add shrimp paste.

Lemongrass: Cut lemongrass stalks in half, discard tops and tough outer layers. Cut bottom part of the stalk in half again. Use the side of a cleaver to smash the lemongrass so that it bursts open and can release its flavors; add to the pot. Alternatively, stir in lemongrass paste.

Galangal: Fresh or rehydrated dried slices.

Thai Chilies: Slice open chilies.

Garlic: Smash garlic cloves as you did the lemongrass stalks.

Bring all ingredients to a simmer over high heat, then reduce heat to medium low, cover and simmer for 10 minutes.

Strain the broth and discard the solids. Return the broth to the same pot and simmer over medium-low heat.
To finish the soup:
Add onions and mushroom, simmer 3 minutes.

Add tomatoes and simmer 1 minute more.

Add prawns and simmer 1 minute.

Add sugar and fish sauce and simmer 1 minute more.

Remove from heat and add lime juice.

Taste broth and adjust to your taste: add sugar for more sweetness, fish sauce for saltiness, or lime juice for sourness.

Ladle into bowls and garnish with cilantro.
Variations:
Creamy Tom Yum Soup (Tom Yum Goong Nam Khon): When you add sugar and fish sauce, also add 1 1/2 Tablespoons Thai Roasted Chili Sauce and 1/3 Cup Evaporated Milk.

Tom Kha Goong: When you add sugar and fish sauce, also add 1 1/2 Tablespoons Thai Roasted Chili Sauce and 1/3 Cup Coconut Milk.
Notes
About Makrut Lime Leaves:  This is the less well known name for the specific variety of lime leaves commonly used in Thai cooking.  The more common name, unfortunately, is also an offensive racial slur, so I will not be using it here.  If you have any question about this ingredient, please do a google search and help educate others by using the term "Makrut" or simply refer to the plant as the Thai lime. 
2021 Recipe – April Ferre – Adapted from RecipeTin Eats