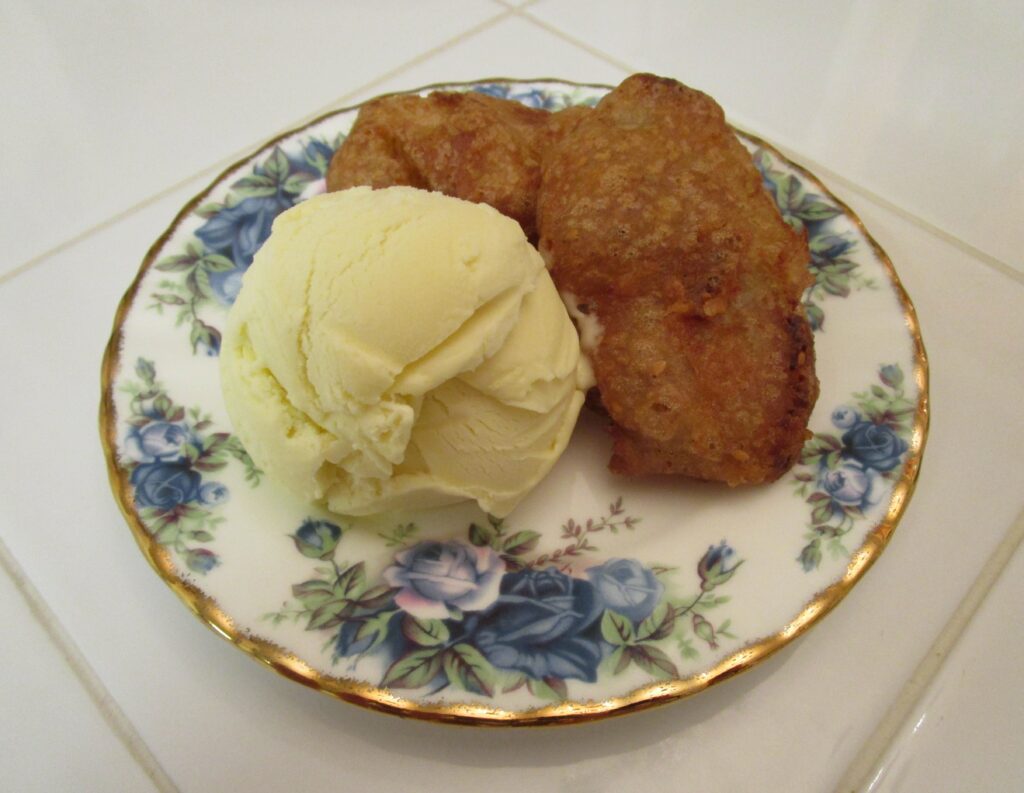 "A long time ago I had the most fantastic coconut ice cream with fried banana at a local Thai restaurant. I think this batter with toasted sesame seeds and extra coconut might be even better!" – April Ferre
Thai Fried Banana
Ingredients
1/3

Cup

Dried Unsweetened Coconut

2

Tablespoons

Water

3/4

Cup

Rice Flour

1/4

Cup

Sugar

1/2

Teaspoon

Salt

1/2

Teaspoon

Baking Powder

1 1/2

Tablespoon

Sesame Seed

Toasted

1/3

Cup

Water

2

Sweet Plantains

(See Note)

Oil For Frying
Instructions
Rehydrate dried coconut for 10 to 15 minutes in 2 Tablespoons Water.

In a medium-sized mixing bowl, combine rice flour, sugar, toasted sesame seeds, salt, baking powder and shredded coconut. Add water and stir until well combined.

If using plantains, peel and cut them crosswise into 3 equal sections, then slice each section horizontally into 4 pieces. Add about 1½ inches of oil to a pot and heat to about 325 degrees.

Dip the bananas into the batter and fry for about 5 minutes, until they are a deep brown color. Maintain the frying temperature below 350 degrees. When done, let drain on paper towel or a rack. Note: Based on your first batch, you can decide if you want a thicker or thinner coating by adding more flour or water.

Let bananas cool for several minutes before serving and the coating will crisp up once cooled.

Serve as soon as they are cool and crisp with Coconut Custard Ice Cream.
Notes
The original recipe called for the plantains to be at least 60% black.  I tried this recipe with plantains at several stages of ripening.  To my taste, I preferred them when they were just getting a bit soft and had only a little bit of black.  They were still sweet with just a hint of tart and had more fresh taste like regular bananas with just a hint of green.  When they were mostly black, they taste more like bananas when they have started to get brown spots. 
2020 Recipe – April Ferre – From Hot Thai Kitchen
Related Recipes: