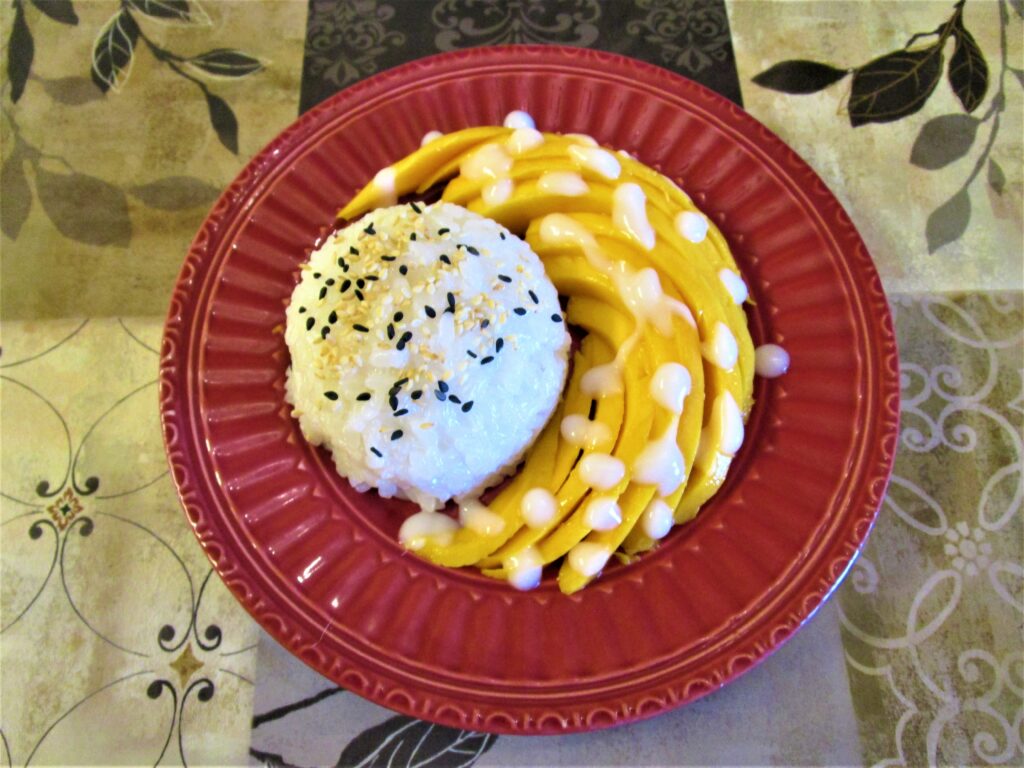 "In summer of 2022 after getting bored trying to eat odds and ends out of my pantry, I had a craving for Thai food. During that time I added my Thai Red Curry with Shrimp & Pineapple recipe and also this coconut sticky rice. It is something I had wanted to try for awhile, especially because I love mango. At first I thought it might be a bit of a pain to make, since I didn't have the traditional sticky rice steamer pot, but wrapping the rice in cheese cloth and putting it in my normal steamer basket worked great." – April Ferre
Thai Coconut Sticky Rice with Mango (Khao Niew Mamuang)
Ingredients
2

Cups

Sweet Rice

1 19-

Ounce

Can Coconut Milk

Divided

9

Tablespoons

Sugar

Divided

1/2

Teaspoon

Salt

2 to 3

Large Mangoes

Toasted Sesame Seeds

For Garnish
Instructions
In a large bowl, wash rice until water is almost clear. Soak rice in water overnight, 12 to 24 hours.

To make the coconut cream sauce: In a small bowl, combine 2/3 cup coconut milk and 3 Tablespoons sugar. Bring to a boil and then reduce heat and simmer until thickened to desired consistency, stirring occasionally. Remove from heat and set aside.

Line a colander with cheesecloth. Pour in rice to drain. In a large both with a steamer insert, bring water to a boil.

Wrap the rice in the cheesecloth and place into the steamer insert, distributing the rice evenly. Steam the rice for 15 to 20 minutes or until the grains become translucent.

While rice is steaming, combine the remaining coconut milk, 6 Tablespoons sugar and salt in a small saucepan. Heat the mixture over medium heat, stirring well until the sugar is dissolved. Do not boil, but keep warm.

When rice is cooked, transfer to a large bowl and add warm coconut milk. Stir to combine. Cover bowl with a dish cloth and let sit for at least 5 minutes or until the rice absorbs all the coconut milk.

In the meantime, peel and thinly slice the mangoes.

Place a scoop of stick rice on a small serving plate (a 1/2 cup measuring cup makes a nice mold), garnish with toasted sesame seeds and serve with sliced mango drizzled with coconut cream sauce.
2022 Recipe – April Ferre – From the Forked Spoon