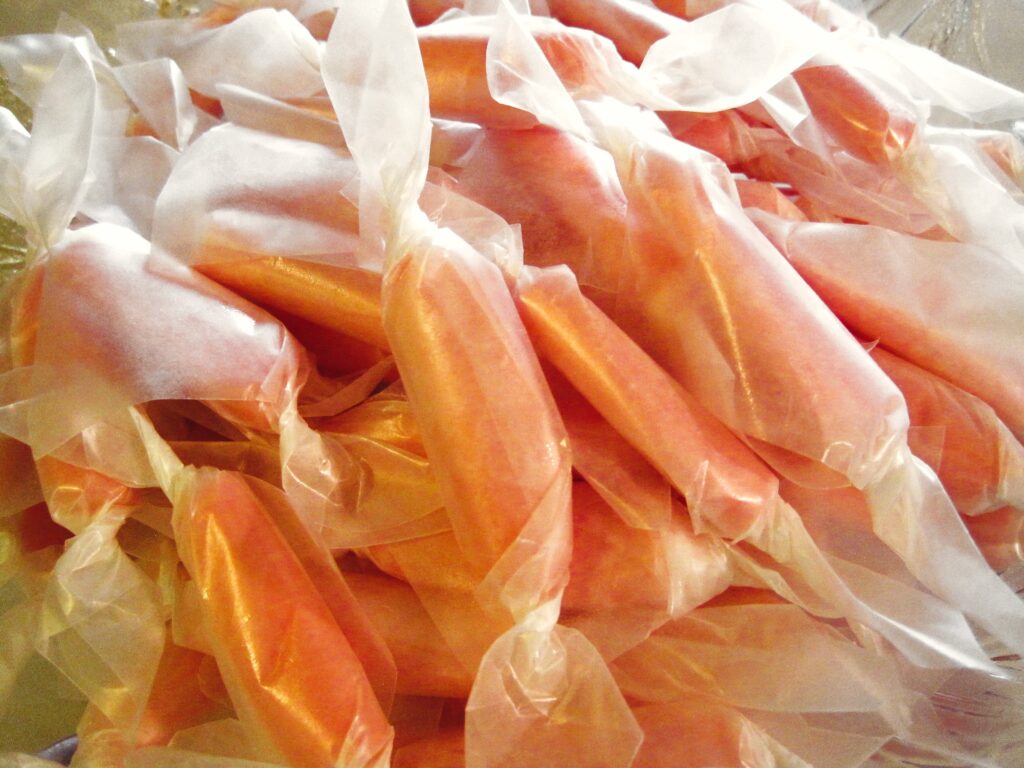 "I made my first attempt at taffy 17 years ago, and like most first time taffy makers, my candy came out hard as a rock. The flavor was great, but it was more of a mint lozenge than a chewy taffy. I did some research this time and found two great resources: a blog called "Boiling Sugar" and a website called "The Science of Cooking." Using their suggestions, I gave it another try, and presto! A nice chewy candy. I used 3/4 teaspoon Raspberry Flavoring and 3/4 teaspoon vanilla, with the goal of making Raspberry Cream Taffy. The raspberry flavoring was underwhelming. You may need to experiment with the amount of flavorings individually until you get it just how you like it. " – April Ferre
Taffy
Ingredients
2

Cups

Sugar

2

Tablespoons

Cornstarch

3/4

Teaspoon

Salt

1

Cup

Corn Syrup

3/4

Cup

Water

2

Teaspoons

Glycerine

1

Teaspoon

Vanilla or Other Flavorings And Extracts

Few Drops Food Coloring

Optional
Instructions
Butter a baking sheet and chill in the freezer until ready to pour candy.

Combine the sugar, salt and corn starch in a 3- to 4-quart saucepan. Add corn syrup, water, and glycerine; mix well. Place over medium heat and stir constantly until sugar is completely dissolved.

When syrup come to a boil, brush down the edges of the pan with a pastry brush dipped in water. It is important to remove all sugar crystals from the side of the pan or else they may cause the mixture to recrystallize later. Clip on candy thermometer and let boil undisturbed until the mixture reaches 265 degrees. DO NOT allow syrup to rise above 265 degrees, or else candy could turn out hard.

Remove from heat and add butter; stir well to combine. Allow to cool slightly, to approximately 240 degrees. Add flavorings and food coloring.

Pour out onto buttered baking sheet. As taffy begins to cool, lift edges towards the center. Continue to do so until taffy becomes cool enough to handle.

With buttered hands, stretch and pull taffy until it becomes opaque and is cooled to room temperature. Your goal with the stretching is to incorporate as much air as possible to yield a soft, chewy candy. When you see parallel ridges start to form, you are done pulling.

Take 1/5 of the candy and roll into a 1/2-inch rope; place on a buttered surface. Repeat for remaining candy. Using buttered scissors or knife, cut taffy into 1-inch pieces. Wrap in waxed paper and store in an airtight container. Makes approximately 1 pound.
Notes
For concentrated flavorings such as LorAnn's Oils use 1/4 teaspoon.
Butter: May alternatively be added at the beginning of the cooking process with the corn syrup and water. Adding butter during cooking will change the flavor profile, giving it a richer flavor with a hint of caramel. Adding it at the end gives the candy a lighter flavor.
Glycerine: Can be found in drugstore and supermarkets or at craft stores such as Michaels in the baked good section or with cake decorating supplies. Make sure you buy food-grade glycerine. It is glycerine that gives taffy its soft, creamy consistency.
Cornstarch: Works with glycerine to give taffy a smoother texture and to avoid a plastic texture. It also helps to make the final product less sticky.
2012 Recipe – April Ferre – From Boiling Sugar and www.exploratorium.edu/cooking/candy