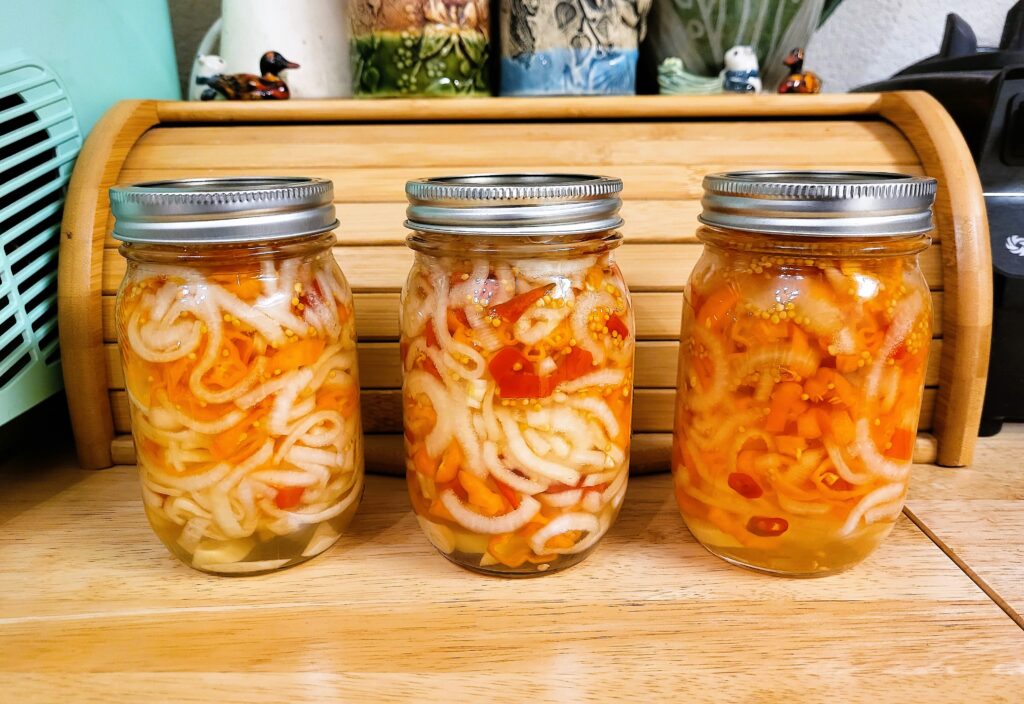 "My brother, Tom, likes spicy foods. And I mean SPICY. For Christmas I had thought to bring him some fresh Thai chilies that he couldn't find at home. As it turned out, they aren't available in the winter., but there were some beautiful habañero peppers. I had been doing a lot of canning that winter and something gave me the idea to make something fun with them. I had a few Thai Bird's Eye chilies in the freezer that I thought would also add a pretty color, so I included those as well. Really, you could choose any combination of peppers available to you for this, but I think the habañeros are so pretty. Of course, I'm a spice wuss, and these would kill me, so I've never tried them personally, but Tom seems to like them and that's what matters!" – April Ferre
Sweet & Spicy Habañeros and Onions
Ingredients
3

Medium White Onions

1 to 2

Tablespoons

Pickling Salt

1

Pound

Habañero Peppers

1

Handful

Thai Bird's Eye Chilies

Optional

3

Cups

White Vinegar

3

Cup

Sugar

4

Teaspoons

Mustard Seed

4

Cloves

Garlic

Sliced in Half
Instructions
Slice onions into 1/4-inch slices. In a large bowl, combine onions and salt. Let sit 1 hour, stirring occasionally. Rinse and drain onions.

Slice habañeros into 1/4-inch rings and remove seeds. If also adding Thai chilies, do the same with them. Combine peppers and onions.

In a medium saucepan, combine vinegar and sugar. Bring to a boil over medium heat and boil 1 minute. Reduce heat allow to simmer.

Prepare 4 hot, sterilized pint mason jars.

Into each jar add 1 teaspoon mustard seed and a clove of garlic. Pack peppers and onions into the jars and pour over hot brine leaving 1/2-inch headspace. Remove air bubbles, clean rims of jars and attach two piece lids.

Process in a boiling water bath for 10 minutes. Makes 4 pints.
2022 Adapted Recipes – April Ferre – Adapted from Cayenne Diane