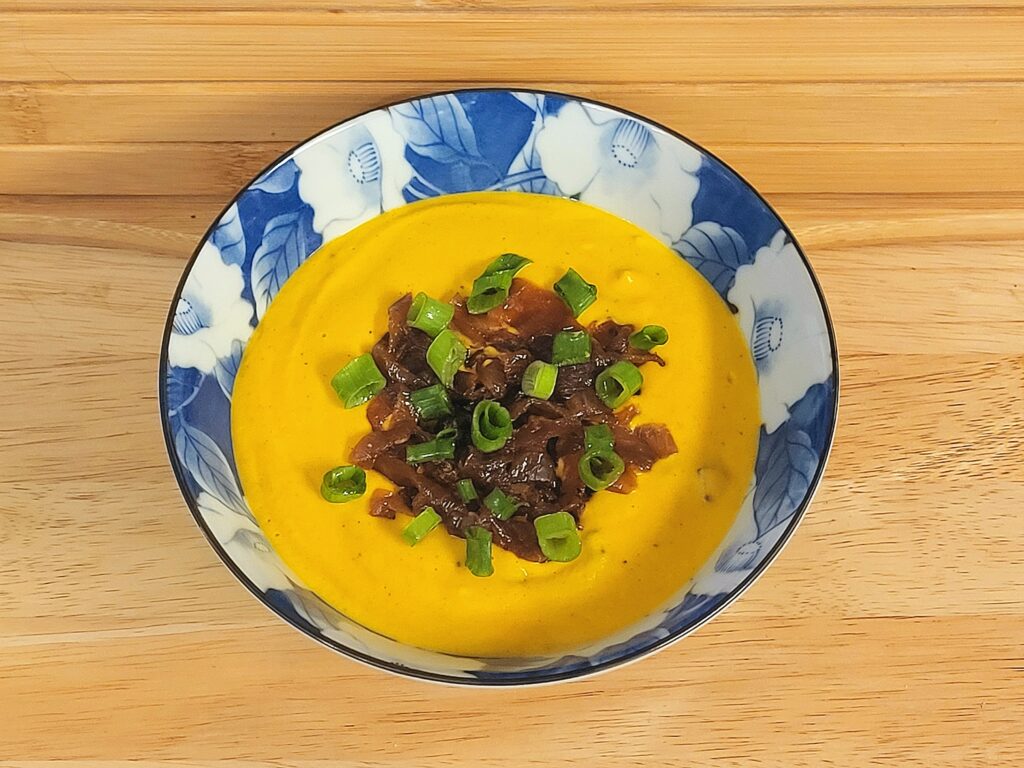 "We were eating sweet potatoes fairly often at one point; I was trying to expand my soup recipes, and I came up with this." – Calla Ferre
"The original recipe Mom gave me was just a list of ingredients, but when I went to make it, I decided to write down some measurements. I'm not sure how close they are to how she would make it, and I did make a couple additions. I saw the nice brownings from the bacon at the bottom of the pan, and it seemed to be a shame to lose them, so I deglazed with some sherry. I also had some caramelized onions in my fridge and thought they might go well on top, and they did!" – April Ferre
Sweet Potato Soup
Ingredients
2

Sweet Potatoes

Peeled & Cubed

4

Strips

Bacon

Chopped

1

Medium Onion

Chopped

1

Stalk

Celery

Chopped

1

Cup

Frozen Peas & Carrots

1/4

Cup

Dry Sherry

Optional

2

Cups

Milk or Cream

1

Teaspoon

Salt

Or To Taste

1/4

Teaspoon

Pepper

Or To Taste

Caramelized Onions

Optional, For Garnish

Green Onions

Optional, For Garnish
Instructions
Boil sweet potatoes until soft.

Fry bacon in a Dutch oven until crispy. Remove bacon to a dish.

Add onions and celery and cook until translucent. When almost finished, add peas and carrots and cook until heated through.

If desired, deglaze with dry sherry to loosen the brownings from the bottom of the pan. Cook another minute until sherry is mostly absorbed. Remove from heat. Stir in sweet potatoes.

Combine sweet potato mixture and cream in a blender and blend until smooth.

Return soup to the pan and add bacon, salt and pepper, then heat the soup on low until hot.

Serve soup garnished with caramelized and/or green onions.
2010 Original Recipe – Calla Ferre, Updated in 2023 by April Ferre
Related Recipes: