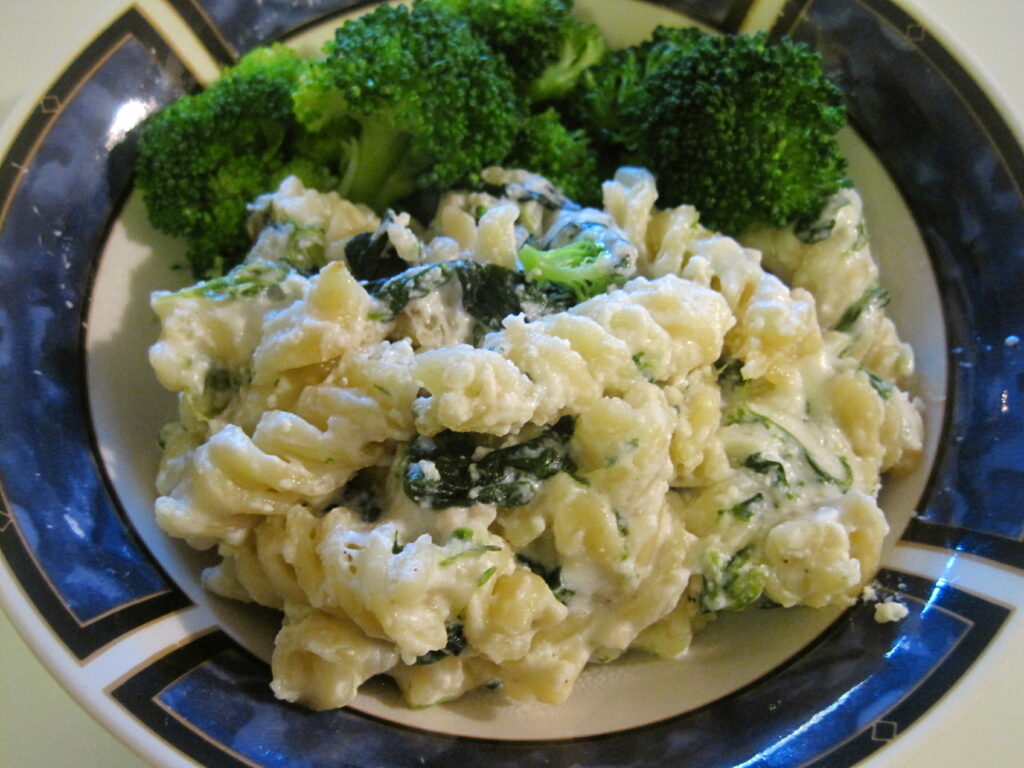 "I needed to use up some extra ricotta cheese, so I tried this recipe. Since it came from Gayle's Bakery, I knew it would be good. The gorgonzola sauce has a good flavor, that isn't too strong. It makes for a nice "grown up" Mac and Cheese. I opted for Rotini pasta instead of shells, since it holds sauce a little better, but you can use any shape that you like." – April Ferre
Spinach-Gorgonzola Pasta
Ingredients
4

Cups

Milk

3

Tablespoons

All Purpose Flour

3

Tablespoons

Butter

10

Ounces

Gorgonzola Cheese

4

Pinches

Nutmeg

1/2

Teaspoon

Pepper

1

Pound

Large Pasta Shells

2

Bunches Fresh Spinach or 1 10-Ounce Package Frozen

3/4

Cup

Ricotta

3

Cloves

Garlic

Minced

Salt & Pepper

To Taste

1

Cup

Parmesan Cheese

Grated
Instructions
Preheat oven to 375 degrees. Cook the pasta in salted boiling water for 8 to 10 minutes, until al dente. Drain and set aside.

In a heavy saucepan over medium heat, heat milk until hot but not boiling.

At the same time, combine flour and butter in another heavy saucepan. Stir over medium heat with a wooden spoon or whisk until the mixtures has gently bubbled for 2 minutes. Be careful not to brown the flour.

Begin to add the hot milk to the flour mixture a little at a time while whisking vigorously. Continue to add the milk until it is fully incorporated. Bring the mixture to a boil, reduce the heat to low, and simmer, stirring constantly, until the mixture thickens, about 6 to 8 minutes. It will look like heavy cream. Crumble the cheese and add it to the hot bechamel sauce, whisking continuously until smooth. Add the nutmeg and pepper and stir. Remove from heat and let cool.

If using fresh spinach, blanch it 1 to 2 minutes in a little boiling water. Drain it, let it cool, and squeeze all of the water out several times. If you are using frozen spinach, let it defrost in a sieve over a bowl. Squeeze all the water out by hand.

Toss the pasta, Gorgonzola sauce, spinach, ricotta, half of the Parmesan cheese, and garlic in a large bowl until well combined. Taste and correct for salt and pepper.

Place in a 12×17-inch casserole dish and top with the rest of the Parmesan cheese. Bake for 20 to 30 minutes, until cheese browns a little. You may make this a day ahead and before baking, refrigerate well covered.
2012 Recipe – April Ferre – Gayle's Bakery and Rosticceria