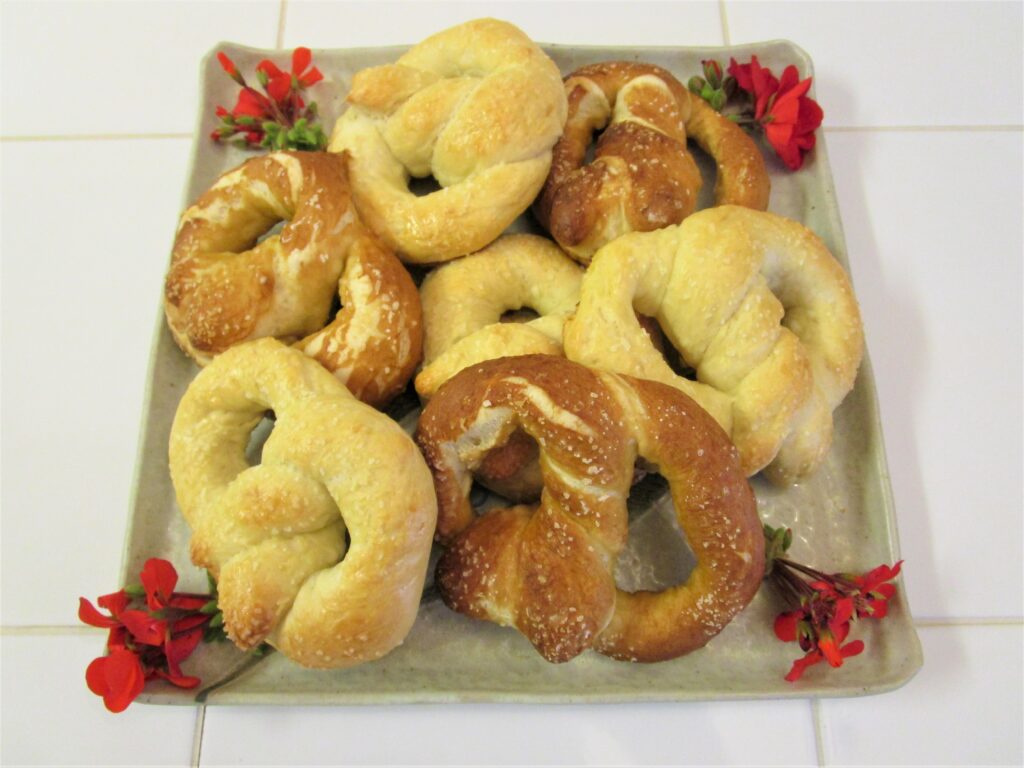 "We made these during after-school care at Mid County (now Twin Lakes) Christian School. This would have been around the 3rd or 4th grade, and we had a great time shaping the dough into different animal shapes … and then biting their heads off after they were baked!
When I went to make these again in 2021, I came across some instructions for doing a traditional baking soda bath. This gives the pretzels a more traditional pretzel taste and distinctive look compared to the egg wash. There were also instructions for cinnamon-sugar pretzels and these are my favorite!" – April Ferre
Soft Pretzels
Ingredients
1 1/2

Cup

Water

Warm

1

Package

(2 1/4 Teaspoons) Active Dry Yeast

1

Tablespoon

Sugar

Brown or Granulated

1

Teaspoon

Salt

1

Tablespoon

Butter

Melted & Cooled

4

Cups

Flour

Plus Extra for Kneading

Finishing Ingredients

See Options Below
Instructions
In large bowl, mix together water and yeast. Allow to rest for a minute. Mix in sugar, salt and butter.

Add in flour 1 cup at a time, mixing well after each addition until dough is no longer sticky and forms a ball. Rest for 10 minutes.

Knead dough on table until dough is smooth, about 3 minutes. Shape dough as desired, originally these were made into animal shapes. Alternatively, divide the dough into 12 even portions and roll into a long, thin rope, then twist into a pretzel shape.

Place onto baking sheets lined with silicone mats or parchment paper greased with butter or non-stick spray.

Choose your finishing method (below.)

Bake in 425 degree oven for 12 to 15 minutes or until browned.

Pretzels may be frozen and reheated in the oven at 350 degrees for 20 minutes.
Finishing Methods:
Egg wash (Original Recipe): Brush pretzels with a well beaten egg and sprinkle with coarse salt.

Traditional Baking Soda Bath: Combine 9 cups of water and 1/2 cup baking soda in a large Dutch oven and bring to a boil. Drop pretzels one at a time into the bath for 20 to 30 seconds. Do not boil longer or pretzels will have a metallic taste. Remove with a slotted spoon and allow water to drip off. Place on baking sheet and sprinkle with coarse salt.

Cinnamon-Sugar Pretzels: Follow directions for baking soda bath above, but do not sprinkle with salt. Combine 3/4 cup sugar and 1 1/2 teaspoons cinnamon in a small bowl. After baking, allow pretzels to cool slightly. While still warm, brush pretzels with melted butter and coat with cinnamon-sugar mixture.
1991 Recipe, Expanded & Revised 2021 – April Ferre