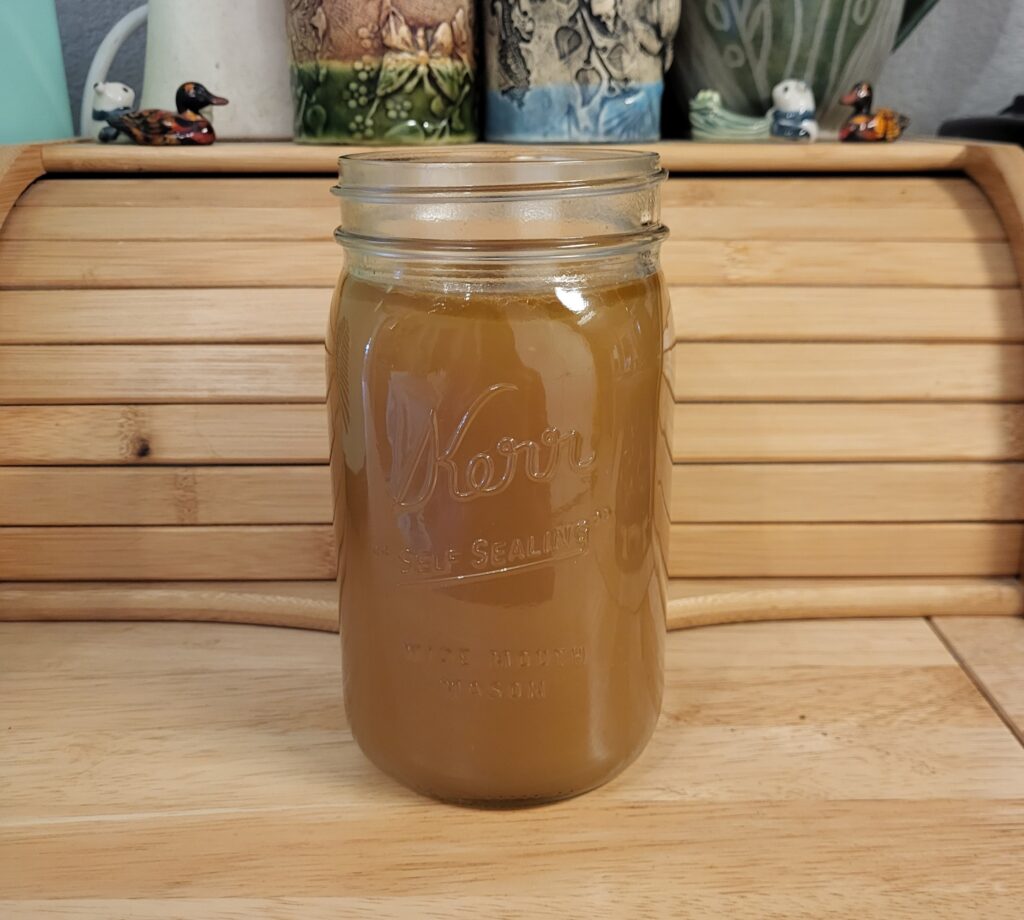 "Yes, you can buy chicken or beef or whatever stock in boxes or cans at the grocery store really easily. But have you really ever tasted that stuff? Yuck! Especially the canned stuff. Yes, homemade stock takes time, but it doesn't have to take that much effort. If you save your scraps in the freezer, all you have to do is put it in a pot, add water to cover and let it simmer there for a few hours while you live the rest of your life. Afterwards, you have a beautifully rich, tasty stock you can use in your cooking. If you are making chicken noodle soup or anything where the broth is especially prominent, you will be amazed at the difference it makes and you will never go back. Plus you've essentially up-cycled/recycled scraps you would have normally just thrown into the trash, so you can feel good about not being wasteful." – April Ferre
Scrappy Chicken, Turkey, Beef or Vegetable Stock
Ingredients
Carcass, Bones, Skin & Juices from 2 Rotisserie Chickens

– Or Leftover Thanksgiving Turkey Carcass

– Or Beef Shank, Neck Bones or other Bone-In Beef

Onion Ends

No Need to Peel

Leek Roots or White/Light Green Pieces

Carrot Peels & Tops

Celery Tops, Leaves & Root Ends

Parsley Leaves & Stems

Thyme Sprigs

Crushed Garlic Cloves

Bay Leaves

Black Peppercorns

Water to Cover
Instructions
This recipe is here to specifically remind you to save your scraps!
For Chicken (or Turkey) Stock:
Bought that $5 Costco rotisserie chicken for a quick mid-week meal? Save the carcass and bones and throw it in a 1 gallon bag into the freezer. The juices left in the tray? Freeze it in an ice cube tray or other small container and when frozen, transfer it to the freezer bag with the bones.

Don't throw out that turkey carcass from Thanksgiving! Make it into soup!

How many onions have you chopped to sauté with other aromatics for your recipes? How many onion ends have you thrown in the garbage during your lifetime? What do you do with your carrot peels? Don't chuck them! Get another 1 gallon freezer bag and when you are cooking other meals, throw these scraps in the bag.

Anything that you'd put into chicken (or beef or vegetable) stock, don't throw it out! Make sure it is clean (free from dirt) but it doesn't have to be pretty. Is that celery in the refrigerator starting to turn, freeze it for your stock! Having to trim back your herbs in your garden at the end of the season? Don't throw them in the yard waste bin, put them in your scrap bag.

Once you have two chicken carcasses and a 1 gallon bag full of vegetable scraps (hopefully a fairly even mix of onion, carrot and celery), place them in a 12 quart stock pot and add water to cover.

If garlic in not in your scrap bag, you'll probably want to add some fresh garlic, also a couple bay leaves and a few black peppercorns will enrich your stock.

Bring pot to a boil and then reduce heat and simmer for at least 3 hours. For a more full-bodied stock, you'll probably want to continue to simmer for closer to 6 hours. You may need to add additional water during longer cooking times.

Taste your stock occasionally. Remember, you haven't added any salt at this point, so it will be bland, but you'll have to imagine what it will taste like when you properly season it. Don't try to add salt to your stock now though, as whatever recipe you will be using it in may have its own salt component.

When broth has developed to your liking, strain out and discard all of the solids. Broth can be used immediately or frozen for future use. Makes about 3 to 4 quarts.

Note: As the broth cools, the fat will rise to the surface. Resist the urge to skim it off. Stop! Don't do it, just don't. Unless you want a flavorless broth. You have been warned.

If you don't have the scraps and need to make your own stock, you can use freshly bought chicken and vegetables. Buy about 4 pounds of bone-in skin-on chicken. Leg quarters work best (i.e. will give you the best flavor) or use a whole chicken, cut up.

Season your chicken generously with salt and pepper and brown well in hot oil in your stock pot before adding the vegetables and water. At the end of cooking, make sure to pick through your solids and save the chicken meat.
For Beef Stock:
It is a little harder to be scrappy about beef broth, as most of the beef you are likely to buy is boneless. If you do end up with beef bones, freeze them. Otherwise, you'll have to buy fresh beef specifically for this purpose.

In your meat department, look for beef shank, center cut. This is a great cut for beef stock, it lends well to slow cooking, plus has a large chunk of bone with the marrow to enrich your broth. It is also one of the cheapest cuts of beef. You can also use neck bones. Get about 4 pounds of bone-in beef.

Generously season your beef with salt and pepper. Add a bit of oil to the bottom of your stock pot and over medium high heat give the beef a good sear. You will have to sear your beef in batches.

Then proceed as for chicken broth, except for at the end when you strain out the solids, pick out those nice pieces of slow cooked beef to add back to your soup or whatever recipe you are making. Slow cooked beef shank is so tasty, don't waste it! Even though it is a pain to pick out those pieces from the rest of the disintegrated vegetables.
For Vegetable Stock:
Save two 1 gallon bags worth of scraps. Proceed as for chicken stock.
2022 Original Recipe – April Ferre