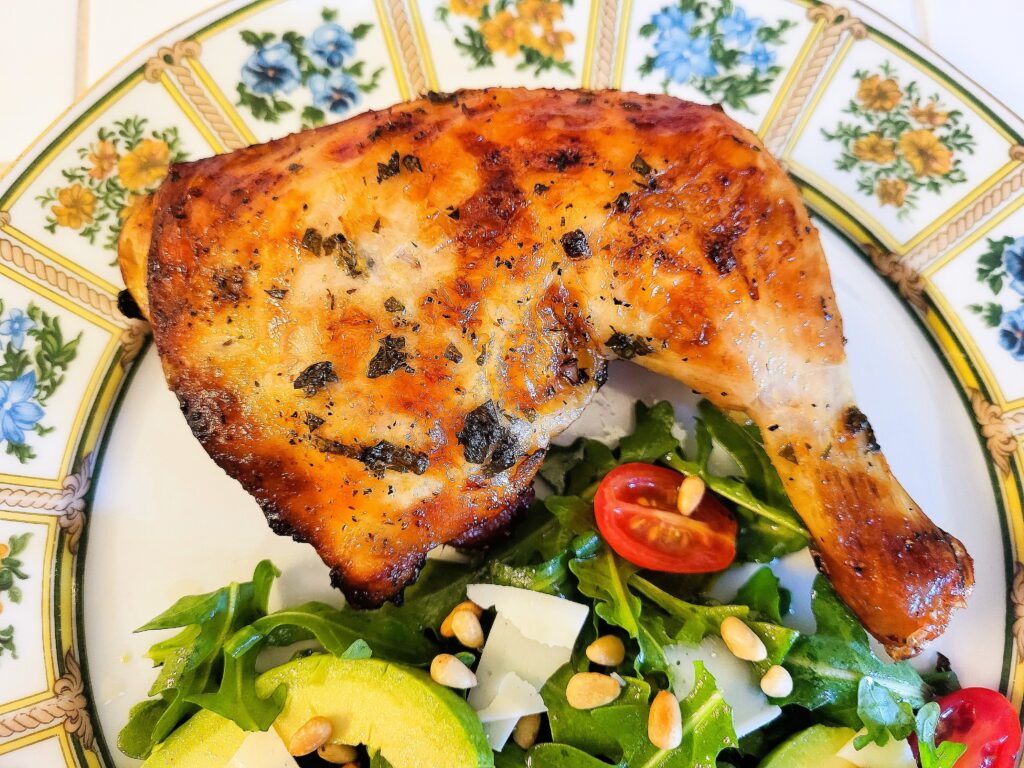 "Marinating meat means extra added character to your meal. I found that this marinade worked well on chicken and helps to keep it moist. The closest I've come to this is the marinated meat from the Freedom Meat Market." – Calla Ferre
"This is an excellent marinade. It gives the chicken a fresh, bright flavor. My mom initially used this for boneless, skinless chicken breasts, but during a time when inflation was high and money tight, I found that chicken leg quarters were reasonably priced and they became a new favorite ingredient. These new added directions are meant to mimic cooking these on the barbecue." – April Ferre
Savory Wine Marinade for Chicken
Ingredients
1/2

Cup

Cooking Oil

1/2

Cup

White Wine

1/4

Cup

Lemon or Lime Juice

1/2

Teaspoon

Salt

1/2

Teaspoon

Tabasco

1

Small Onion

Chopped

2

Tablespoons

Snipped Parsley
Instructions
Combine all ingredients. Mix well.

Place chicken or fish in a plastic bag set in a deep bowl or in a shallow baking dish. Pour marinade mixture over meat. Close bag or cover dish; refrigerate 4 to 6 hours or overnight. (I prefer overnight – better flavor, two days okay.) Turn the bag or spoon marinade over the meat occasionally to coat evenly.

Makes about 1 1/2 cups (enough for 3 pounds of meat).

Note: This recipe was originally made for the barbecue.
Directions for boneless, skinless chicken breasts baked indoors:
Prepare marinade as above.

Place the marinated chicken breasts in a 9×13-inch pan. Pour marinade over, spooning some of the chopped onions so that they rest on the top of the chicken pieces.

Cover and bake at 450 degrees (500 degrees if chicken is still partially frozen. In a pinch I have placed frozen chicken breasts in marinade the night before use, though defrosting first comes out slightly better).

Bake until done, about one hour. Then uncover and place under broiler until browned nicely.
Directions for chicken leg quarters baked indoors:
Preheat oven to 400 degrees. Line a baking sheet with foil or a silicone mat and place a wire rack on top.

Remove chicken from marinade and shake off any excess. Reserve extra marinade.

Place chicken skin-side down on wire rack and bake for 25 minutes.

Remove from oven and increase temperature to 425 degrees. Carefully flip chicken over, being careful not to tear the skin.

Baste with extra marinade and put some of the onion on top of each chicken leg. Season lightly with salt and pepper.

Return chicken to oven and bake another 20 minutes or until a meat thermometer reaches 165 degrees. Chicken skin should be crispy and brown, but if it is not browned to your liking you can set under the broiler for a couple minutes.
2003 Revised Recipe – Calla Ferre – From Better Homes and Gardens All Time Favorite Recipes, 1979. 2023 Addition – April Ferre – (Chicken leg quarter directions)