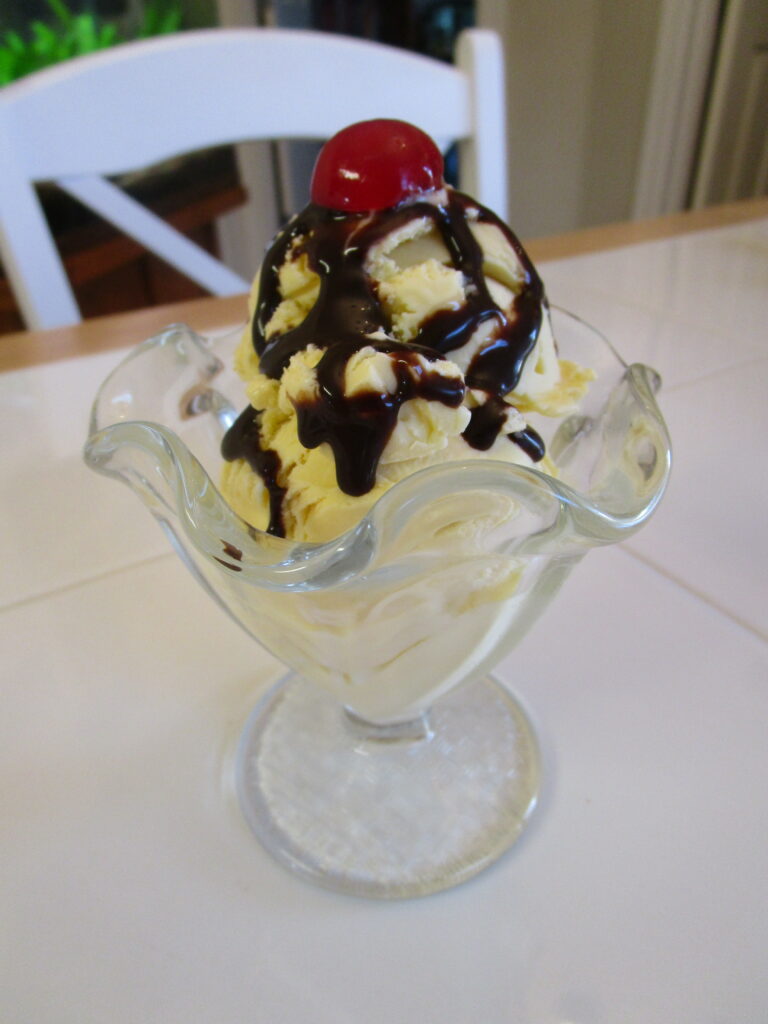 "In the summer of 2017, I received a Target gift card for some help I provided with a class. I thought about using it for groceries, but instead I splurged on an ice cream maker. A good year to do so, as it is been the hotest year I've spent in Davis/Woodland since I arrived in 2000. This is the first recipe I tried, and it is fantastic! Never doubt Mable Hoffman! I also added in about a 1/2 cup quartered maraschino cherries. Use this recipe as a base for any variation you can think of." – April Ferre
Royal Crown Vanilla Ice Cream
Ingredients
5

Egg Yolks

2/3

Cup

Sugar

1

Cup

Half & Half

2

Tablespoons

Butter

1

Cup

Heavy Cream

2

Teaspoons

Vanilla
Instructions
In a medium bowl, beat egg yolks and sugar until well blended. Pour into top of double boiler. Stir in half and half. Cook and stir over gently boiling water until mixture thickens and coats the back of a wooden spoon.

Set aside. Stir in butter. Stirring occasionally, cool on a rack to room temperature. Stir in heavy cream and vanilla. Chill overnight.

Pour into ice cream canister. Freeze in ice cream maker according to manufacturer's directions. Makes about 1 quart.
Notes
Use only pure, not imitation, vanilla.
2017 Recipe – April Ferre – From Ice Cream by Mable & Gar Hoffman