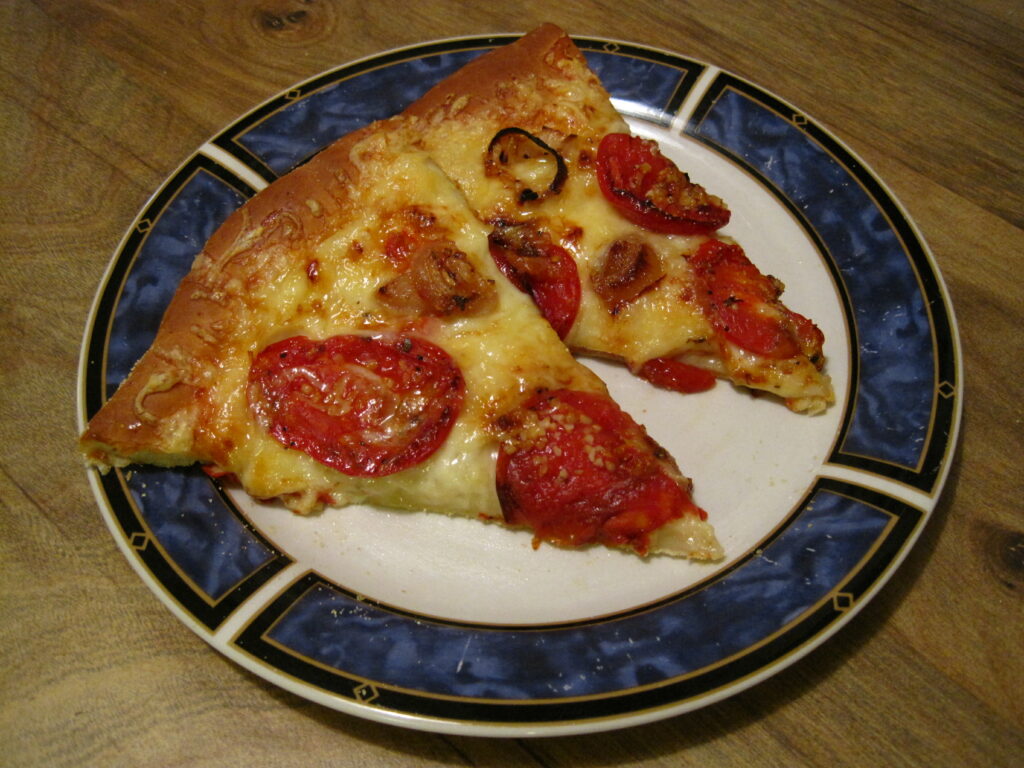 "My husband and I went wine tasting in Napa one time, and we visited the Robert Mondavi Winery. In addition to wine, they had samples of this pizza there and were giving out the recipe." – Calla Ferre
"When I moved into my first apartment in Davis, suddenly I got to choose what to make for dinner. I bought myself a cheap pizza pan across the street at Rite Aid and make this. The next day, my best friend Alvin and I were talking and it came up that I made this. I remember him something like 'What?! You made your own pizza crust too!?' This is when he found out that I was a serious cook. Word got around, and suddenly, even though I had the smallest apartment of my group of college friends, we usually ended up at my place, since it was likely I had something good in the kitchen to share." – April Ferre
Roasted Tomato Pizza
Ingredients
8

Roma Tomatoes

1

to 2 Shallots

Olive Oil

Minced Garlic

Salt, Pepper & Oregano

1/2

Teaspoon

Salt

1

Teaspoon

Honey

1

Tablespoon

Olive Oil

1/2

Cup

Water

Room Temperature

1

Tablespoon

Dry Yeast

1/4

Cup

Water

Warm

2

Cups

Flour

Corn Meal

1

Cup

or More Italian Fontina

Grated
Instructions
Cut tomatoes into thirds lengthwise. Slice shallots. Toss tomatoes and shallots in olive oil. Place on foil-lined cookie sheet and sprinkle generously with minced garlic, salt, pepper (I like lemon pepper), and oregano. Roast in a 325 degree oven for 45 minutes.

Combine salt, honey, 1 Tablespoon Olive Oil and 1/2 Cup water; mix well. Separately, dissolve yeast in 1/4 cup warm water (110 degrees) and add to first mixture. Let stand 3 to 5 minutes. Slowly add flour until dough begins to form. Transfer dough to a lightly floured surface and knead until smooth. Let dough rise for 30 minutes in a warm place.

Form into 12-inch pizza. Place on pizza paddle, stone or inverted baking sheet dusted with corn meal. Brush dough with olive oil. Sprinkle with Italian Fontina cheese and top with roasted tomatoes and shallots. Bake in a 450 degree oven for 15 minutes.
1996 Recipe – Calla Ferre – From Executive Chef Annie Roberts, Robert Mondavi Winery, Napa Valley, California.

2011 Revised Recipe – April Ferre