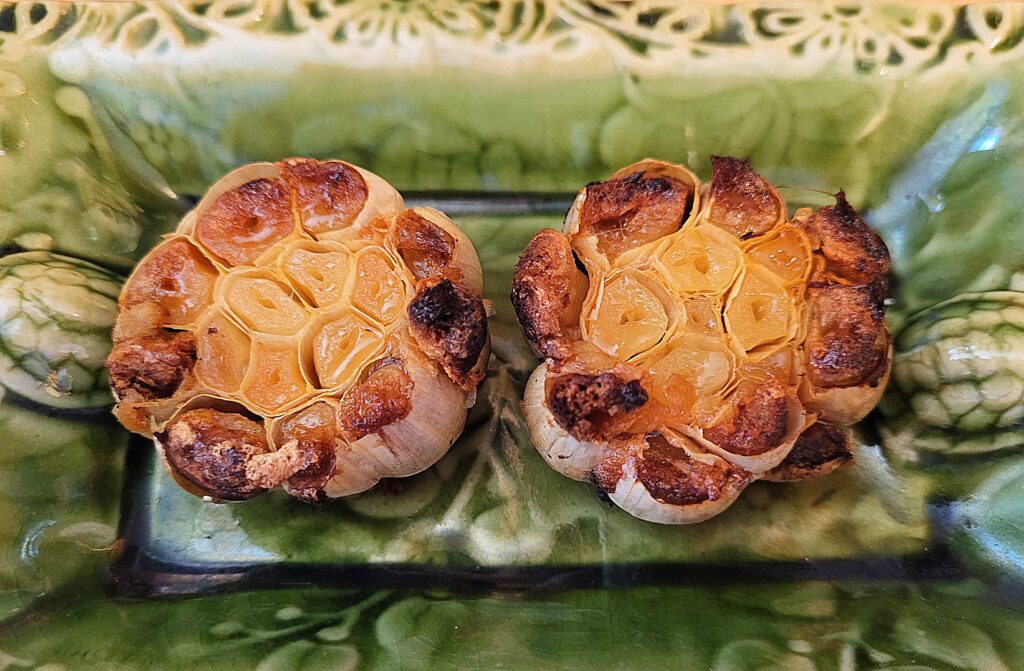 "I remember when I was in high school, going over to my friends Frank and Tony's house for a party. They served whole-roasted garlic bulbs like this with some bread as an appetizer. I never knew you could do that before and it was so tasty! It's taken 20 years or so, but I've finally got this method added to the cookbook!" – April Ferre
Roasted Garlic
Ingredients
Whole Heads of Garlic

Extra Virgin Olive Oil
Instructions
Preheat oven to 400 degrees. Remove the outer papery layers of the garlic bulb, but leave skins of individual cloves intact. Cut 1/4- to 1/2-inch from the tops of the cloves.

Note: Don't waste the parts of the garlic that you remove. Mince the garlic pieces and place in a small air-tight container with some olive oil to cover. Store in the refrigerator to use in other dishes later.

Place the garlic heads in a muffin tin, cut side up, and drizzle with a good amount of olive oil. Make sure the exposed garlic cloves are well coated.

Loosely cover the bulbs with foil. Do not let the foil touch the garlic cloves or they will stick to the foil during roasting.

Roast the garlic bulbs for approximately 45 minutes or until the cloves are lightly browned and soft.

When garlic roasted to your liking, remove from the oven and cool until warm enough to handle. Use a cocktail fork or your fingers to remove the individual garlic cloves from their skins.

Roasted garlic on it's own is great spread on French bread or crackers as an appetizers or it can be used in all manner of recipes.
2022 Recipe – April Ferre