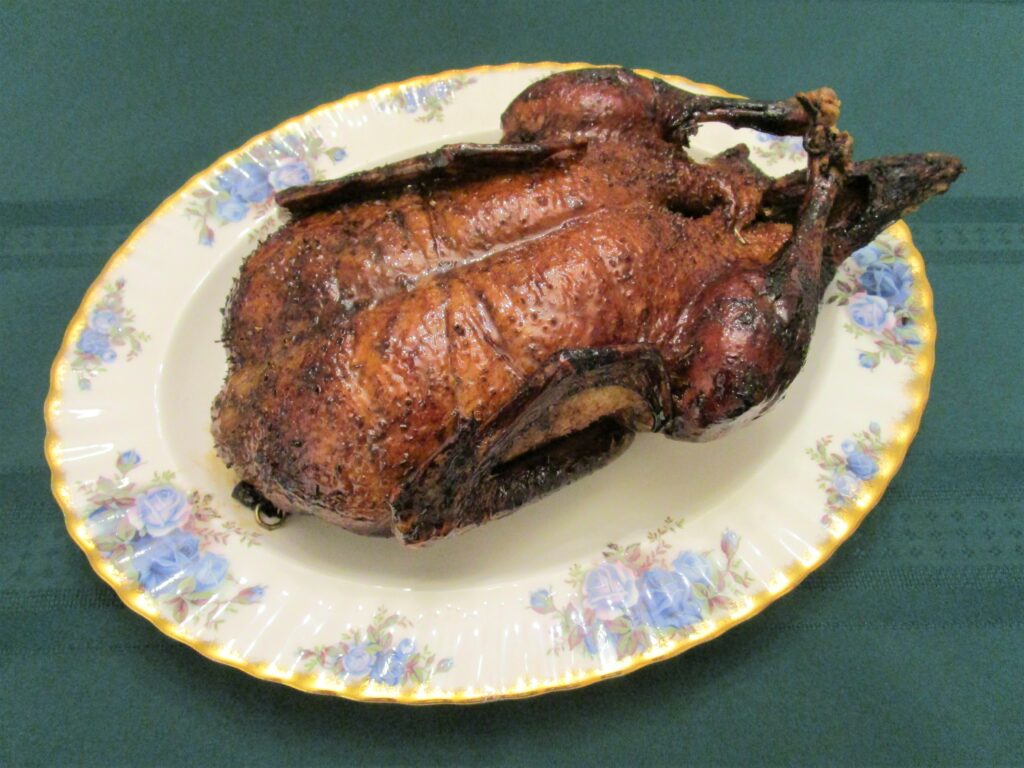 Roasted Duck
Ingredients
6

Pound

Whole Duck

Salt

5

Cloves

Garlic

1

Lemon

Sliced

1/2

Cup

Balsamic Vinegar

1

Lemon

Juiced

1/4

Cup

Honey
Instructions
Ensure duck is completely thawed. Remove from the refrigerator 30 minutes prior to cooking to come to room temperature. Preheat oven to 350 degrees.

Remove giblets from inside the duck. Rinse the duck, inside and out, with cold water. Pat dry with paper towels. Prick duck skin all over with a fork to ensure fat release, especially the very fatty parts. You don't need to poke the legs, since the skin is very thin there.

Season the duck generously with salt both inside and out. Put sliced lemon and crushed garlic cloves inside the duck cavity. Secure flaps of duck skin at both the neck and tail ends with poultry lacers to keep the lemon and garlic inside the duck. Tie up the legs and wings with butcher's twine.

Place the duck, breast side up, on a rack in a roasting pan. Roast for 1 hour. After 1 hour, flip the duck so it is breast side down and roast another 40 minutes.

Combine balsamic vinegar and lemon juice. Remove duck from the oven and drain fat from the roasting pan. Flip the duck again so it is breast side up and brush all over with balsamic mixture. Return to the oven for another 40 minutes, brushing with more balsamic mixture every 10 minutes.

In a separate small bowl, combine 3 tablespoons of the balsamic mixture with honey. Whisk to combine well. Brush duck all over with honey-balsamic mixture and roast for another 40 minutes, brushing the duck every 10 minutes.

Remove the duck from the oven and let stand for 15 minutes. Remove garlic and lemon slices from the duck cavity and discard. Carve the duck and serve.
2020 Adapted Recipe – April Ferre – Adapted from Julia's Album