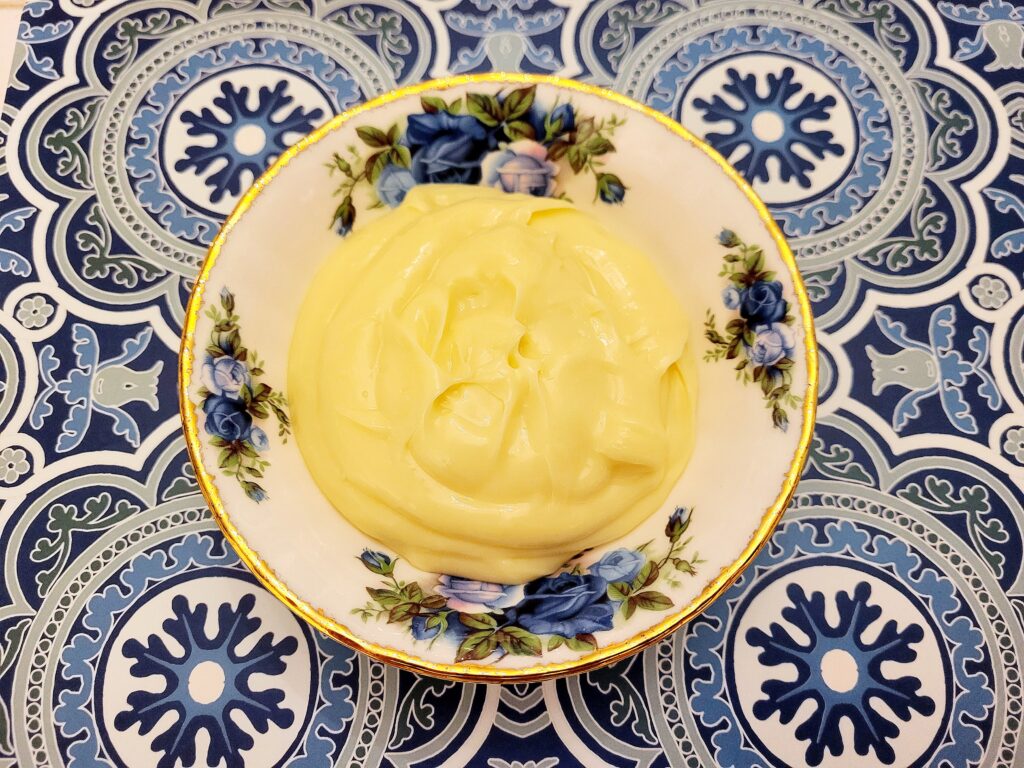 "Another excellent, basic recipe from Gayle's Bakery. Designated for use in the Princess Cake, but extremely versatile for other baked goods as well." – Calla Ferre
Pastry Cream
Ingredients
1 1/2

Cup

Half & Half

6

Tablespoons

Cornstarch

1/2

Cup

Sugar

1/2

Cup

Water

4

Large Egg Yolks

Room Temperature

1

Teaspoon

Vanilla
Instructions
In a heavy saucepan, warm the half-and-half over medium heat until it begins to simmer. Meanwhile, in a medium bowl, mix the cornstarch with the sugar. Using a whisk, whip in the water until smooth. Add the egg yolks and beat to incorporate.

When the half-and-half is simmering, slowly add about 1/2 of it to the cornstarch mixture, whisking continuously to incorporate. Whisk this mixture into the simmering half-and-half and continue to whisk vigorously until the pastry cream thickens, about 2 to 5 minutes. It is very important to whisk continuously or the pastry cream may form lumps.

When the pastry cream has thickened, remove it from the heat and add vanilla. Transfer it to a glass or metal bowl with a plastic lid. A bowl covered by a plate works well too. Stir the mixture frequently while it is cooling to prevent a skin from forming on top.

Refrigerate the pastry cream after it has cooled. It keeps in the refrigerator for up to 3 days, but should not be frozen because it will become very watery and lose its smooth texture. Makes 3 cups.
Notes
If you have cooked the pastry cream too quickly or too long and it develops lumps, do not worry. It happens to the best of us. First, remove it from the heat and try to whisk it until it smooths out. If that does not work, wait until it cools, then run it through a fine sieve or quickly blend it in a food processor until smooth. As you practice making pastry cream, you will become familiar with what it should look like when it is done.
Recipe – Calla Ferre – From The Village Baker's Wife: The Desserts And Pastries That Made Gayle's Famous, 1997
Related Recipes: