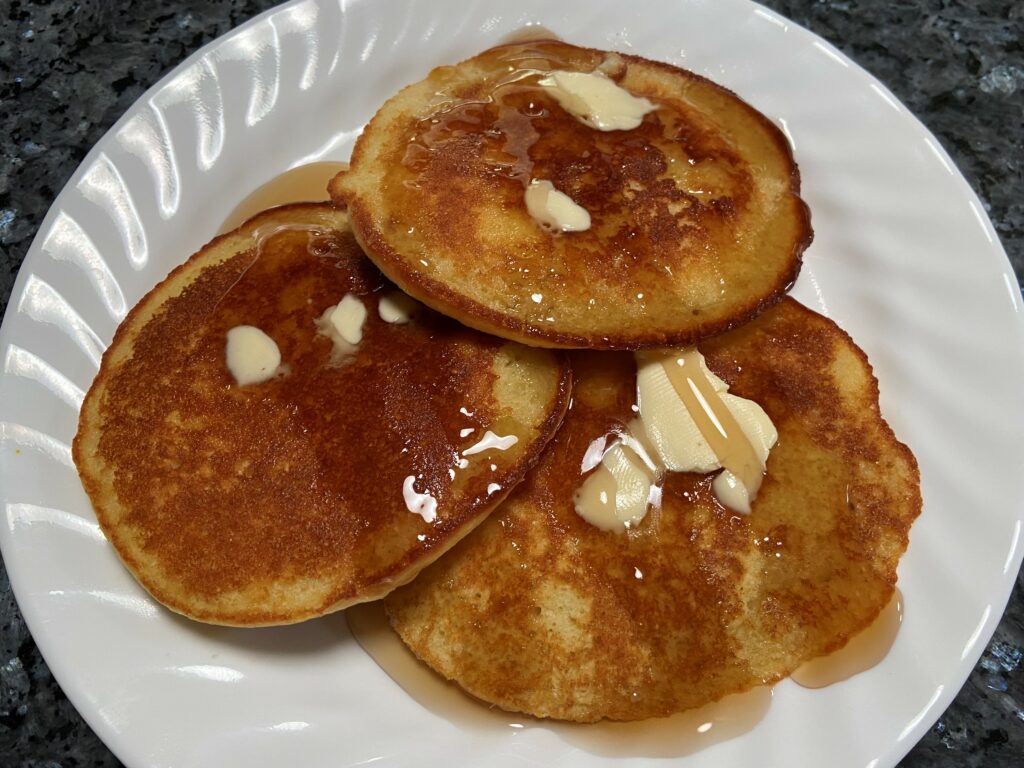 "My financial advisor, as it turns out, has to eat gluten-free. She told me how one restaurant she goes to has the best gluten-free pancakes. Now I have not been there to have them, but it made me realize it is possible to actually have a good gluten-free pancake. So I started my search for a recipe. I found one that was okay, but the texture was not to my liking. I wanted one that tasted like the real thing! So I played around and was pleased to figure this one out. It's nice to have a gluten-free breakfast carb that has both the right taste and the right texture when compared to it's gluten counter part. Oh my! I can have a good gluten-free pancake!" – Calla Ferre
Pancakes & Waffles (Gluten-Free)
Ingredients
2/3

Cup

Almond Flour

2/3

Cup

Calla's All-Purpose Gluten-Free Flour Blend

1

Teaspoon

Baking Powder

1/4

Teaspoon

Salt

1/4

Cup

Half & Half

2

Large Eggs

1

Tablespoon

Plus 1 Teaspoon Maple Syrup

1

Teaspoon

Vanilla

Oil

For the Pan
Instructions
In a medium bowl, whisk together the dry ingredients. In a small bowl, whisk together all the wet ingredients except for the oil. Add wet ingredients to the dry ingredients and mix until just combined.
For Pancakes:
Heat a non-stick skillet over a little more than medium heat. Add oil to the pan and heat up so the batter does not spread out too quickly.

Note: Temperature is important for these pancakes to keep them fluffy. Not enough heat, and the batter will spread too thin. Too much heat, and the outside will burn before the inside cooks.

Working in batches, pour batter into 6 pancakes. The batter should spread to only about 4 inches. The amount you can fit in the pan will vary with the size of your pan; do not overcrowd the pan.

Cook slowly and turn when the pancake has browned appropriately. You need to cook these pancakes slower than the average pancake so the center of the pancake gets cooked. Watch carefully and turn down the heat if they are cooking too quickly.
For Waffles:
Preheat waffle iron and spray with non-stick spray. Pour batter onto hot iron and cook until golden brown.

Serve with maple syrup, apricot syrup, whipped cream and berries, or your favorite pancake topping. Makes 6 pancakes.
2021 Original Recipe – Calla Ferre
Related Recipes: