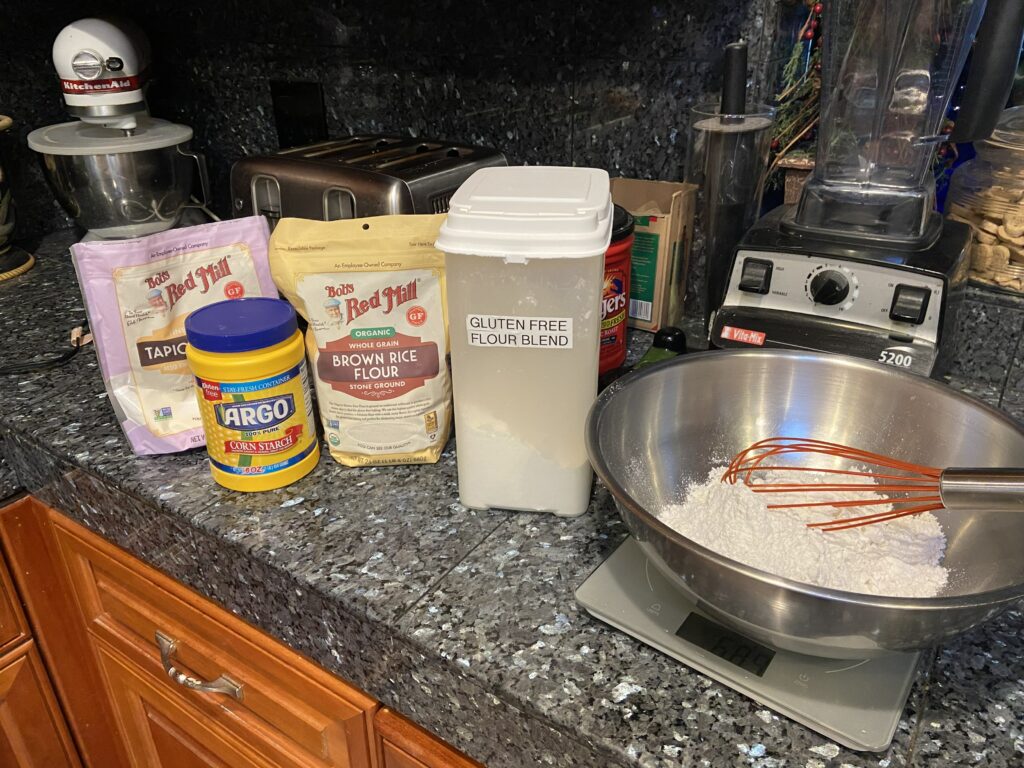 Calla's All-Purpose Gluten-Free Flour Blend
Ingredients
1

Cup

Brown Rice Flour

1

Cup

Tapioca Flour

1

Cup

Gluten-Free Cornstarch
Instructions
Whisk all flours together so they are well blended. Store in the refrigerator. I find it easiest to have this ready in advance in my refrigerator so when I feel like baking something it is ready to go. You can make as much as you like at one time. It also works well, and I find it easier, to use equal weights of the above ingredients. It makes it much easier and neater to accomplish, but you will need to have a digital kitchen scale to do this. Digital kitchen scales are not too expensive and do make life easier when it comes to making your flour blend.

As gluten-free cooking advances more and more, different homemade blends are popping up. The most important difference in this gluten-free blend is that there is no potato starch! This is important because some people who have an allergy to wheat also have an allergy to foods in the nightshade family, including myself. Common foods in the nightshade family include: tomatoes, white potatoes, eggplant, peppers, cayenne pepper, chili pepper and paprika. This is not a complete list. Symptoms of a nightshade family allergy can include both digestive and arthritic symptoms. Knowing these allergens and eliminating them from my diet has drastically improved my life! So if you have gone gluten-free and are still having issues, read up on nightshade foods, eliminate them from your diet for 2 weeks and see how you feel. If you make a mistake and eat something from the nightshade family, start the countdown again until you are clear of these foods for at least a two week period. My physician told me it takes two weeks to clear your system. If you are starting to feel better after two weeks you may have either an allergy or intolerance to these foods. Of course, talking to your physician or allergist can provide further information.

The recipes at this website have been tested with this blend. Other blends should work fine, but different blends can act differently and may cause results to vary. I developed this blend due to my allergies. I wanted readily available alternate flours and a blend that would work well as an all-purpose blend. Where I live I can find these flours regularly at my local grocery store. If they are not available in your area, there are various online sources.
Notes
When it comes to baking, gluten binds things together and helps them to rise. Since there is no gluten in this blend, when you bake you will need to add something to bind things together. I commonly use Xanthan Gum.
Recipe – Calla Ferre