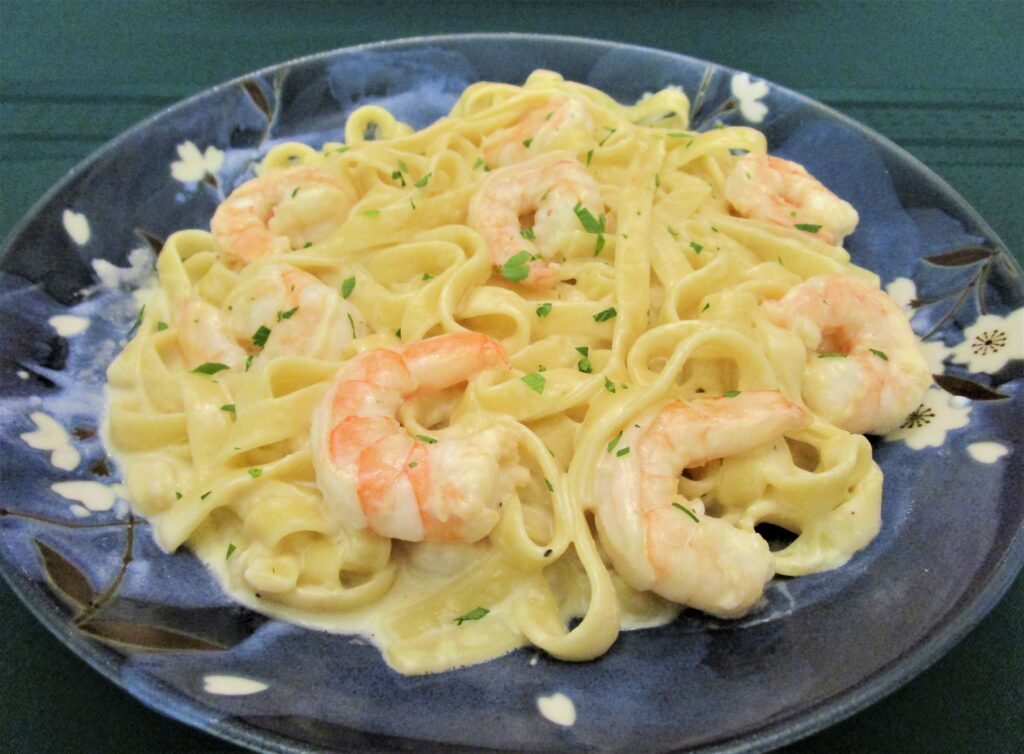 "I would love to find a really exceptional Alfredo recipe, and to be honest, I'm still looking, but this recipe is still very good and quite satisfying. What I like most about this recipe though is that unlike most Alfredo sauces, this one does not separate when reheated, making leftovers possible. A very important consideration for a single person." – April Ferre
Fettuccine Alfredo
Ingredients
2

Cups

Heavy Cream

1/2

Cup

Butter

2

Tablespoons

Cream Cheese

3/4

Cup

Parmesan Cheese

1

Teaspoon

Garlic Powder

Salt & Pepper

To Taste

8

Ounces

Fettuccine

Cooked & Drained
For Chicken Fettuccine Alfredo
1

Teaspoon

Dried Basil

1

Teaspoon

Dried Oregano

1

Teaspoon

Salt

1

Teaspoon

Brown Sugar

1/2

Teaspoon

Cumin

1/2

Teaspoon

Garlic Powder

1/4

Teaspoon

Pepper

2

Boneless, Skinless Chicken Breasts

Oil
For Shrimp Fettuccine Alfredo
1/4

Cup

Butter or Olive Oil

2 to 4

Cloves

Garlic

Minced

1

Pound

Medium Shrimp

Peeled & Deveined

Juice of 1 Lemon
Instructions
In a saucepan, combine heavy cream, butter, and cream cheese. Simmer until melted together.

Add the Parmesan cheese and garlic powder. Simmer for 15 to 20 minutes over low heat. Season with salt and pepper to taste.

Toss pasta with sauce, coating well. Leftovers freeze well.
Chicken Fettuccine Alfredo:
In a small bowl, combine basil, oregano, salt, brown sugar, cumin, garlic powder, and pepper.

Pound chicken breasts to approximately 1/2-inch thickness. Generously rub seasoning mixture all over.

Heat grill or grill pan to high and brush with oil. Grill chicken 5 to 7 minutes on the first side until dark grill marks form. Flip and cook an additional 4 to 6 minutes.

Remove from grill and let rest 5 minutes before slicing. Serve on top of fettuccine.
Shrimp Fettuccine Alfredo
In a large Dutch oven or fry pan, heat butter or olive oil over medium heat until shimmering.

Add minced garlic and saute 1 minute until fragrant, stirring constantly. Add shrimp and cook until just cooked through.

Remove shrimp to a bowl and drizzle with the juice of 1 lemon.

Serve on top of fettuccine, tossing with pasta to coat if desired.
2018 Adapted Recipe, Variations Added 2021 – April Ferre – Adapted from Recipe Lion & Gimme Delicious