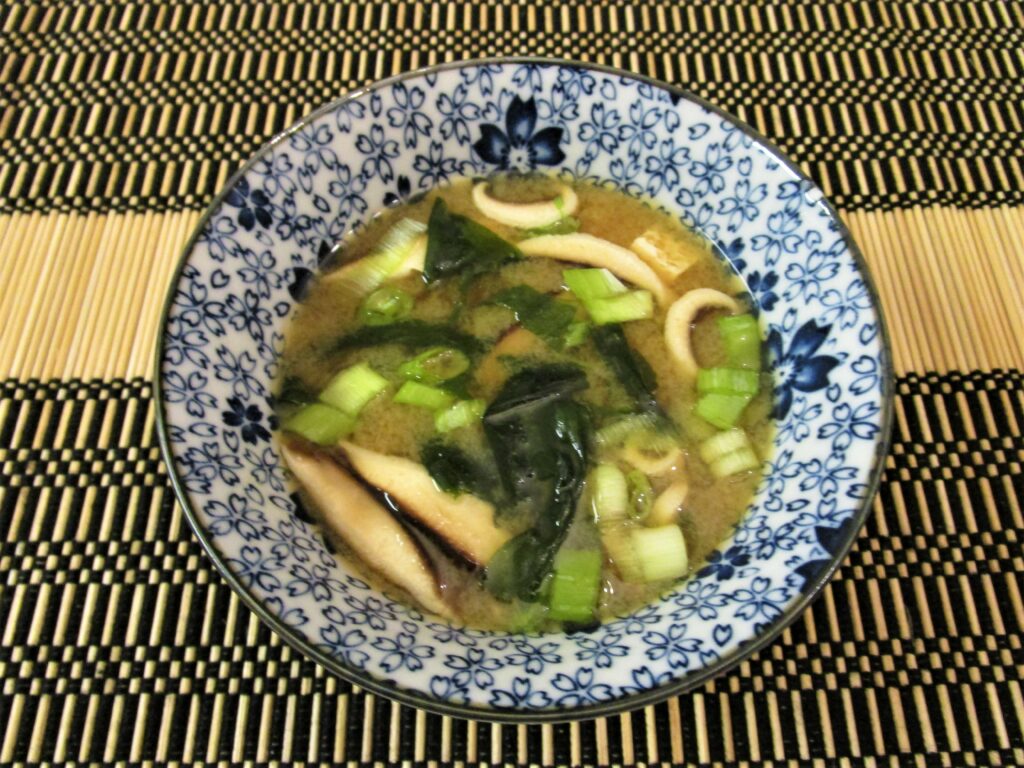 "I love miso soup, but everything I've bought in the grocery store tastes nothing like what you get in a Japanese restaurant. So I've gone back to basics to make it from scratch. There is no comparison!" – April Ferre
Miso Soup
Ingredients
1

Cup

Dashi

1

Tablespoon

Miso

(See Note)

Shiitake Mushrooms

Sliced

Tofu

Cubed

Wakame

Seaweed

Green Onions

Chopped
Instructions
Make only as much miso soup as you can drink at a time. Miso soup looses it's flavor and aroma when it is reheated. A typical portion size to serve with a Japanese meal is approximately 1 cup broth plus any added vegetables and tofu.

Rehydrate wakame by adding it to warm water and letting it sit 5 minutes. Drain and squeeze out the water, then cut the wakame to preferred size. Set aside.

Add dashi to an appropriately sized saucepan.

You can customize your miso soup in many ways. If you want to add dense ingredients like carrot, daikon radish, onion, potato or turnip, add them now.

Bring soup to a boil and then lower the heat to a simmer until the vegetables become tender.

Add quick cooking ingredients like mushrooms, cabbage, spinach, bean sprouts, dried tofu pouch or somen noodles.

Put miso in a small bowl. Add a small amount of hot dashi to the miso and mix well to blend. Holding a fine meshed sieve over the saucepan, pour in miso/dashi mixture. Use a spoon to press the liquid from remaining solids. Discard solids. DO NOT BOIL after adding the miso or you will loose the flavor and fragrance.

Add tofu and allow the soup to reheat, but do not boil.

Add rehydrated wakame and green onions.

Serve immediately.

If you must refrigerate left over miso soup let it come to room temperature first. It can keep for 2 days in the refrigerator. To reheat, bring to just a simmer in a saucepan over medium heat. Do not over boil.
Notes
Miso comes in many different varieties. The two main ones being red (aka) and white (shiro). Red miso is full bodied and salty as it has undergone a longer fermentation process. It will give a sharper taste to your miso soup. White miso is mild and sweet.  If I had to choose between the two, I prefer the white over the red for miso soup. 
Ideally though, for my miso soup I prefer awase miso, which is a combination of red and white. It keeps the mild, sweet quality of the white but adds the full bodied umami from the red. You may be able to find premixed awase miso in the store, if not, you can combine equal amounts of red and white miso. Having tried all three varieties in this recipe, I find that the awase version yields a soup closest in taste to what I've had in restaurants.
2021 Recipe – April Ferre – From Just One Cookbook
Related Recipes: