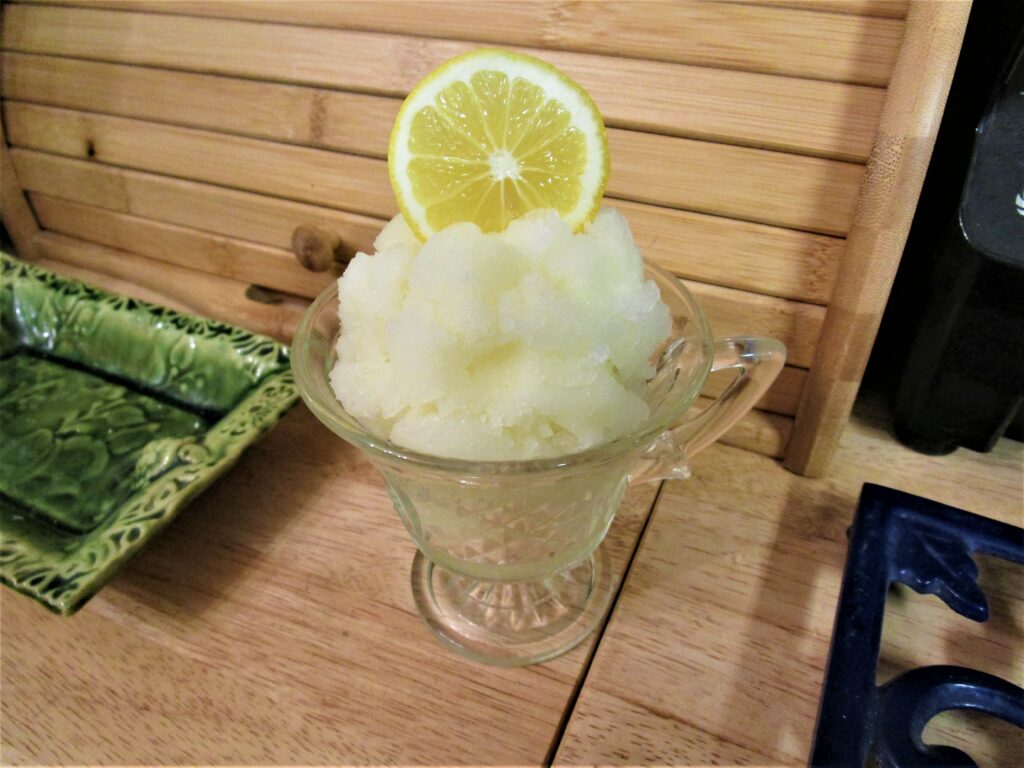 "After the COVID-19 pandemic started to wane and my family and I were able to get vaccinated, we finally got a chance to see each other for my birthday. One of the things I asked them to bring was Meyer lemons from our bush back home. I had missed them during the pandemic so I told them to bring a lot. And they did! After filling the entire bottom bin of my refrigerator, I juiced the rest and ended up with 18 cups of lemon juice! So now I'm trying to find ways to use all this lemon juice, and this sorbet is great especially with the weather heating up again." – April Ferre
Meyer Lemon Sorbet
Ingredients
1

Cup

Sugar

2

Cups

Water

Divided

1/2

Cup

Meyer Lemon Juice

1

Tablespoon

Vodka

Optional
Instructions
Make a simple syrup by combining sugar and 1 cup water in a small saucepan. Bring to a boil for 3 minutes. Remove from heat and allow to cool.

Mix together lemon juice, remaining 1 cup water and 3/4 simple syrup. Place a clean, raw egg in a 2 1/2 cup measuring cup and pour lemon juice mixture over the egg. If it floats and you see about a quarter sized piece of shell floating on top, you have the correct amount of sugar. If it is not floating enough, add more simple syrup, or if it is floating too much add more water. Having the correct sugar content will allow the sorbet to freeze properly and not be too hard or icy.

To further help the sorbet freeze correctly, add vodka.

Freeze in ice cream maker according to manufacturer's directions.
2021 Original Recipe – April Ferre