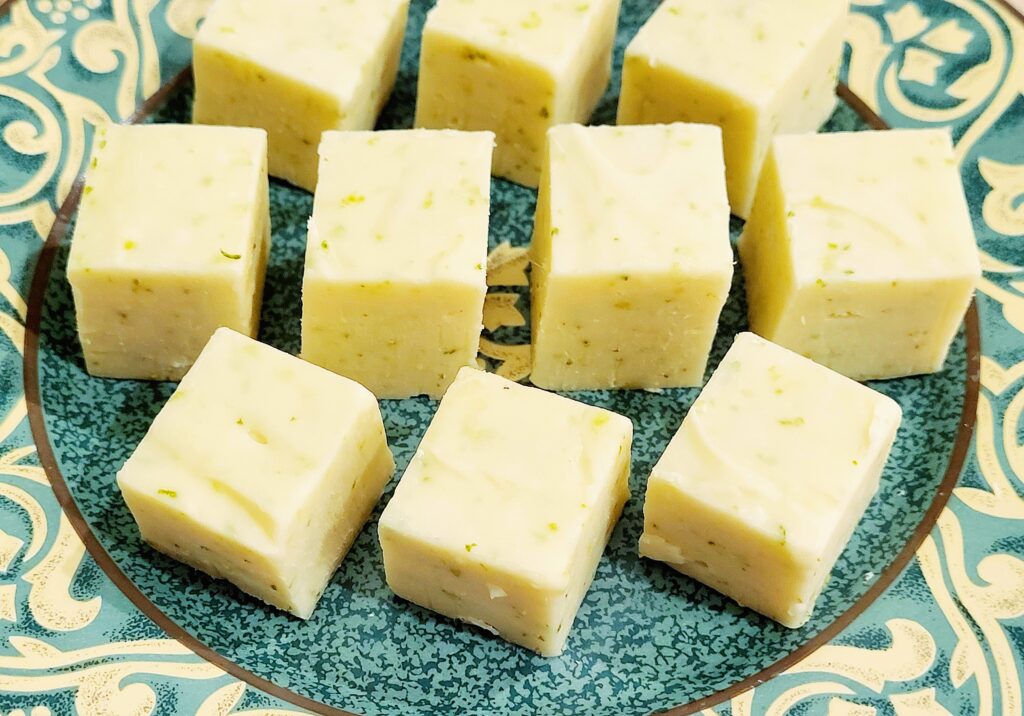 "I had a nice crop of limes this year, so I went looking for interesting recipes to use them in and came across this. It would also be really great with Meyer lemons." – April Ferre
Lemon or Lime Fudge
Ingredients
3 1/2

Cups

(About 24 Ounces) White Chocolate Chips

1 14-

Ounce

Can Sweetened Condensed Milk

2

Tablespoons

Lemon or Lime Zest

3

Tablespoons

Fresh Lemon or Lime Juice
Instructions
Line an 8×8-inch metal baking dish with foil; set aside.

In a large, microwavable bowl, combine white chocolate chips and sweetened condensed milk. Mix to combine.

Microwave in 30 second increments, stirring well in between, until the chocolate is just melted.

Note: white chocolate won't melt like regular milk or semi sweet chocolate, it will be more paste-like and very thick. Heat the chocolate until you cannot see any defined chips and mixture is mostly homogeneous. Be careful not to overcook!

Add lemon or lime zest and juice and mix until smooth. You should now have a spreadable consistency.

Pour the fudge into the lined 8×8-inch pan and spread with a rubber spatula.

Let cool until completely set, then remove from the pan and cut into squares.
2023 Adapted Recipe – April Ferre – Adapted from Chopnotch