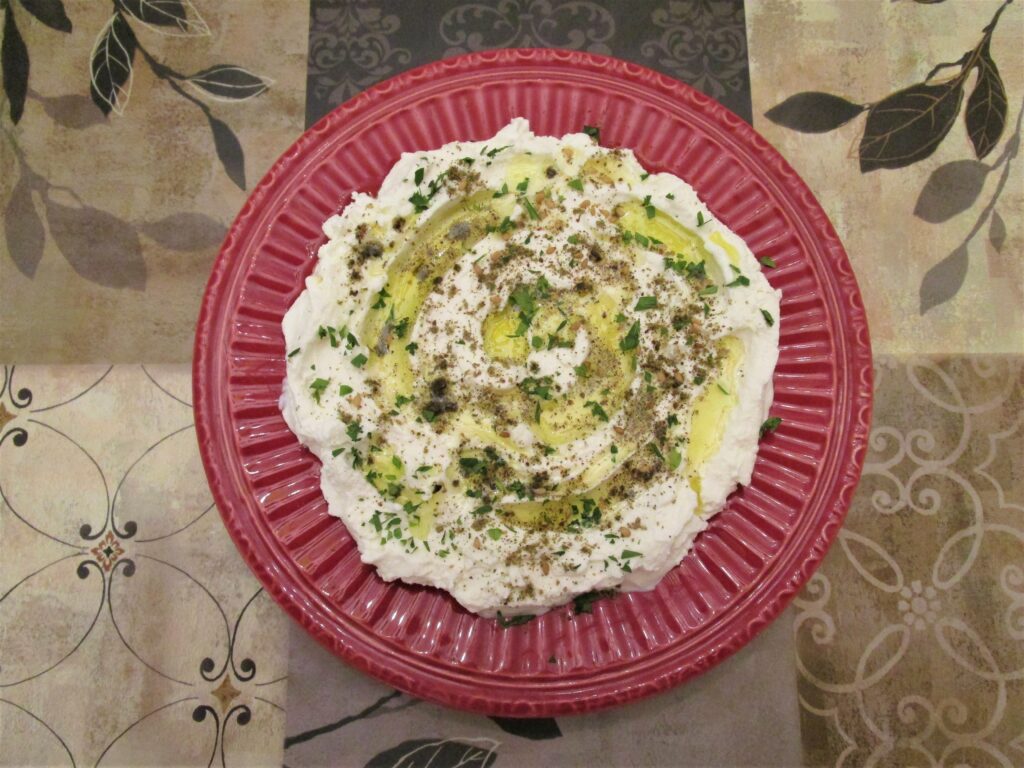 "I found out about labneh from a friend of mine after I told her about my Mediterranean/Middle Eastern food cooking week. I was intrigued and decided to try some myself. I was a bit nervous about allowing this to strain on the counter overnight at room temperature, but I figured that little old grandmothers have been doing this for ages and not getting sick, so I'd probably be fine. And I was, but for those that can't get past the idea, you can let this strain in the refrigerator if you can find room. It is very much like cream cheese, but with some tang it pairs so nicely with the za'atar!" – April Ferre
Labneh
Ingredients
32

Ounces

Full Fat Greek Yogurt

3/4

Teaspoon

Salt

Extra Virgin Olive Oil

Za'atar Spice Mixture

Parsley

Chopped

Pita Bread

Sliced Vegetables
Instructions
Combine yogurt and salt in a large bowl. Pour the yogurt mixture into a muslin towel, several layers of cheesecloth, or a nut milk bag. Hang the bag to strain over the kitchen sink. Alternatively, use a jelly strainer apparatus set up over a large bowl or pan. In this case, cover the exposed yogurt with plastic wrap. To help the yogurt strain faster, carefully place a small bowl filled with pie weights on top of yogurt. Allow to strain for 24 to 48 hours at room temperature or in the refrigerator.

After 24 hours you will have a product with a cream cheese-like consistency that works great for dipping or spreading. Spread some labneh on a plate, drizzle with some good quality olive oil and sprinkle with za'atar and parsley. Serve with pita bread and/or vegetables of your choice. Also good on sandwiches or used in place of cream cheese. Store in the refrigerator for up to 2 weeks.

After 48 hours, you will have a very firm cheese mixture which can be formed into balls. Roll labneh into 3/4-inch balls and place on a paper towel-lined tray. Refrigerate overnight. Place the labneh balls into a clean mason jar and pour good quality olive oil over to cover. May be left at room temperature for 2 to 4 weeks or refrigerate and it will last for months.
2021 Recipe – April Ferre – From The Mediterranean Dish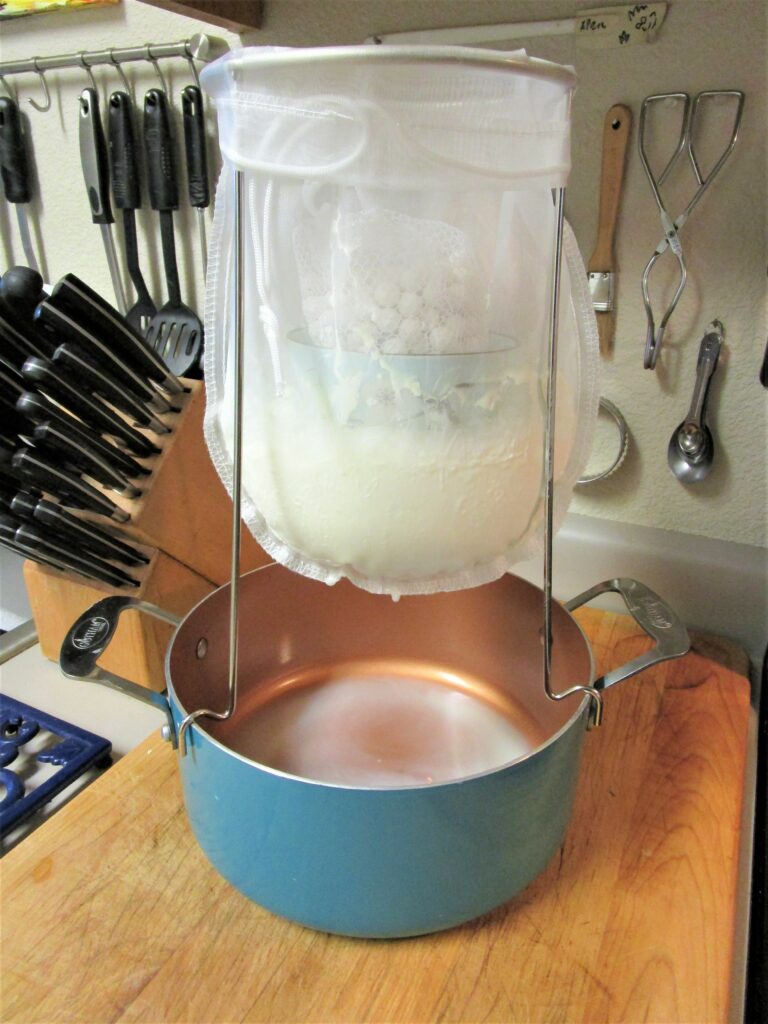 My preferred method of straining the yogurt. I used a jelly juice straining stand on top of my Dutch oven and fitted it with a nut milk bag (seams on the outside.)
I put a piece of saran wrap on top of the yogurt to keep it from getting crusty, then placed a small ceramic bowl with some pie weights on top to give gravity a bit more help. The whey will drip very slowly from the bag.
I have cats that would have destroyed this overnight had I left it like this, so I put a clean pillow case over the whole apparatus to keep it safe.