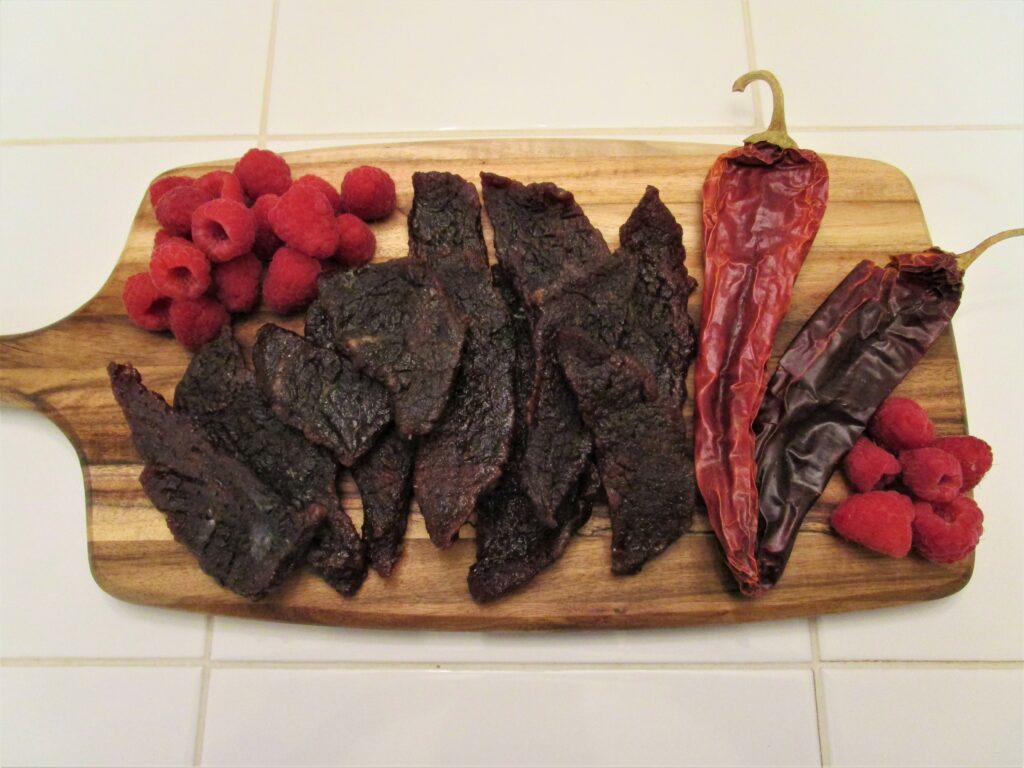 "I'm not sure what made me think of this flavor combination, but I was instantly sure this would be great. I couldn't really find a great recipe online, so I made up my own. And I was right! These flavors are fantastic! I prefer to keep my spice level low, and this is perfect to get the smoky chipotle flavor without putting your mouth on fire, but for those that like the heat, feel free to add more chipotle to taste." – April Ferre
Jerky – Raspberry Chipotle
Ingredients
1

Pound

Eye of Round Roast or other Lean Beef

1/2

Cup

Raspberry Jam

2

Tablespoons

Lemon Juice

1/2

Teaspoon

Chipotle Powder

1/2

Teaspoon

Garlic Powder

1/2

Teaspoon

Onion Powder

1/2

Teaspoon

Kosher Salt

1/4

Teaspoon

Curing Salt

Optional
Instructions
Trim all visible fat from beef and place in a freezer for 1 hour to partially freeze.

Combine remaining ingredients and mix well.

Slice beef into 1/4-inch thick strips with the grain for a chewier jerky or against the grain for a more tender jerky.

Combine beef strips and marinade in a Ziploc bag and marinate in the refrigerator for 6 to 24 hours.

After marinating, remove beef from marinade and pat dry with paper towels. Dry beef in a food dehydrator at 165 degrees for 4 to 6 hours. Jerky is done when beef bends and cracks, but does not break in half.
2020 Original Recipe – April Ferre