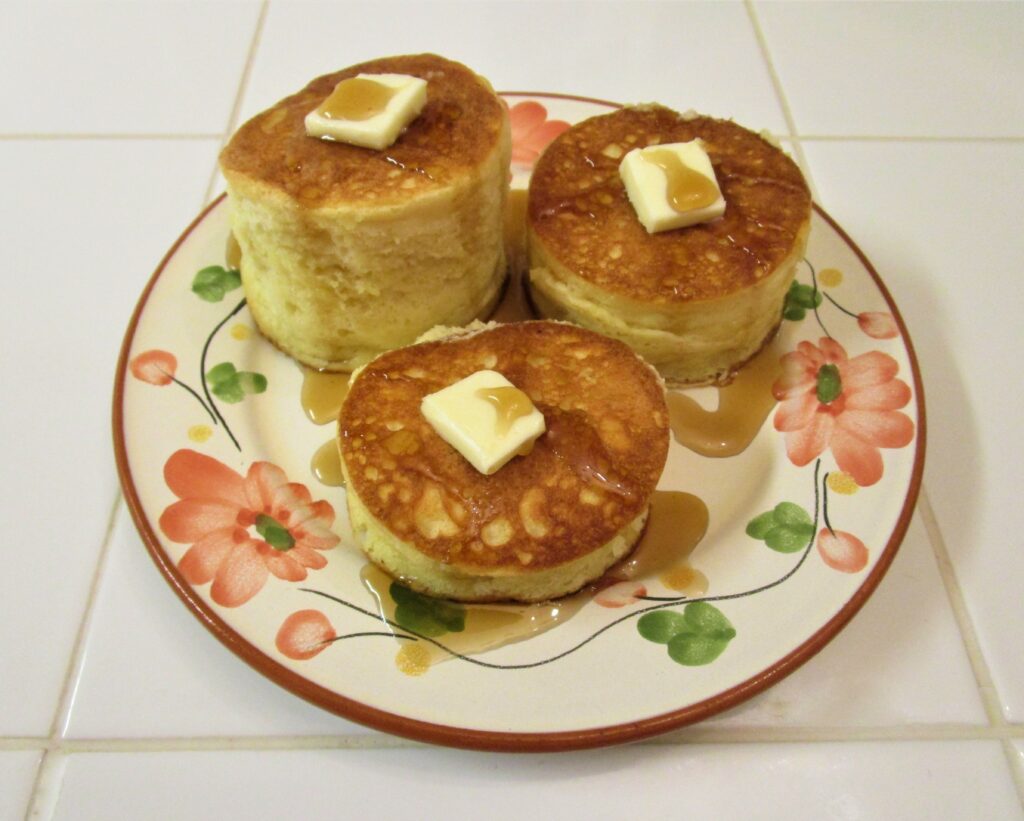 "I saw these and thought they looked like fun. Which they are, but they are also slightly difficult to make. Flipping the ring molds takes a lot of practice. During my first attempt, out of 8 pancakes, I only flipped one successfully, though I did make progress each time. You have to be lightning fast! Or else you end up with a full or partial mess. Having heat-resistant gloves so you can handle the ring molds directly would make these much easier." – April Ferre
Japanese Soufflé Pancakes
Ingredients
1 1/2

Cups

Flour

3

Tablespoons

Powdered Sugar

2

Teaspoons

Baking Powder

1/2

Teaspoon

Kosher Salt

1 1/4

Cup

Milk

1

Teaspoon

Vanilla

1/4

Cup

Butter

Melted & Cooled

1

Large Egg Yolk Plus 3 Large Egg Whites

1/4

Teaspoon

Cream of Tartar
Instructions
Combine flour, sugar, baking powder and salt in a large bowl. In a separate bowl, whisk together milk, vanilla, melted butter and egg yolk.

In the bowl of an electric mixer with the whisk attachment, beat egg whites and cream of tartar at high speed until stiff peaks form.

Stir the milk mixture into the flour mixture until just combined (there will be a lumps). Fold one-third of the beaten egg whites into the flour-milk mixture. Then gently fold in the remaining egg whites until just combined (do not to over mix).

Heat an electric griddle to 350 degrees and spray with non-stick spray. Also spray the inside of four 3-inch diameter by 2 1/2-inch tall ring molds and place on electric griddle.

Fill each mold half way with batter, cover griddle with lid and cook for 5 minutes. Release the bottom of the pancakes with a spatula. Remove carefully from the griddle and let cool slightly (but only slightly) until you can flip the molds without burning your fingers. Heat-resistant gloves are highly recommended. Quickly invert the mold back onto the griddle and cook until golden on the other side, about 5 minutes more.

Transfer to a plate and remove the mold. Serve with butter and maple syrup or sprinkled with powdered sugar and berries. Makes 8 pancakes.
2020 Recipe – April Ferre – From the Food Network