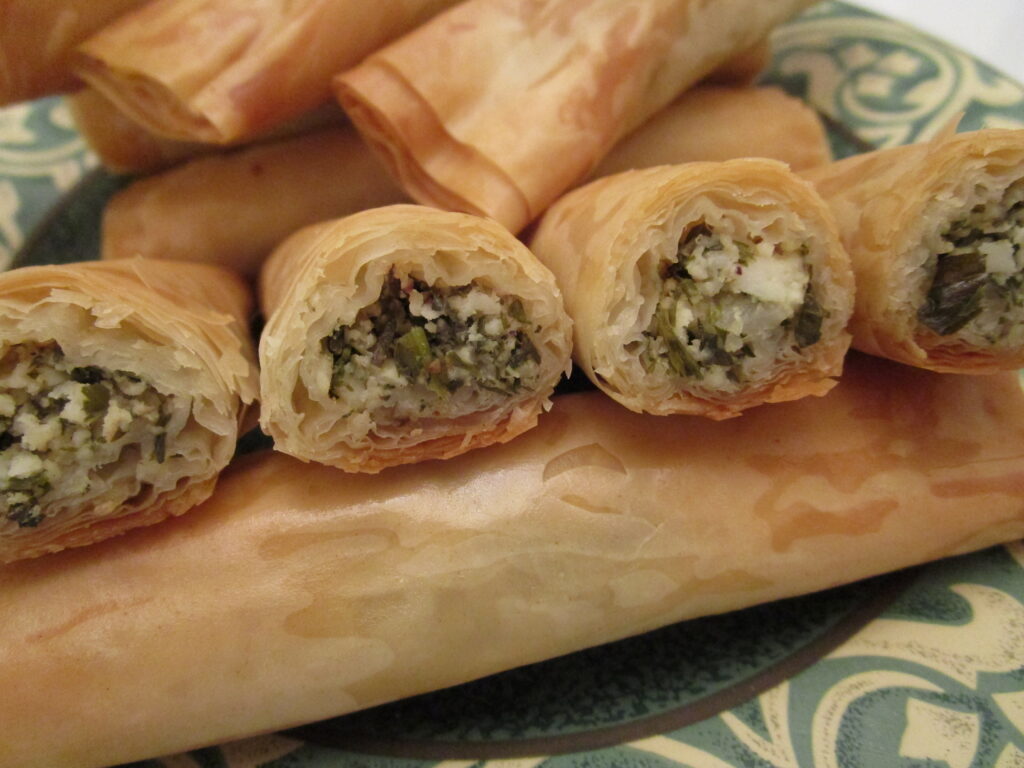 "I found this while looking for hummus recipes. They are surprisingly addictive and reheat in the microwave well." – April Ferre
"Known as Börek, these crisp, cheese-filled pastries are a common feature of street food throughout much of the Mediterranean, where they are often taken with aperitifs. They are easy to make at home, but require a little time and patience." – The Complete Book of Greek Cooking
Herbed Feta Pastries (Börek)
Ingredients
9

Ounces

Feta Cheese

Finely Crumbled

2

Tablespoons

Each Fresh Parsley, Dill & Mint

Chopped

1/2

Teaspoon

Nutmeg

Ground Black Pepper

40

(Approximately 1 Pound) Filo Pastry Sheets (9×14 Inches)

Olive Oil
Instructions
Preheat Oven to 375 degrees.

Mix the feta, nutmeg, and herbs in a bowl. Add pepper to taste and mix.

Cut filo sheets in half lengthwise to make 14 x 4 1/2-inch sheets. Brush one sheet of filo lightly with olive oil. Place another sheet on top of it and brush that too. Place 1 rounded teaspoonful of the cheese filling at the base of the filo, fold the corners in diagonally to enclose it, then roll the pastry up into a cigar shape. Brush the end with a little extra olive oil to seal, then place join-side down on a non-stick baking sheet. Repeat with the remaining pastry and filling.

Brush the pastries with more olive oil and bake for 20 minutes or until crisp and golden. Cool on a wire rack.

Tip: When using filo pastry, it is important to keep the unused sheets covered so that they don't dry out. The quantities for filo pastry in this recipe are approximate, as the size of filo sheets varies. Any unused pastry will keep in the refrigerator for a week or so, if it is well wrapped.
2013 Adapted Recipe – April Ferre – The Complete Book of Greek Cooking by Rena Salaman & Jan Cutler, 2005.