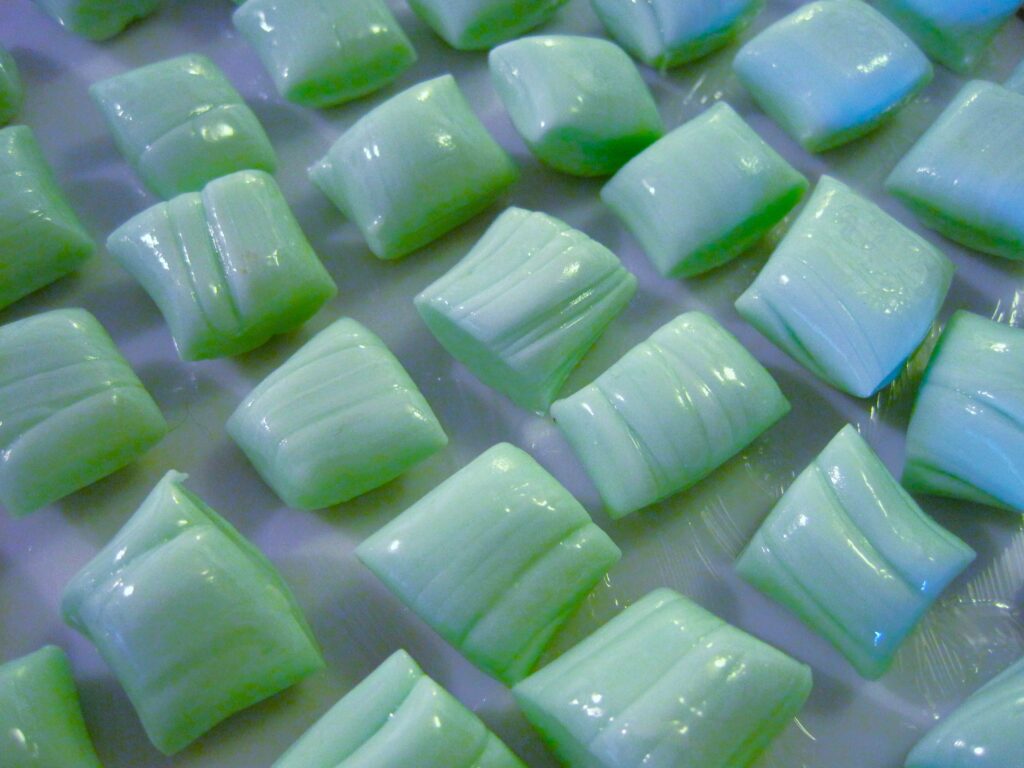 "This recipe was originally called "Taffy"; however, in my experience, it makes more of a hard candy than chewy taffy. It is, however, very good as a hard candy, especially when made with peppermint extract. Be prepared for slightly singed fingers though, as it is very hot to work with." – April Ferre
Hard Candies
Ingredients
1 1/2

Cup

Sugar

1/8

Teaspoon

Salt

1/2

Cup

Light Corn Syrup

1/4

Cup

Water

2

Tablespoons

Butter or Margarine

1/2

Teaspoon

Vanilla
Instructions
In medium saucepan, combine all ingredients except vanilla. Cook, stirring constantly, until mixture reaches hard-ball stage (255 degrees). Remove from heat, stir in vanilla. Pour onto prepared platter.

As candy cools, lift edges toward center. When cool enough to handle, pull candy with buttered fingertips until if becomes white and stiff.

Pull into long rope, about 1/2-inch wide. Cut with scissors into 1-inch pieces. While still soft, twist. Work quickly to finish before candy hardens! But if candy does become too cool to work with, briefly warm in 350 degree oven. Makes 3/4 pound.

Variation: Substitute other extracts (peppermint, lemon, etc …) for vanilla and add food coloring if desired.
1995 Recipe – April Ferre – From Pillsbury's Family Cookbook, 1979