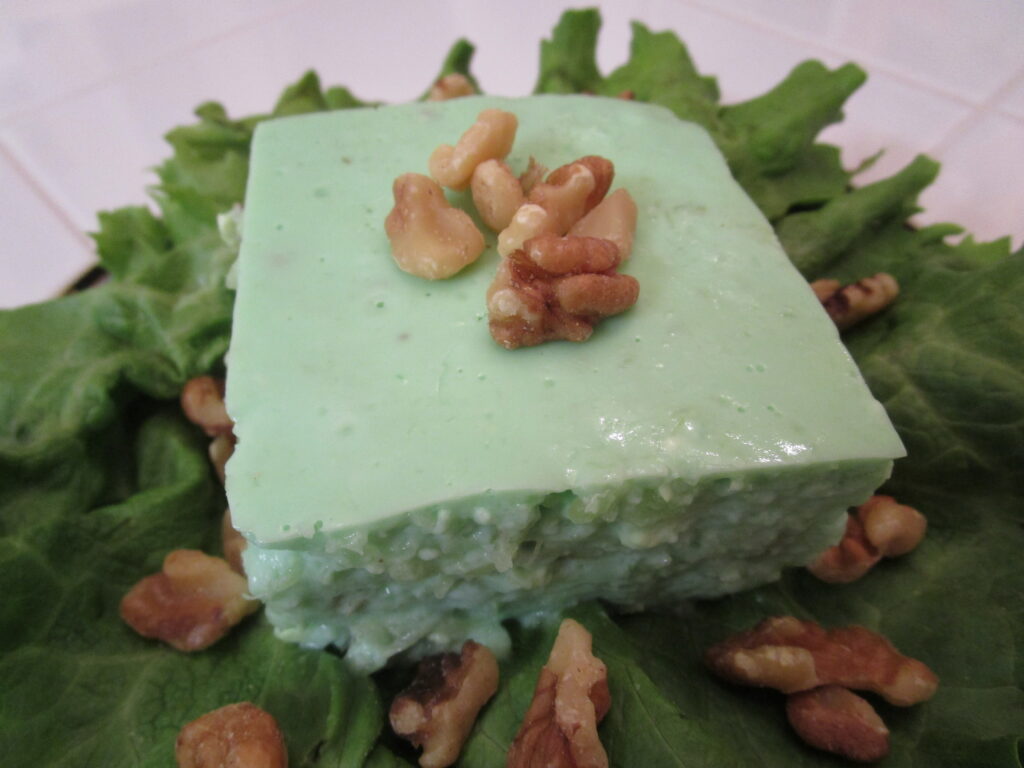 "I know what you are thinking … Mayo? Are you serious? Yes. And no, you really don't taste the mayo in the finished project. If you look around the internet, you can find all sorts of variations of this recipe, though I believe this recipe to be more faithful to the original. This is one of those old fashioned recipes that use to be popular at church potlucks and family holiday dinners. This isn't actually my Grandma's recipe, but it is one that I always enjoy seeing when it pops up at potlucks." – April Ferre
Grandmas Lime Jello Salad
Ingredients
1

20-Ounce

Can Crushed Pineapple

1

6-Ounce

Package Lime Jello

1

Cup

Mayonnaise

1

Cup

Evaporated Milk

1

Cup

Cottage Cheese

1/2

Cup

Walnuts

Chopped

1/2

Cup

Celery

Finely Chopped, Optional
Instructions
Drain pineapple juice into a 2-cup measuring cup and add water to make 2 cups liquid. In a saucepan, bring pineapple juice to a boil and dissolve jello. Cool slightly while you prepare the rest of the salad.

In a large mixing bowl, whisk together mayonnaise and evaporated milk. In a separate bowl, combine pineapple, cottage cheese, walnuts, and celery if desired.

Once jello has cooled, add to mayonnaise mixture. Then add the rest of the ingredients and stir to combine. Pour into an 8×8-inch pan and refrigerate until solidified, approximately 4 hours or overnight.

Cut into squares and serve on lettuce cups. Garnish with extra walnuts if desired. Alternately, scoop into sherbet bowls top with sweetened whipped cream and maraschino cherries.
Notes
If you look around the internet, you can find all sorts of variations of this recipe, some substituting cream cheese for mayo, if you prefer, and heavy cream for evaporated milk. 
Other variations include pecans instead of walnuts, the addition of chopped celery, marshmallows, maraschino cherries, and even horseradish!
2020 Adapted Recipe – April Ferre – Adapted from www.homecookingmemories.com