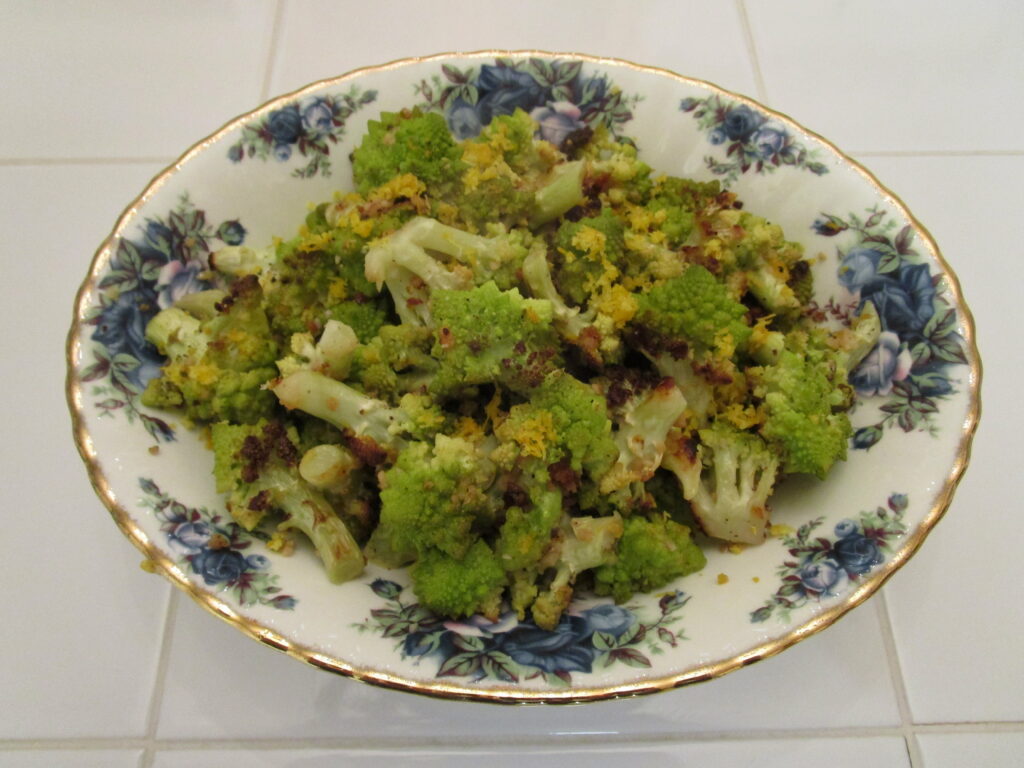 "Romanesco is a fascinatingly beautiful vegetable that forms Christmas tree-like florets arranged in a stunning fractal pattern. Sometimes it is referred to as a cauliflower variant, other times broccoli, but from what I can tell, though in the same family as both, it is actually it's own distinct vegetable. In my opinion, it is most like cauliflower. I had only ever seen pictures of this in CSA baskets until one day I found them at Pedrick Produce Market in Dixon and I had to get some. The roasted garlic, the tangy lemon and the zip from plenty of salt are fantastic with the mild romanesco. If you can't find any romanesco, this works great with regular cauliflower as well." – April Ferre
Garlic and Lemon Romanesco
Ingredients
2

Heads Romanesco

2

Tablespoons

Garlic

Minced

Olive Oil

To Coat

1

Tablespoon

Lemon Zest

Or More To Taste

Salt & Pepper

To Taste
Instructions
Preheat oven to 425 degrees. Line a baking sheet with parchment paper.

Separate romanesco into florets and put in a bowl with minced garlic. Add enough olive oil to coat. Stir to combine.

Put romanesco on baking sheet in a single layer. Sprinkle with lemon zest, salt and pepper.

Bake for 20 to 25 minutes until tender and browned. Serve warm and topped with more lemon zest to taste.
2020 Adapted Recipe – April Ferre – Adapted from It's a Veg World After All