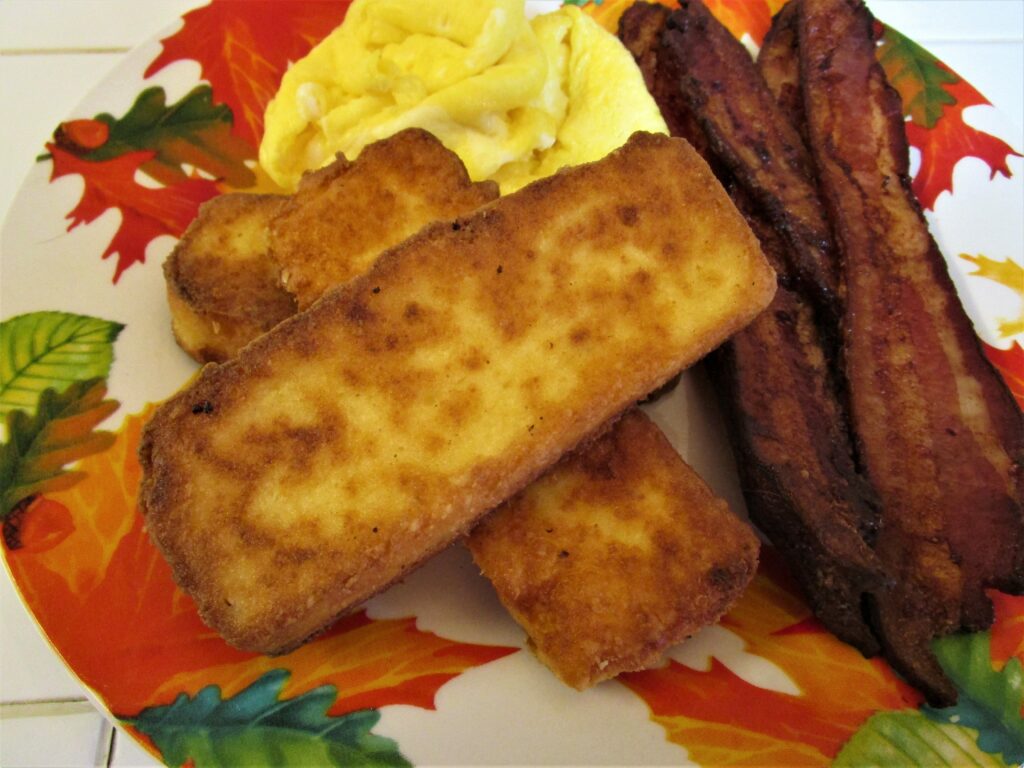 "I went looking for a fried cornmeal mush recipe after it was recommended as a side for Chili con Carne, but now this has become my new favorite breakfast side. The cornmeal mush cooks up a lot like Cream of Wheat, so if you need a good gluten-free substitute, just cook the mush for about 3 minutes, add a little butter and sugar and serve. When fried, this makes a nice substitute for pancakes or waffles. Traditional recipes don't use milk, so it is fine to use water, but I like a little extra creaminess." – April Ferre
Fried Cornmeal Mush
Ingredients
3

Cups

Water

1

Cup

Yellow Cornmeal

1

Teaspoon

Salt

1

Cup

Milk

(or Water)

Flour

For Dredging

3 to 4

Tablespoons

Butter or Bacon Drippings

For Frying
Instructions
Grease a 9×5-inch loaf pan with butter. In a Dutch oven, bring water to a boil.

In a medium bowl, combine cornmeal, salt and milk. Whisk cornmeal mixture well and then slowly pour into boiling water, continuing to whisk as you pour so that lumps do not form. Bring mixture back to a boil and then reduce heat to low. Cook for 15 minutes until thick, continuing to whisk constantly.

Pour mixture into greased loaf pan and allow to cool to room temperature. Once cooled, cover with plastic wrap and refrigerate overnight.

In a large fry pan, heat butter or bacon drippings over medium heat. Carefully remove chilled cornmeal mush from the loaf pan and slice into 1/2-inch slices.

Dredge slices in flour and fry in hot butter until golden brown. Flip slices and fry on the other side. Remove to a paper-lined plate to drain.

Serve immediately with maple syrup or honey.
2021 Adapted Recipe – April Ferre – Adapted from Tastes of Lizzy