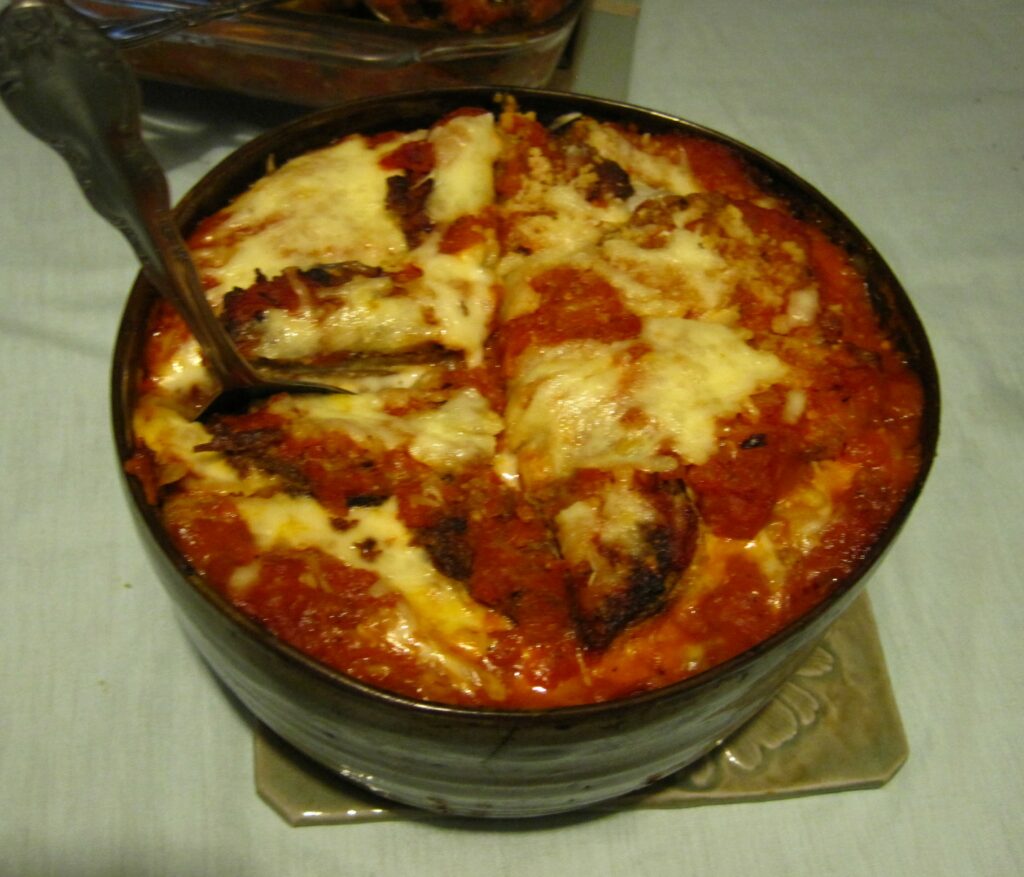 "We were talking in the lab one day, wishing Julie a Happy Birthday and asking her what her plans were. She said she and her husband, Mike, and their son, Ben, were going out to dinner that night. She was hoping to get some good Eggplant Parmesan. Donna mentioned that she had a good recipe, and that she would make it for Julie's dissertation signing party. Well, I jumped at the chance to get a good vegetarian recipe from a good cook, so I asked her for the recipe ahead of time! As it turned out, Donna decided to make this in addition to Ratatouille for Delandy's going away party. It was the first time I had Eggplant Parmesan, and it was wonderful! I kept thinking about it all the next week." – April Ferre
Eggplant Parmesan A'la Lemongello
Ingredients
1

Large Eggplant

1 1/2

Quart

Tomato Sauce

Mozzarella Cheese

Grated

Parmesan Cheese

Grated

Vegetable Oil

2

Eggs

1/2

Cup

Plus 1 Tablespoon Flour

1

Cup

Water
Instructions
Peel and thinly slice eggplant 1/8- to 1/4-inch thick.

Prepare tomato sauce from olive oil, tomatoes, onions, garlic, oregano, salt and pepper. Or buy prepared sauce.

In a shallow and wide bowl (wide enough to fit the eggplant slices horizontally) beat the 2 eggs, flour and water. Heat the oil in a skillet to medium heat (no smoke). Coat the eggplant slices in the egg mixture and sauté both sides until golden brown. This will take several rounds in the skillet to get all the slices sautéed, so just stack them up on a plate as they accumulate.

In a deep casserole dish place a thin layer of tomato sauce. Then make multiple layers of 1) eggplant, 2) tomato sauce 3) sprinkled Parmesan cheese, and 4) sprinkled mozzarella cheese, until all the eggplant is used.

Bake at 350 degrees for 30 minutes uncovered and 10 minutes covered with foil or casserole lid if available. Cool for 5 to 10 minutes, slice and serve hot.
2011 Recipe – Donna Lemongello – The Conforti/Lemongello Family Recipe