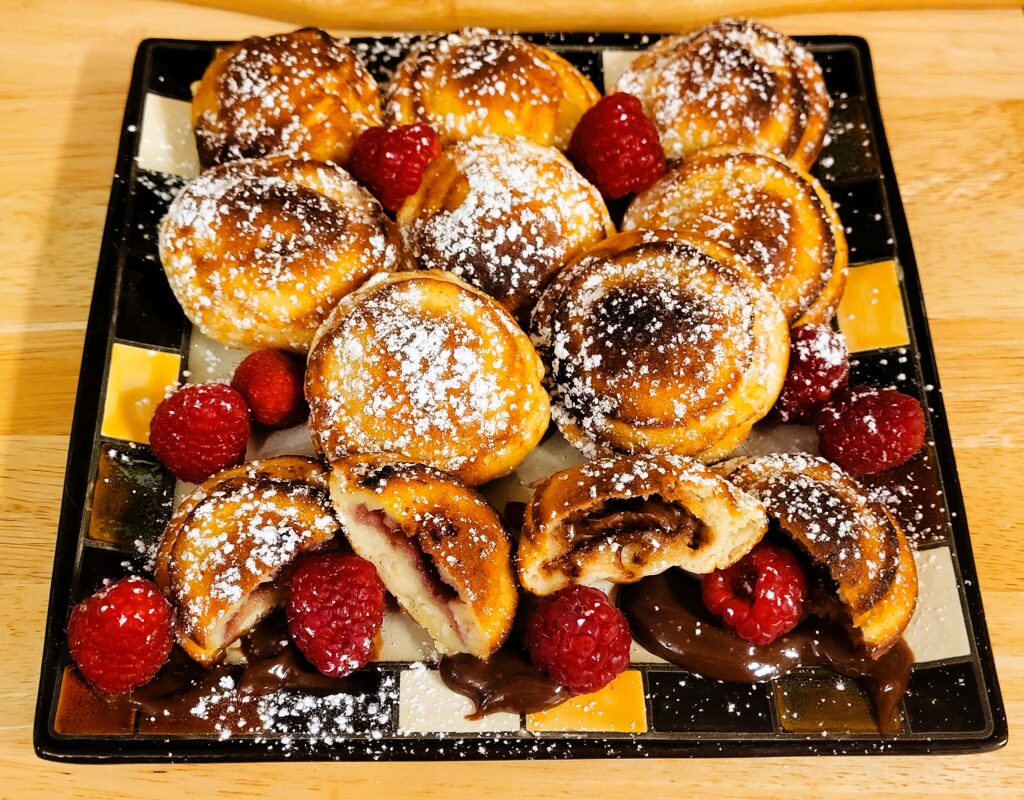 "My grandmother was very fond of the Danish culture. I describe these little Danish gems as a cross between a pancake and a donut hole. The do require a specialized ebelskiver pan. I recommend a stand-alone non-stick electric pan, as you are more likely to get the right temperature and even heating. Otherwise, find a well seasoned cast-iron stove-top pan. While a bit time consuming to make, they are an excellent indulgence for a special weekend breakfast. My favorite filling flavors are raspberry jam and nutella. " – April Ferre
Ebelskivers
Ingredients
1 1/4

Cup

Flour

3/4

Teaspoon

Baking Powder

1/4

Teaspoon

Salt

1

Tablespoon

Sugar

2

Large Eggs

Separated

1

Cup

Milk

2

Tablespoons

Butter

Melted

1

Teaspoon

Vanilla

1/2

Cup

Jam, Jelly or Preserves

Powdered Sugar
Instructions
Set oven to 200 degrees. Place a foil-covered baking tray in to oven to warm.

In a large bowl, whisk together flour, baking powder, and salt. In a medium bowl, whisk together sugar, egg yolks, milk, butter and vanilla until well blended. Add the egg yolk mixture to the flour mixture and stir until just blended (the batter will be slightly lumpy.)

In a medium bowl, with an electric mixture on medium-high speed, beat egg whites until frothy. Increase speed to high and beat until stiff, but not dry, peaks form. Using a rubber spatula, gently mix one-third of the egg whites into the batter. Gently fold in the remaining whites.

Brush wells of ebelskiver pan lightly with melted butter. When butter begins to sizzle, add 1 Tablespoon batter in to each well. (An ice-cream or cookie scoop works well.) Place 1 teaspoon jam in the center of each well and top with another 1 Tablespoon batter. Cook 2 to 4 minutes until bubbles appear in batter and the bottoms are golden brown. Using two skewers or ebelskiver turners, flip the puffs over. Cook for 2 or 3 minutes more until the bottoms are golden brown. Remove puffs to warmed baking tray and place in oven to keep warm while you make additional puffs. Repeat for remaining batter.

Before serving, dust ebelskivers with powdered sugar. Serve warm or at room temperature.
Notes
Be creative with your fillings, think nutella, lemon curd, and apple compote. Spice up your ebelskiver with a little cinnamon, nutmeg or lemon zest mixed in with your batter.
2019 Recipe – April Ferre – from 150 Best Ebelskiver Recipes by Camilla V. Saulsbury, 2013