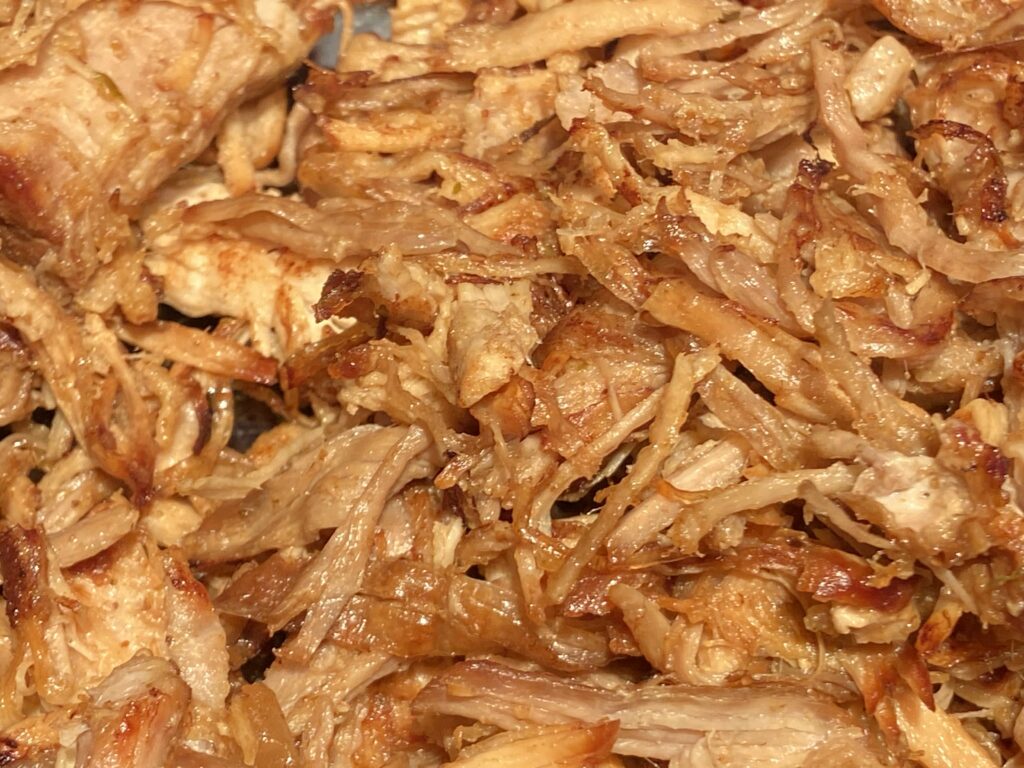 "I wanted to make some carnitas and found this recipe. The cola idea was intriguing. I have lots of allergies that limit what i can have, so often times I lean towards items with less spice. This was very flavorful and the only thing I had to leave out was the pepper! I have heard that pork loin does not make good carnitas since it does not shred nicely due to lack of fat. With using my instapot, I did not have problems getting my pork loin to shred." – Calla Ferre
Carnitas
Ingredients
4

Pounds

Boneless Pork Butt, Shoulder or Loin

1

Teaspoon

Salt

1

Teaspoon

Pepper

1

Tablespoon

Dried Oregano

1

Tablespoon

Cumin

1

Large Onion

Cut Into Wedges

8

Cloves

Garlic

Smashed or Minced

2

Limes

Juiced (1/4 Cup)

2

Large Oranges

Juiced (3/4 Cup Juice)

3/4

Cup

Coke

Mexican Coke Preferred (See Note)

2

Bay Leaves
Instructions
Separate the onion wedges in individual slices to have them ready to wilt.

Combine salt, pepper, oregano, and cumin in a small bowl. Rub spice mixture all over meat. Sear the pork in a fry pan in a small amount of oil and then remove to a plate.

Add the separated onions to the fry pan with the brownings and wilt or slightly brown.
Slow cooker method:
In the bowl of a 6-quart slow cooker, add pork, onions, garlic, lime juice, orange juice, coke, and bay leaves. Cover and cook on low heat setting for 8 to 10 hours, or high heat for 5 to 6 hours (until the meat falls apart).

Remove pork to a large bowl and shred with two forks. Add back as much liquid as the meat will absorb. Crisp as described below.
Instapot method:
Add the lime juice, orange juice, coke, garlic and bay leaves and to the instapot.

Add onions and place the seared pork on top. Cook on the meat setting with the more time setting. Start instapot. Allow to release naturally.

Remove meat; meat should shred nicely, if not cook longer. Put shredded meat into a bowl and add back as much liquid as the meat will absorb. Crisp as described below.
To crisp in the oven:
Transfer the pork to a baking sheet lightly sprayed with cooking oil spray (or lined with aluminum foil or parchment paper).

Broil for 5 to 10 minutes on high heat until the meat becomes golden browned and crispy on the edges.
To crisp on the stove top:
Heat about 1 tablespoon of oil in a non stick pan or cast iron skillet over high heat.

When pan is hot, add pork in batches of two or three, and sear until juices begin to reduce down and the meat is nice and crispy.
To serve:
Season with a little extra salt and pepper if desired.

Pour over more of the slow cooker juices once the meat has crisped for added flavor, just before serving.

Serve in tacos, burritos, or in a salad.
Notes
Mexican Coke contains cane sugar which helps with the caramelization during crisping and is ideal; however you can use any coke. If using regular coke, add 1 teaspoon sugar. Alternatively, substitute with chicken broth.
You can use this recipe to cook beef, such as London Broil, as well and it comes out excellent!
2021 Adapted Recipe – Calla Ferre – Adapted from Cafe Delights
Related Recipes: