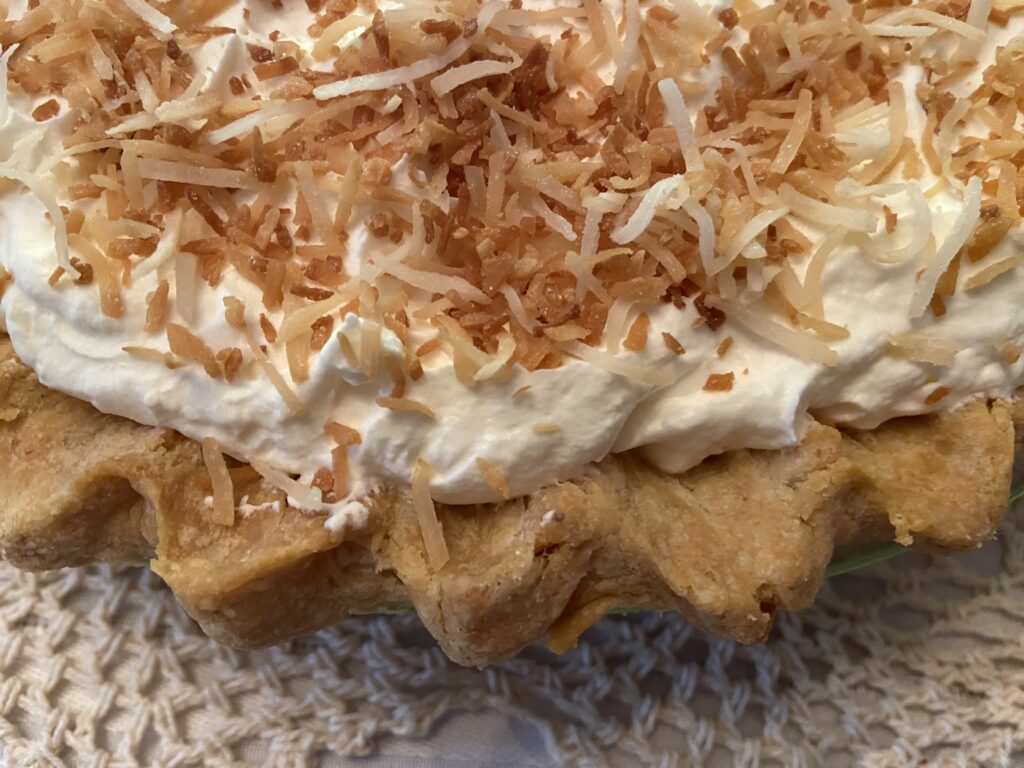 "Too many gluten-free pie crust recipes have no flavor and are more like cardboard. Though this is not flaky like a wheat based pie crust, it does taste good. Once baked, its end texture is somewhat like a graham cracker crust pie shell, but with more substance. It does hold the pie together well and can be enjoyed by those that do not have to go gluten-free." – Calla Ferre
Calla's Tasty Gluten-Free Pie Crust
Ingredients
2

Cups

Gluten-Free Flour Blend

1/4

Cup

Sliced Almonds

Chopped

1

Tablespoon

Sugar

1/2

Teaspoon

Baking Soda

1/2

Teaspoon

Xanthan Gum

1/2

Teaspoon

Salt

1/2

Cup

Shortening

Butter-Flavored Preferred

4

Tablespoons

Butter

Cold

1/2

Cup

Milk or Half & Half

Possibly Some Additional
Instructions
In medium bowl, whisk together the first 6 ingredients.

Cut the shortening and butter into smallish pieces (this makes mixing easier.) Using your fingers, pasty blender or two dinner knives, rub or cut the shortening and butter into the dry ingredients until they are the texture of a coarse meal with pea-size pieces.

Gradually stir in the milk with a fork to moisten the dry ingredients. Try not to over work the mixture. If needed add small amount of additional milk to bring it all together.

Form dough into a ball, divide it in half and make into two disks. Wrap individual discs in plastic wrap and refrigerate for at least 2 hours or overnight. Roll out dough on a piece of waxed paper. Carefully flip dough onto pie plate, remove wax paper, tuck dough into place. Patch and smooth any areas that have cracked or broken. Trim as needed. Flute edges. If your fingers are wet this will be easier. Gluten-free pastry dough can be very difficult. If the above is too difficult, or you are in a hurry, just take the dough and press it into place with wet fingers. This can be done either after the dough has chilled or even right after mixing.

For a baked pie shell: Using the tines of a fork, evenly poke holes in the bottom and sides of the crust to prevent it from rising when baked. Bake at 350 degrees until crust is golden brown; approximately 16 to 20 minutes. Check crust during baking to make sure crust is not rising too much. If it is, use a fork to poke additional holes in crust to help release trapped steam.

Makes 2 single 8 or 9 inch crusts.
Freezing dough:
Once the pie crust has been formed into the pie pan, it can be wrapped in a plastic bag and frozen to be used at a later time. Partially dethaw before baking.
Notes
I have only used this for a one crust pie. For this it works well. It is very difficult to roll out and keep in one piece. Then I use a crumb topping. For the crumb topping just substitute gluten-free flour for the regular flour in your favorite crumb topping recipe, making sure all other ingredients are gluten-free.
Another option for topping a traditionally two crust pie is to use gluten-free sugar cookie dough and use cookie cutters to cut shapes to place on top of the pie. These should be made ahead of time and placed on top of filling while it is still hot. Placing the cooked cut outs on the pie while it is hot adheres them in place. Just before baking cut outs you can dust the "cookies" with sugar or a mixture of cinnamon and sugar. No need to use egg wash, but okay to use if you wish.
2020 Recipe – Calla Ferre
Related Recipes: