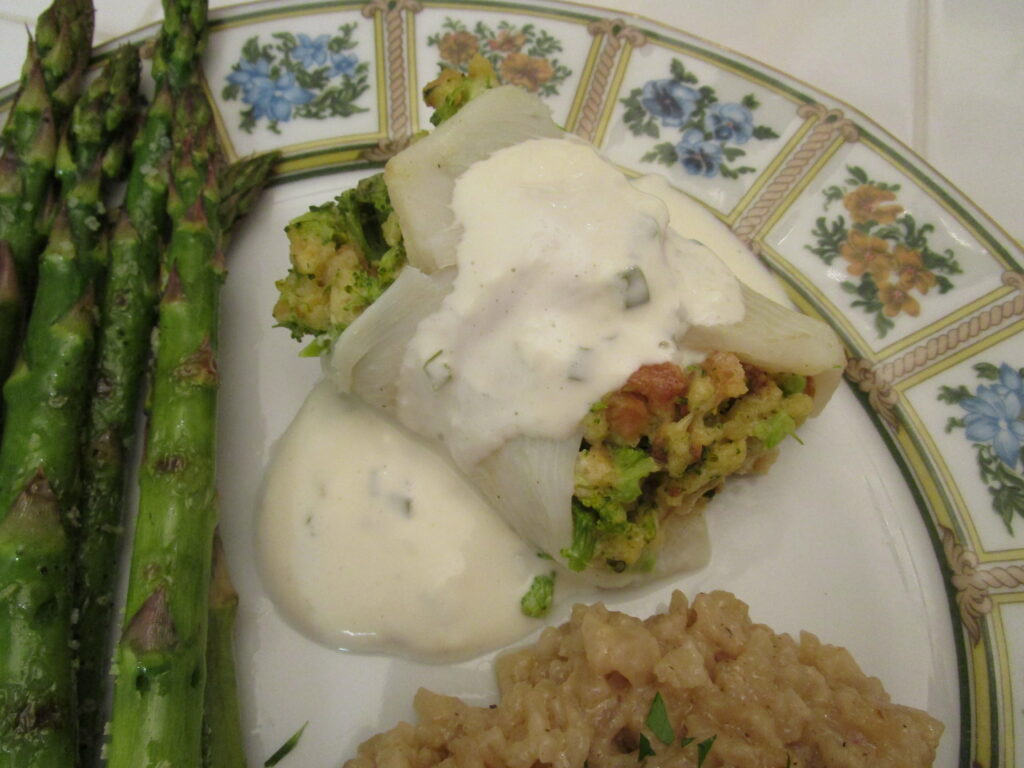 "My Mom is not a big fan of fish. Her Mom didn't cook a lot of it at home when they were growing up because as a kid spending summers out on the lake in Wisconsin during the depression, fish was free and widely available. As such, she very quickly became sick of fish. Since cooking is something that has been passed down in my family, I never learned to cook it. Then came college, and I started experimenting with fish. This was the first recipe I tried." – April Ferre
Broccoli-Stuffed Sole
Ingredients
4

4-Ounce

Fresh or Frozen Skinless Sole, Flounder, or Other Fish Fillet

1

8-Ounce

Container Cream Cheese With Chives And Onions

1

Egg

Beaten

1/4

Cup

Grated Parmesan Cheese

1

Cup

Broccoli

Chopped

3/4

Cup

Herb-Seasoned Stuffing Mix

2

Tablespoons

Milk

2

Tablespoons

Dry White Wine
Instructions
Thaw fish, if frozen. Rinse fish and pat dry with paper towels.

Combine egg, half of the cream cheese, and the Parmesan cheese. Stir in broccoli and stuffing mix.

Spoon 1/4 of the stuffing onto each fillet. Roll up, securing rolls with wooden toothpicks.

Place fish in a greased 2-quart square baking dish. Bake, covered, in a 350 degree oven for 30 to 36 minutes or until fish flakes easily with a fork and stuffing is hot.

Meanwhile, for sauce, in small saucepan cook remaining cream cheese, milk and wine until heated through, stirring often. Serve sauce over fish. Makes 4 servings.
2003 Recipe – April Ferre – From Better Homes and Gardens New Cookbook, 1996