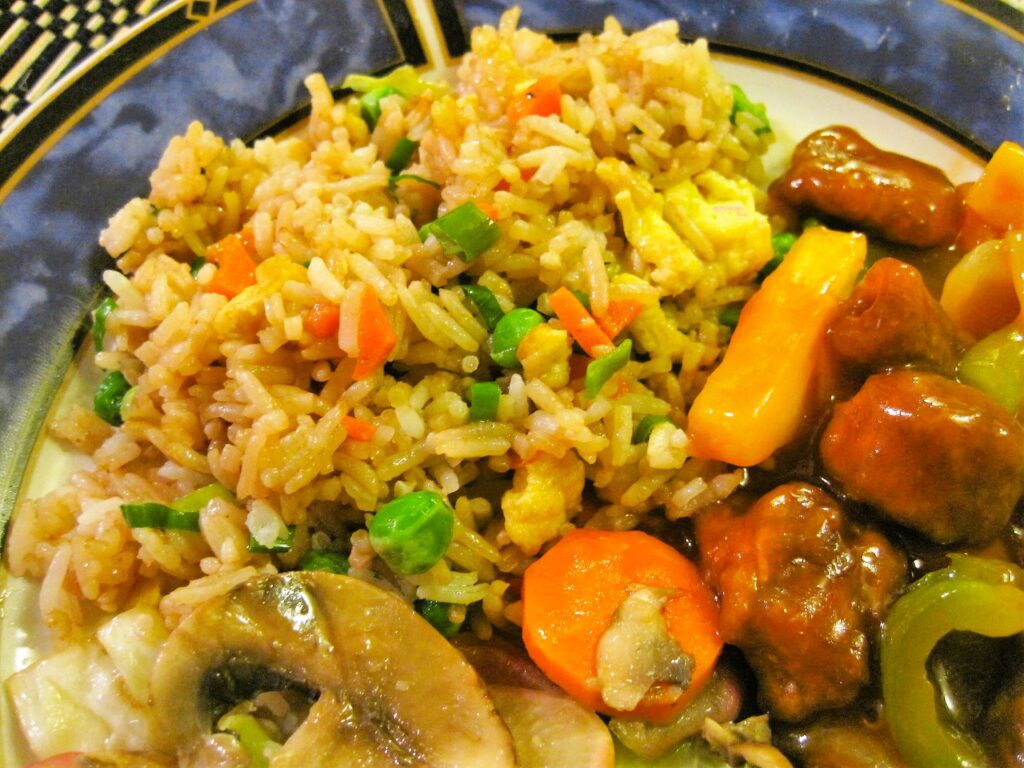 "When I moved into my first apartment, I went on a Chinese cooking kick. I attempted to recreate my favorite restaurant-style dishes. I came up with both a good fried rice and chow mein recipe. Unfortunately, I was never able to reproduce the chow mein, but I was able to get down my fried rice recipe. The secret, surprisingly, seemed to be in the dried mustard. I think it really brings out all the other flavors." – April Ferre
April's Restaurant-Style Fried Rice
Ingredients
Peanut or Vegetable Oil

3

Eggs

Well Beaten

1

Bunch Green Onions

Chopped

Frozen Mixed Vegetables

Optional

Chicken, Ham or Pork

Cooked & In Bite-Size Pieces

1

Clove

Garlic or 1/8+ Teaspoon Garlic Powder

1

Slice

Ginger Root or 1/4 Teaspoon Ground Ginger

4

Cups

Cooked Rice

Oyster Sauce

Dry Mustard

Soy Sauce

Sesame Oil
Instructions
Place small amount of peanut oil in small fry pan. (Other oils may be substituted, I just happen to like the taste of peanut oil.) Heat on high; add egg and cook until light, breaking up egg into small pieces. Remove egg to bowl and set aside.

Prepare green onions as well as meat and dethaw mixed vegetables. In large fry pan, add peanut oil to lightly cover and heat to high. If using fresh garlic and ginger, cook in oil and then remove with slotted spoon. If using garlic powder and ground ginger, add to oil and dissolve.

Add cooked rice and stir to coat. Add oyster sauce and dry mustard; mix well. Add enough soy sauce to turn the rice to a little darker than the desired color.

Add egg, meat and vegetables and cook long enough to heat through. Add green onions during last 30 seconds of cooking. Remove rice to non-metallic bowl and add sesame oil; stir well to blend.
2002 Original Recipe – April Ferre