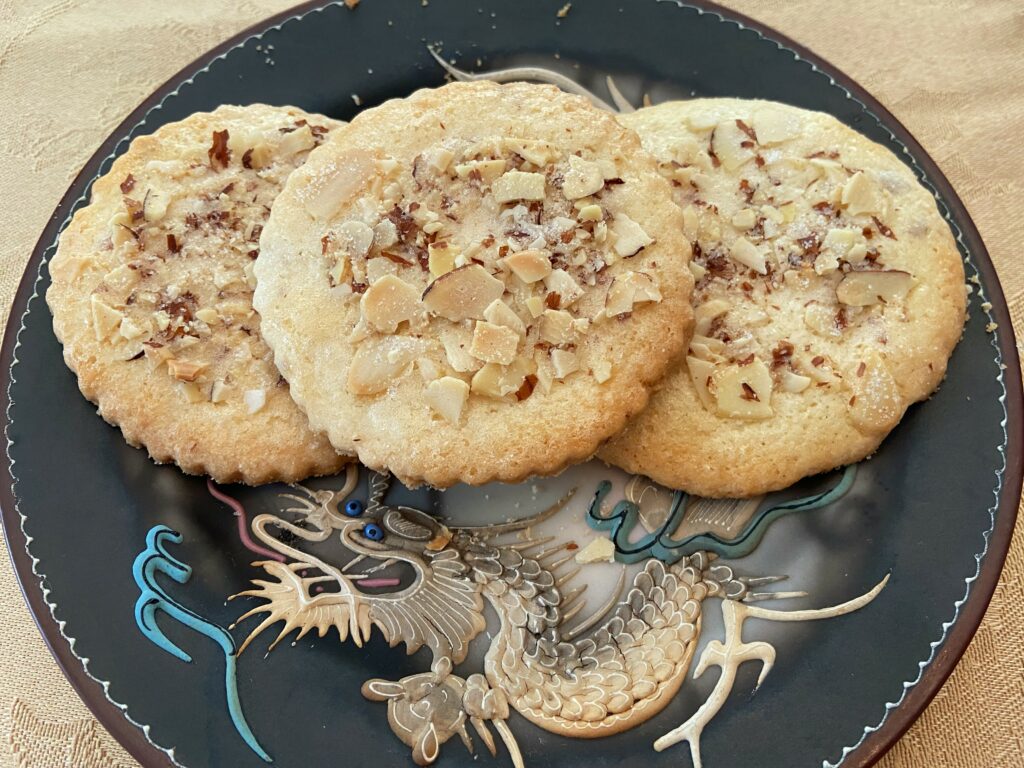 Almond Sugar Cookies (Gluten-Free)
Ingredients
1 1/2

Cup

Butter or Margarine

1 1/4

Cup

Sugar

1

Tablespoon

Almond Extract

1/2

Teaspoon

Vanilla

2

Eggs

Stiffly Beaten

4

Cups

Calla's Gluten-Free Flour Blend

Sifted

3/4

Teaspoon

Xanthan Gum

1 1/2

Cups

Sliced Almonds

Divided

1

Egg White

1

Tablespoon

Sugar

Extra Granulated Sugar for Sprinkling
Instructions
Place butter or margarine in bowl and allow to soften. Add sugar, almond extract, vanilla and eggs. Mix thoroughly.

Combine gluten-free flour blend and xanthan gum using a wire whisk to evenly incorporate. Chop 1/2 cup sliced almonds and mix into the flour blend.

Stir flour mixture into wet ingredients. Chill dough.

Roll out chilled dough 1/4-inch thick and cut into squares, use a round cookie cutter, or any favorite cookie cutter shape that is desired.

Note: This is a delicate dough, as it warms it becomes harder to handle. When this happens place the dough on a plate or piece of plastic wrap into the freezer for a few minutes to re chill, then continue on.

For the topping: Combine egg white and tablespoon sugar, beat well. Crush remaining 1 cup sliced almonds. Brush cookies with egg white mixture, top with some crushed almonds, and then sprinkle with extra granulated sugar. For a less sweet cookie, they can be baked plain without egg wash or additional toppings.

Bake on parchment paper-lined cookie sheets at 350 degrees for 7 to 9 minutes watching carefully that sugar does not burn. Allow cookies to cool slightly before removing from cookie sheet.

Dough can be made one to two days in advance. Also once shapes are cut the uncooked cookies can be frozen in individual layers. Once frozen, they can be stacked. Baking, egg wash and topping can then happen on another day.
2020 Adapted Recipe – Calla Ferre – Adapted from Norwegian Christmas Trees (Sugar Cookies) recipe
Related Recipes: