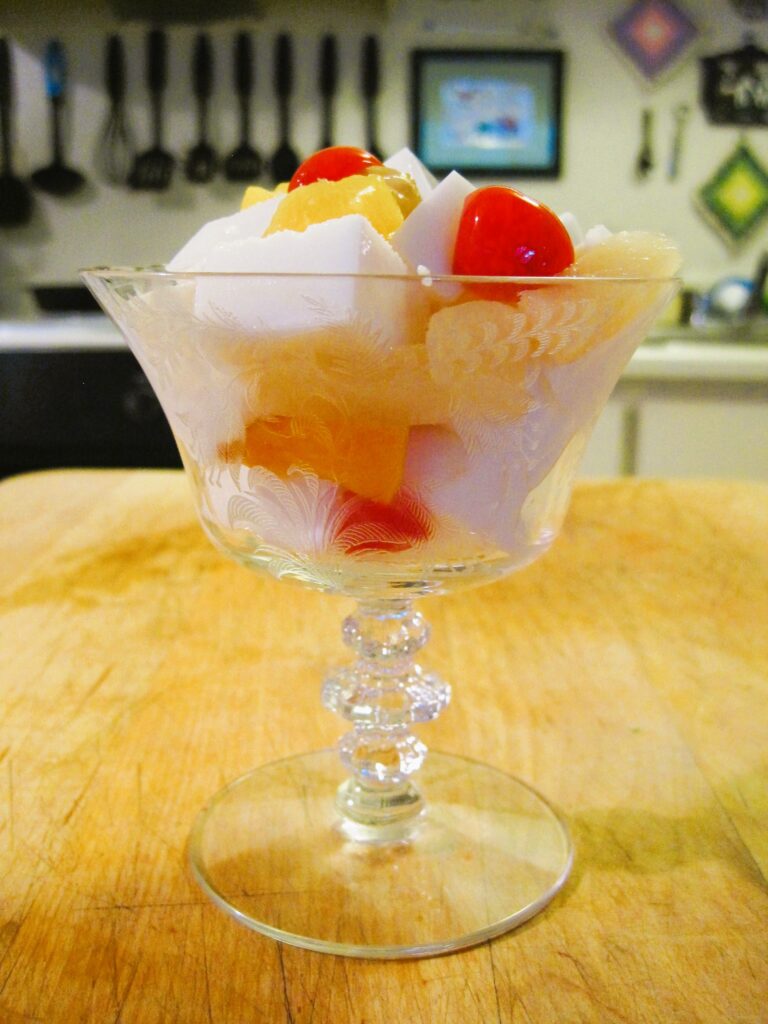 "During college, I spent a lot of time hanging out at my friends', Joyce and Pat, apartment. Joyce made something a kin to this one night from packaged gelatin, I assume from an Asian market, because I couldn't find it in the grocery store. So I sought out to find a recipe for it. This is my favorite use of fruit cocktail." – April Ferre
Almond Curd Junket
Ingredients
1

Ounce

Gelatin Powder

1/4

Cup

Sugar

2 1/2

Cups

Milk

1 1/4

Cup

Water

2 1/2

Teaspoons

Almond Extract

-Or 1 Tablespoon Torani Orgeat Almond Syrup

1

28-Ounce

Can Fruit Cocktail

Well Drained
Instructions
Combine gelatin and sugar in bowl.

In saucepan, combine milk and water over medium heat. Heat milk mixture until scalding, but do not allow it to boil.

Remove from heat and whisk in gelatin mixture until dissolved. Stir in almond flavoring. Pour into 9×13-inch glass baking dish and refrigerate 2 to 3 hours or until set.

To serve, cut the junket into small cubes and spoon into serving bowl. Mix in fruit cocktail. Optional … top with sweetened whipped cream.
2003 Adapted Recipe – April Ferre – From Chinese: The Essence of Asian Cooking, 2002