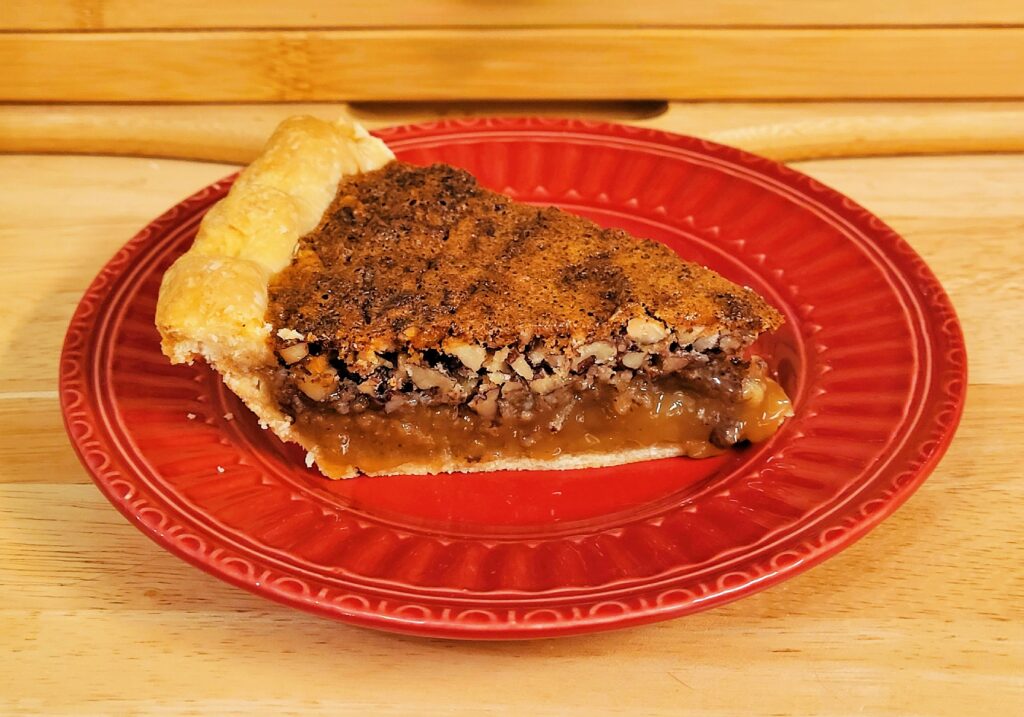 "This pie is very rich, a small piece will do you just fine." – Calla Ferre
Lady Bird's Pet Dessert is Luscious Pecan Pie, by Cecily Brownstone, AP Newsfeatures. "Our First Lady has a long-time favorite dessert: Pecan Pie. And no wonder, The Pecan Pie that Lady Bird Johnson votes the best is the recipe of Zephyr Wright whose cooking efforts our President's family have enjoyed for the last 20 years, and who is now plying her skill at the White House. Mrs. Wright, who started on her culinary career by studying home economics, has devised the most fabulous recipe for Pecan Pie. We've compared it with dozens of other rules, and hers is the richest. Small portions of this pie are in order, even if you have as much energy as our admirable zestful and gracious First Lady. Here's the list of ingredients for the dessert straight from the White House. We've outline the method we used in testing the pie."
White House Pecan Pie
Ingredients
1/2

Cup

Butter

1

Cup

Sugar

1

Cup

Dark Corn Syrup

1/2

Teaspoon

Salt

1 1/2

Teaspoon

Vanilla

3

Eggs

2

Cups

Pecans

Coarsely Chopped

1

Unbaked 9-Inch Pie Shell
Instructions
Allow the butter to stand in a covered medium mixing bowl at room temperature until it is extremely soft.

Add sugar, corn syrup, salt and vanilla; with a sturdy hand, rotary beater or mixing spoon, beat until thoroughly blended. Add eggs and beat gently until just blended. Fold in pecans. Pour into pie shell.

Bake in moderate (375 degree) oven on the rack directly below the center rack until top is toasted brown and filling is set in center when pie is gently shaken, about 40 to 50 minutes. Pastry edge should be browned and the bottom of the pastry a pale gold. If top of pie gets very dark toward end of baking time, place a tent of foil over it. Cool on wire rack. If desired, serve with unsweetened whipped cream.
Recipe – Jean Hansen – From Zephyr Wright, White House Chef