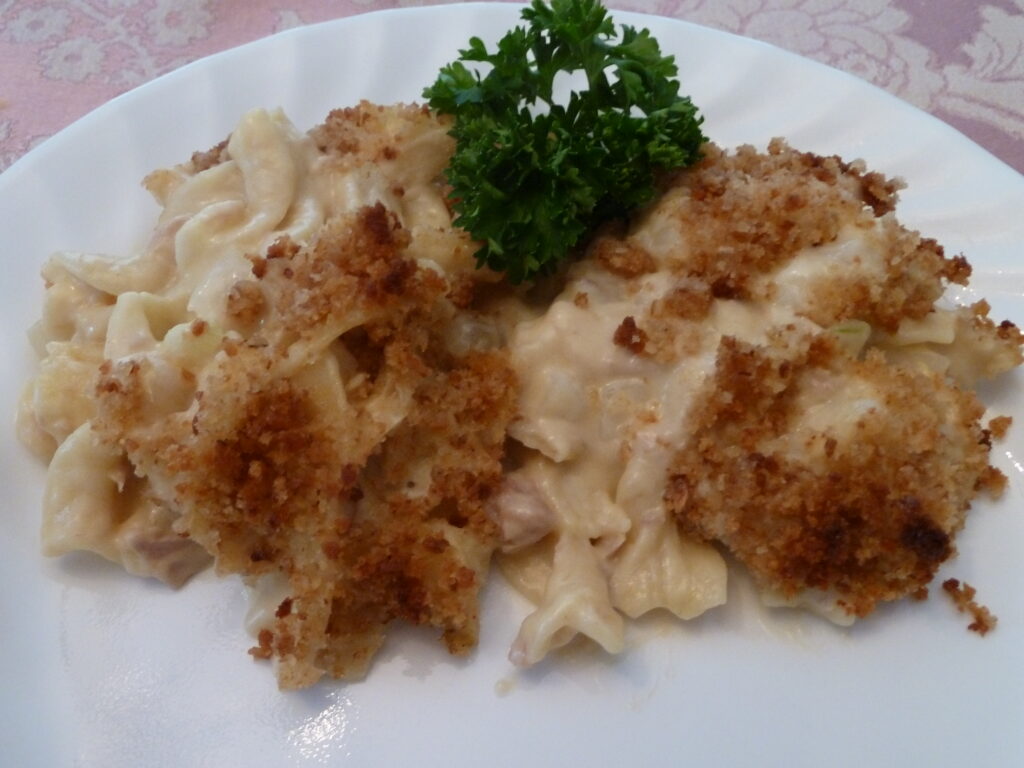 "Have you ever noticed that so many casseroles have tomatoes in them? This is one of the few in our arsenal that I was still able to eat after we nailed down what my allergies were. But beyond that, this is classic comfort food, in my opinion. I revised the recipe a bit to suit our family's taste. If you like, adding a cup or so of sautéed mushrooms makes this dish even better. If you don't have the celery, it can be omitted." – Calla Ferre
"A staple in our house while I was growing up." – April Ferre
Tuna Noodle Casserole
Ingredients
3

Cups

Noodles

1

7-Ounce

Can Tuna

Drained

1/2

Cup

Mayonnaise

1/3

Cup

Onion

Chopped

1/3 to 1

Cup

Celery

Chopped

1/2

Cup

Milk

1

Cup

Cheddar Cheese

Shredded

1

10 1/2-Ounce

Can Cream of Mushroom Soup or Cream of Chicken Soup

2

Slices

Bread

2 to 3

Tablespoons

Butter

Garlic Powder
Instructions
Cook noodles according to directions on package. Drain.

Combine in large saucepan, drained tuna, mayonnaise, onion, celery, cream of mushroom or cream of chicken soup, milk and cheese. Heat and stir until cheese melts.

Add noodles to mixture. Turn into 2-quart casserole dish. Top with browned buttered bread crumbs that have been sprinkled lightly with garlic powder.

Bake uncovered at 425 degrees for 20 minutes. Makes 6 servings.
Browned Buttered Bread Crumbs
Take bread slices (heels work well) and make into bread crumbs.

In medium fry pan, melt 2 to 3 tablespoons butter. Sprinkle bread crumbs evenly over butter. Sprinkle with garlic (well under 1/8 teaspoon). Cook until lightly browned.

Additional browning will take place during cooking of casserole.
Recipe – Calla Ferre – From Better Homes and Gardens New Cookbook, 1976. This recipe has been revised.