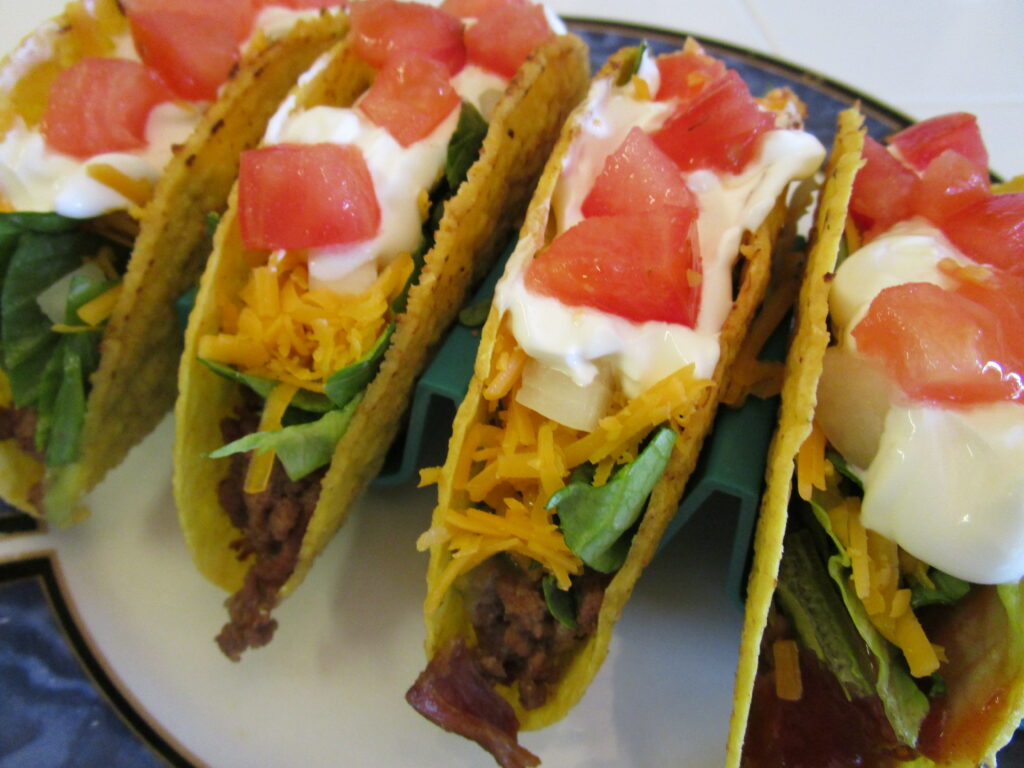 "I found this recipe while on a cruise in a cookbook out of the Caribbean, of all places. It was titled 'Authentic Mexican Tacos.' The cookbook was being sold to raise money for a local school. If you have some leftover chilies, they go great in this taco meat." – Jean Hansen
"We fix these quite often. It is easy to have the filling made up in advance as it freezes well. It's got Taco Bell beat all to heck." – Calla Ferre
"Definitely has Taco Bell beat, especially given that their 'meat' is only 35% beef! I had a craving for these while in college, but it makes up way too much meat for me to eat alone, so I sent out a bunch of messages via AIM (AOL Instant Messenger), which was popular at the time, to my friends and we had a spontaneous taco bar party." – April Ferre
Tacos
Ingredients
1

Pound

Ground Beef

1

12-Ounce

Can Roast Beef With Gravy

Garlic

To Taste

1

18-Count

Package Preformed Taco Shells

Desired Taco Fillings
Instructions
Brown ground beef and drain off fat. Add roast beef and mix thoroughly to break up chunks into shreds. Mix ground and roast beef uniformly throughout mixture. Add garlic to taste.

Fill preformed taco shells with taco meat. Place filled shells on baking sheet in preheated 375 degree oven for 5 minutes.

Fill with desired fillings and serve immediately. Makes approximately 18 tacos.
Recipe – Jean Hansen