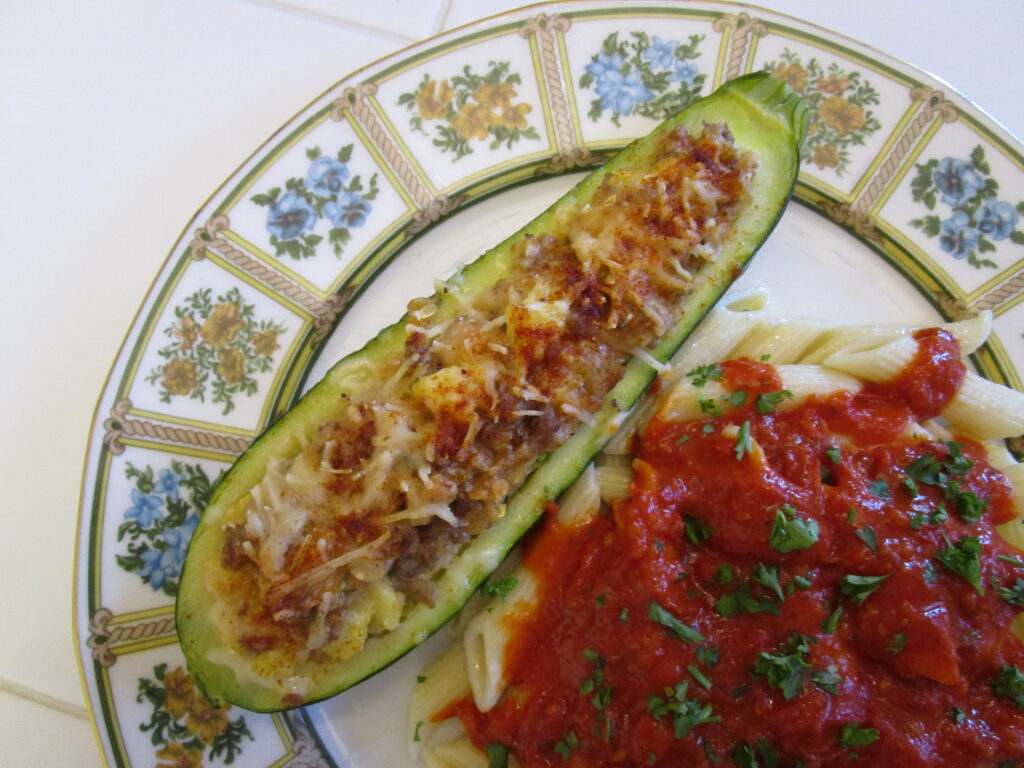 "I have fond memories of these, until the allergies kicked in! Wish I could still eat them." – Calla Ferre
"I like to double the stuffing ingredients to make these a more substantial part of the meal." – April Ferre
Sausage Stuffed Zucchini
Ingredients
4

(2 Pounds) Medium Zucchini

1/4

Pound

Pork Sausage

1/4

Cup

Onion

Chopped

1/2

Cup

Fine Cracker Crumbs

1

Egg

Slightly Beaten

1/2

Cup

Parmesan Cheese

1/4

Teaspoon

Salt

1/4

Teaspoon

Thyme

Dash Garlic Salt

Dash Pepper
Instructions
Cook whole zucchini in boiling salted water until barely tender (7-10 minutes). Cut in half lengthwise; scoop squash from shells and mash.

Cook sausage with onion; drain fat. Stir in zucchini. Reserving 2 tablespoons Parmesan cheese, add remaining ingredients.

Spoon into shells and place in shallow baking dish. Sprinkle with cheese and dash with paprika. Bake at 350 degrees for 25-30 minutes. Makes 4 servings.
Recipe – Jean Hansen – From Better Homes and Gardens Magazine