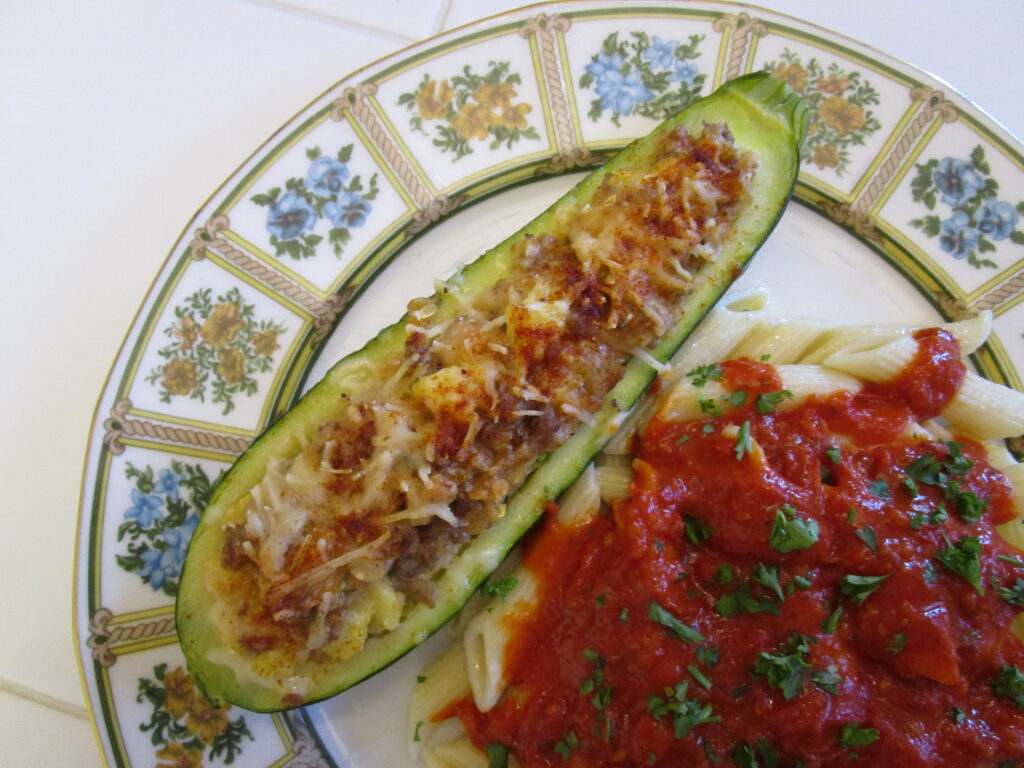 "I have fond memories of these, until the allergies kicked in! Wish I could still eat them." – Calla Ferre
"I like to double the stuffing ingredients to make these a more substantial part of the meal." – April Ferre
Sausage Stuffed Zucchini
Ingredients
4

(2 Pounds) Medium Zucchini

1/4

Pound

Pork Sausage

1/4

Cup

Onion

Chopped

1/2

Cup

Fine Cracker Crumbs

1

Egg

Slightly Beaten

1/2

Cup

Parmesan Cheese

1/4

Teaspoon

Salt

1/4

Teaspoon

Thyme

Dash Garlic Salt

Dash Pepper
Instructions
Cook whole zucchini in boiling salted water until barely tender (7 to 10 minutes). Cut in half lengthwise; scoop squash from shells and mash.

Cook sausage with onion; drain fat. Stir in zucchini. Reserving 2 tablespoons Parmesan cheese, add remaining ingredients.

Spoon into shells and place in shallow baking dish. Sprinkle with cheese and dash with paprika. Bake at 350 degrees for 25 to 30 minutes. Makes 4 servings.
Recipe – Jean Hansen – From Better Homes and Gardens Magazine