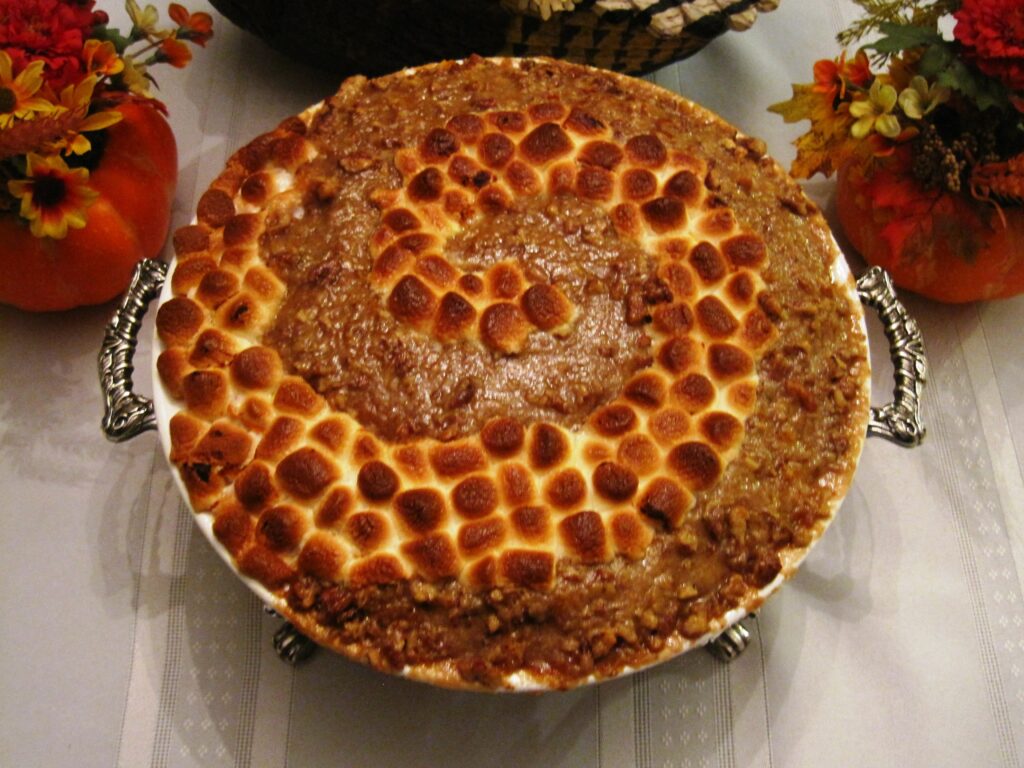 "We generally make sweet potatoes at Thanksgiving. A few years ago I added the marshmallows after having a dinner party where my choir buddy Kristen (Florek) Kent made them that way. Then my Mom found this recipe. They are almost more like dessert than a genuine side dish and make for an extra special sweet treat during the holidays. For a variation, use both marshmallows and this streusel to make an artistic pattern." – April Ferre
"The ultimate way to serve sweet potatoes. Beat out all other recipes as far as I'm concerned." – Calla Ferre
Stuffed Sweet Potatoes with Pecan & Marshmallow Streusel
Ingredients
12

Large Sweet Potatoes

3/4

Cup

Butter

Room Temperature

3/4

Cup

Light Brown Sugar

3/4

Cup

Flour

1/4

Teaspoon

Cinnamon

1/4

Teaspoon

Salt

1

Cup

Pecan Pieces

Toasted

1

Cup

Miniature Marshmallows
Instructions
Preheat the oven to 400 degrees. Wash the sweet potatoes, scrubbing them well to remove any of the dir. With a fork, prick the sweet potatoes in a couple of spots and place them on a sheet pan. Bake for about 45 minutes, or until a knife inserted in the center goes in easily.

In a large bowl, mix the butter, brown sugar, and flour together until it's crumbly looking. Add the cinnamon, salt, pecans, and marshmallows; fold the streusel topping together to combine.

Slice the sweet potatoes lengthwise down the center and push the ends towards the middle so it opens up. Stuff the sweet potatoes generously with the streusel topping and return to the oven. Bake for another 20 minutes or until the topping is bubbly and brown.

Alternately, mash the cooked sweet potatoes and spread in a baking dish. Cover with streusel topping and bake 20 minutes. If making the sweet potatoes this way, you will only need 1/2 of the streusel recipe.
2010 Recipe – Calla Ferre – From Tyler Florence, Food Network