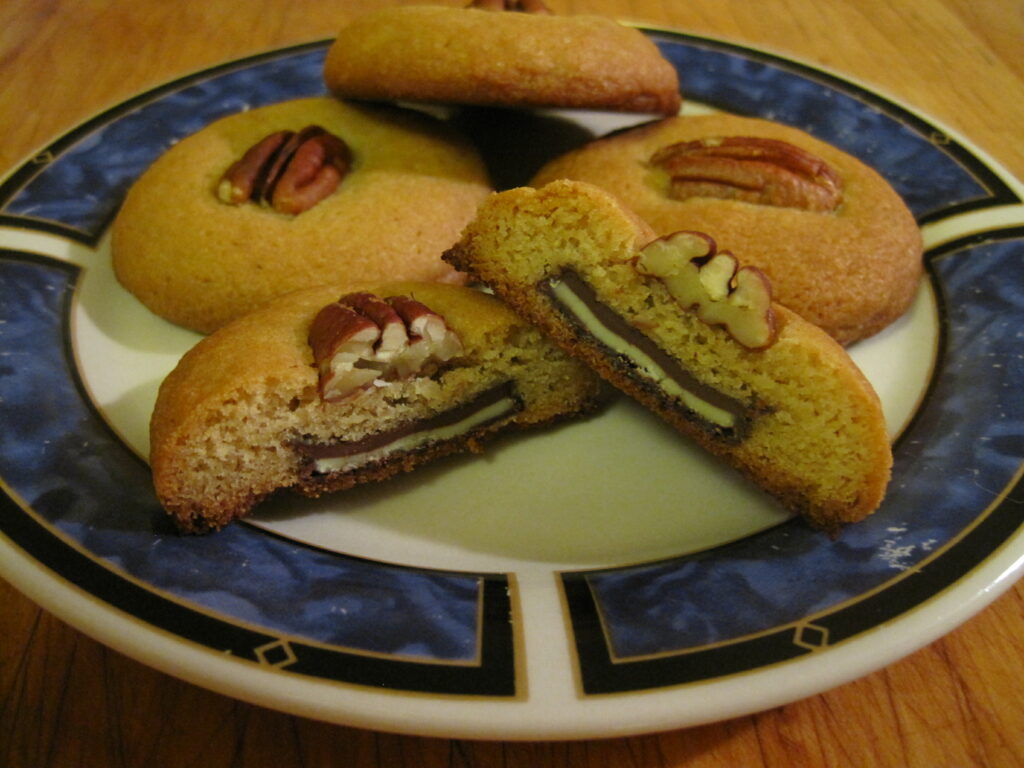 "This was a prize winning recipe from a contest specifically utilizing 'Rockford Chocolate Mint Wafers. It was one of the first cookies to feature a candy at its center, and was one of my son, Scott's favorites." – Jean Hansen
Starlight Mint Supreme Cookies
Ingredients
3

Cups

Flour

Sifted

1

Teaspoon

Baking Soda

1/2

Teaspoon

Salt

1

Cup

Butter

1

Cup

Sugar

1/2

Cup

Brown Sugar

Firmly Packed

2

Eggs

Unbeaten

2

Tablespoons

Water

1

Teaspoon

Vanilla

1

Package Andes Creme De Menthe Thins

Walnut or Pecan Halves
Instructions
Sift together flour, baking soda and salt. Cream butter, sugar and brown sugar. Blend in eggs, water and vanilla; beat well. Add dry ingredients; mix thoroughly. Cover and refrigerate at least 2 hours.

Enclose each chocolate mint wafer in about 1 tablespoon of chilled dough. Place on greased baking sheet about 2 inches apart. Top each with a walnut half. Bake in moderate (375 degree) oven for 10 to 12 minutes. Makes 4 1/2 dozen cookies.
Notes
This recipe originally called for Rockwood Chocolate Mint Wafers, and was wonderful too, with Rockwood rum chocolate wafers … or Rockwood mild chocolate wafers. Unfortunately, the Rockwood Chocolate Factory is long gone, and nobody makes them anymore. Andes Mints are the best substitution.
1950s Recipe – Jean Hansen – A Pillsbury Grand National Prize Winner