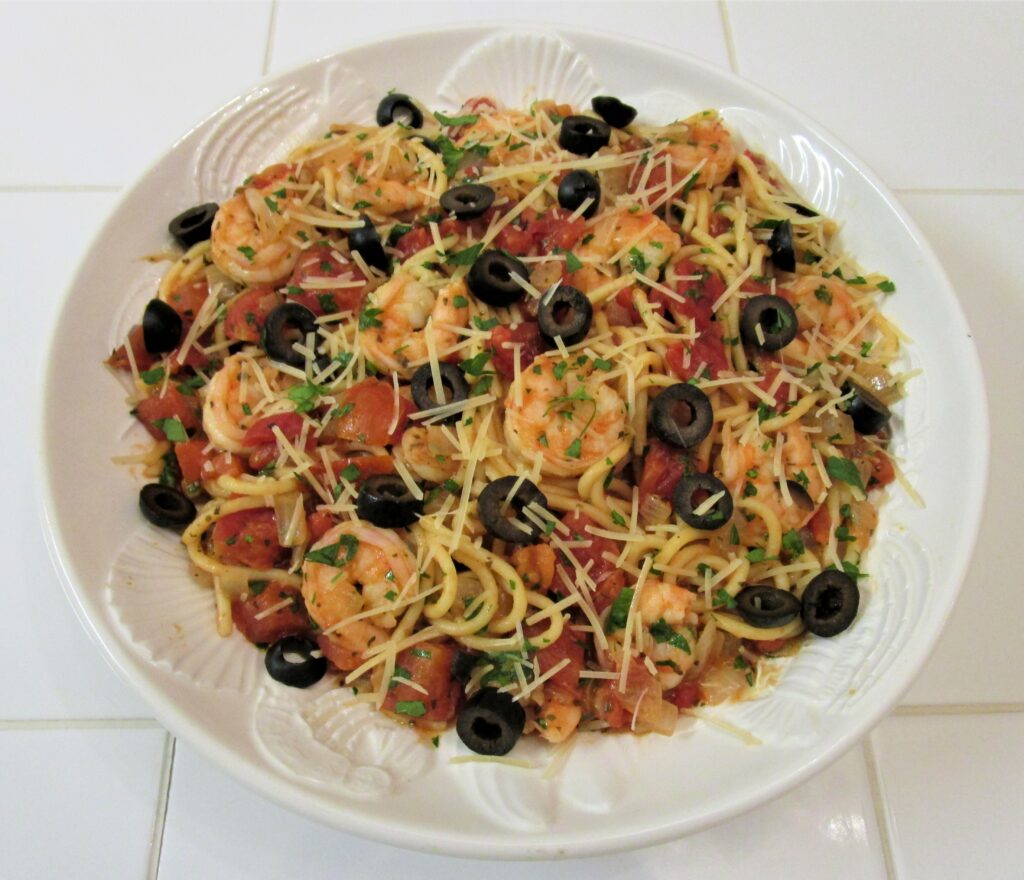 "My Grandma would occasionally baby sit my brother, Tom, and I when we were little. Spaghetti is generally thought of as kid friendly, but one day she served this gourmet style recipe. Well, it was a bit too spicy for a kindergartner, and I was too scared to tell her. She served watermelon with it, but that quickly ran out. I had a glass of water, but I didn't care much for water. So being the genius child I was I started dipping the watermelon rind in the water and then sucking on it. Well, Grandma was a stickler for table manners and what I was doing was a no-no. So I got in a little trouble. But now, looking at this recipe, it looks darn good! Maybe I'll have to give it another chance.
Update: Now 30 or so years later I have made this dish again to photograph for the cookbook. It is interesting how different taste buds are when you are a kid and when you are an adult. I remember as a kid my mouth on fire (maybe my Grandma spiked it somehow?!), because this is quite mild!" – April Ferre
Shrimp Spaghetti with Black Olives
Ingredients
8

Ounces

Uncooked Vermicelli

1/3

Cup

Olive Oil

1 to 1 1/2

Pounds

Fresh Medium Shrimp

Peeled & Deveined

1

Cup

Chopped Onion

3

Cloves

Garlic

Crushed

2

16-Ounce

Cans Tomatoes

Undrained & Chopped

2

Teaspoons

Dried Basil

1/2

Teaspoon

Salt

1/4

Teaspoon

Pepper

1/2

Cup

Chopped Fresh Parsley

3/4

Cup

Sliced Ripe Olives

3

Tablespoons

Grated Parmesan Cheese
Instructions
Cook vermicelli according to package directions; drain and set aside.

Heat oil in a large Dutch oven over medium high heat. Add shrimp, onion, and garlic; cook, stirring constantly, 5 minutes or until shrimp are pink. Remove shrimp and set aside.

Add tomatoes, basil, salt and pepper; bring to a boil. Cook, uncovered, 5 to 7 minutes.

Add vermicelli, shrimp, and parsley; toss until mixture is well coated. Transfer to serving dish. Sprinkle with ripe olives and Parmesan cheese. Makes 6 servings.
Notes
I find that too much parsley can be overpowering, so I usually cut the amount in half. 
1986 Recipe – Jean Hansen