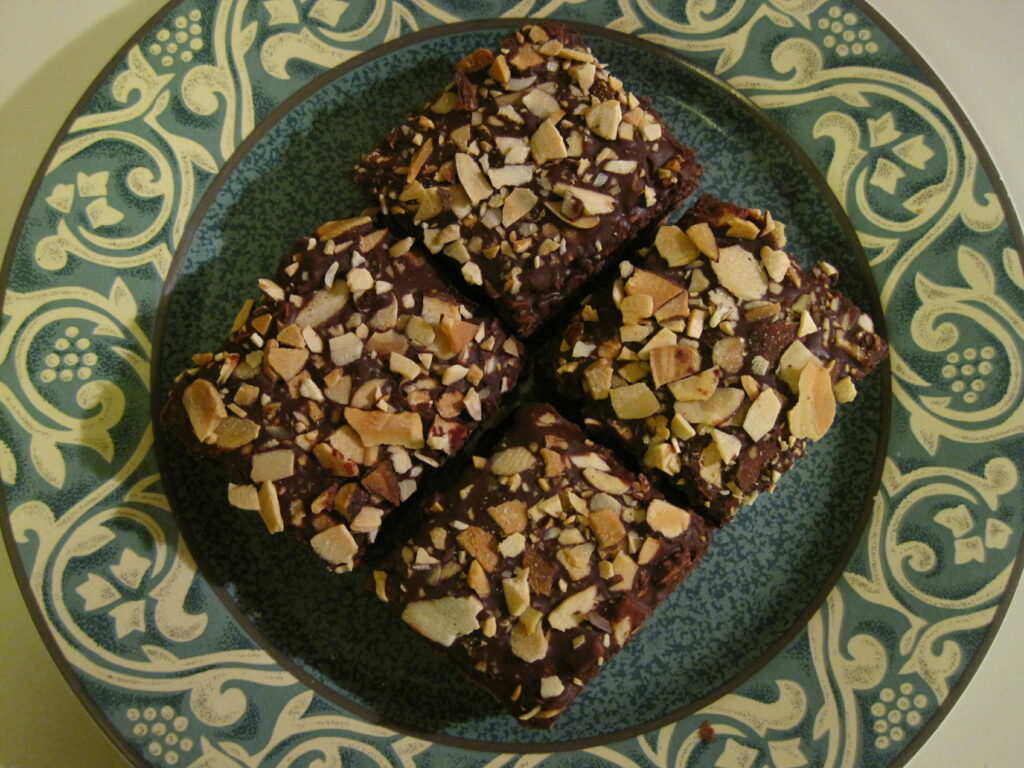 "One of our neighbors at Harvard Forest was Bob and Audrey Pope. After finishing the Forestry program, we went to Houston, Texas, and the Popes went to Maine. Then we both ended up working for the State of Oregon in Salem, and we became next door neighbors again! This was one of Audrey's recipes that she made during Christmas time." – Jean Hansen
"Another holiday favorite in our house growing up." – Calla Ferre
"These always feel like a special treat. They satisfy almost like candy." – April Ferre
Scotch Toffee Cookies
Ingredients
1/2

Cup

Butter

Melted

2

Cups

Quick Oatmeal

1/2

Cup

Brown Sugar

1 1/2

Teaspoons

Vanilla

1/2

Teaspoon

Salt

1/4

Cup

Dark Corn Syrup or Honey

1

Cup

Semi-Sweet Chocolate Chips

1/4

Cup

Nuts

Finely Chopped
Instructions
Pour melted butter over oatmeal and mix together. Add sugar, salt, corn syrup and vanilla. Blend. Pack firmly into well greased 8×8 pan.

Bake at 400 degrees for 12 minutes. Cool 3 to 4 minutes and loosen edges with spatula. Turn pan upside down, pound bottom to loosen. Cut in half and spread layers with topping.

Topping: Melt chocolate chips. Spread one layer with chocolate. Lay other half on top. Spread top with chocolate and sprinkle with nuts. Cut while still warm into bars.
1949 Recipe – Audrey Pope