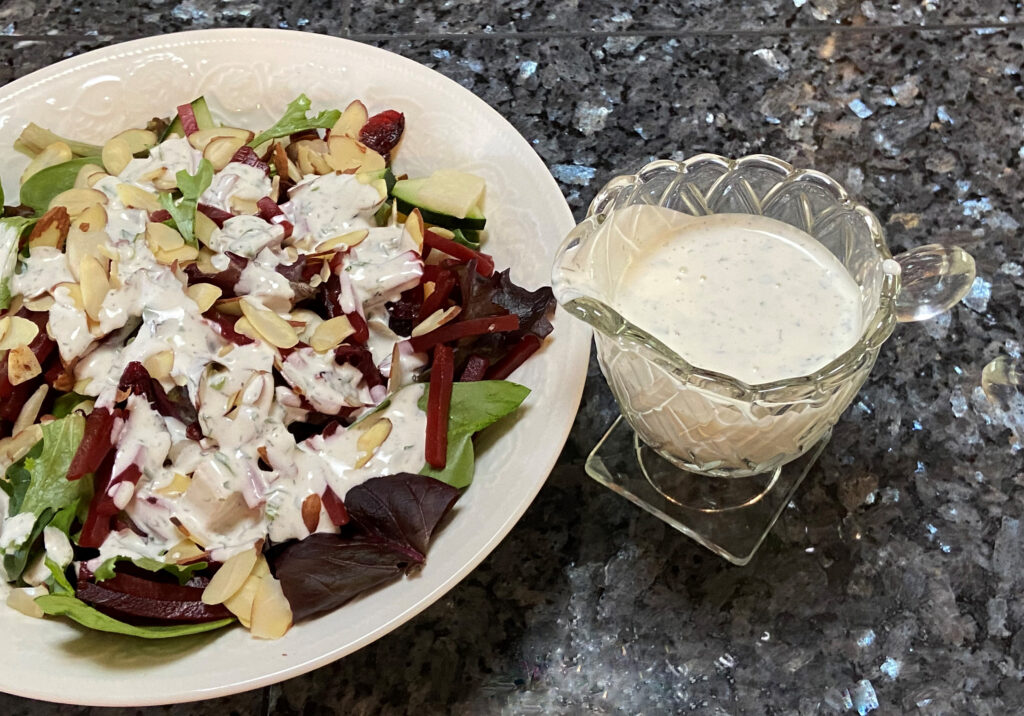 "Very good Ranch dressing! As always fresh is the tastiest, much better than the bottled variety. I checked out some recipes on the web and took what I thought was the best of the different ones and added my own twists to get the recipe to my liking. " – Calla Ferre
Ranch Dressing
Ingredients
1/2

Cup

Milk or Half & Half

Room Temperature

2

Tablespoons

Lemon Juice

1/2

Cup

Sour Cream

1/2

Cup

Mayonnaise

2

Tablespoons

Parsley

Chopped

2

Tablespoons

Green Onions

Chopped

1/4

Teaspoon

Granulated Onion

1/2

Teaspoon

Granulated Garlic

1 1/4

Teaspoon

Dried Dill

1/4

Teaspoon

Salt

2

Teaspoons

Lemon Juice

Or To Taste
Instructions
Sour milk or half and half with 2 Tablespoons lemon juice for approximately 10 minutes until it curdles. This will take longer if it is cold. Alternatively, use 1/2 cup buttermilk.

While the milk is souring, combine the rest of the ingredients. Add soured milk once it has curdled.

Allow flavors to mellow, overnight is preferred.
2021 Recipe – Calla Ferre