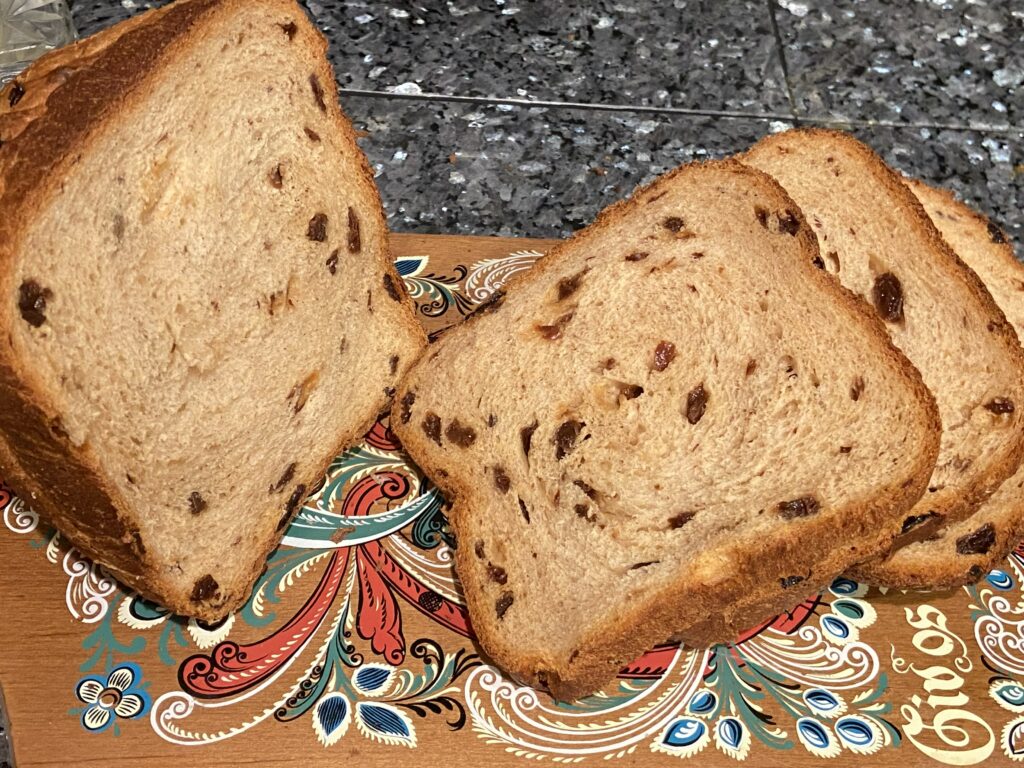 Raisin Bread (Bread Machine)
Ingredients
1

Cup

Plus 2 Tablespoons Water

3

Cups

Bread Flour

1 1/2

Teaspoons

Salt

3

Tablespoons

Sugar

1 1/2

Tablespoons

Butter

1 1/2

Tablespoons

Dry Milk

1

Teaspoon

Cinnamon

1 3/4

Teaspoon

Dry Yeast

1

Cup

Raisins
Instructions
Put all ingredients except raisins in the bread pan. Insert the bread pan into the bread machine.

Select the mix bread function (or equivalent) and press start. When the beeping starts during kneading, sprinkle in raisins.

At the end of the baking cycle, remove the bread pan and turn upside down to remove loaf.

Makes 1 large loaf. See table below for ingredient proportions for small and medium loaves.
Notes
These are general bread machine directions and methods may vary between bread machines. Consult your owners manual for more detailed instructions specific for your machine.
| Ingredients | Medium Loaf | Small Loaf |
| --- | --- | --- |
| Water | 3/4 Cup | 1/4 Cup Plus 2 Tablespoons |
| Bread Flour | 2 Cups | 1 Cup |
| Salt | 1 Teaspoon | 1/2 Teaspoon |
| Sugar | 2 Tablespoons | 1 Tablespoon |
| Butter | 1 Tablespoon | 1 1/2 Teaspoons |
| Dry Milk | 1 Tablespoon | 1 1/2 Teaspoons |
| Cinnamon | 3/4 Teaspoon | 1/2 Teaspoon |
| Dry Yeast | 1 Teaspoon | 1/2 Teaspoon |
| Raisins | 1/2 Cup | 1/4 Cup |
| | | |
2021 Adapted Recipe – Calla Ferre