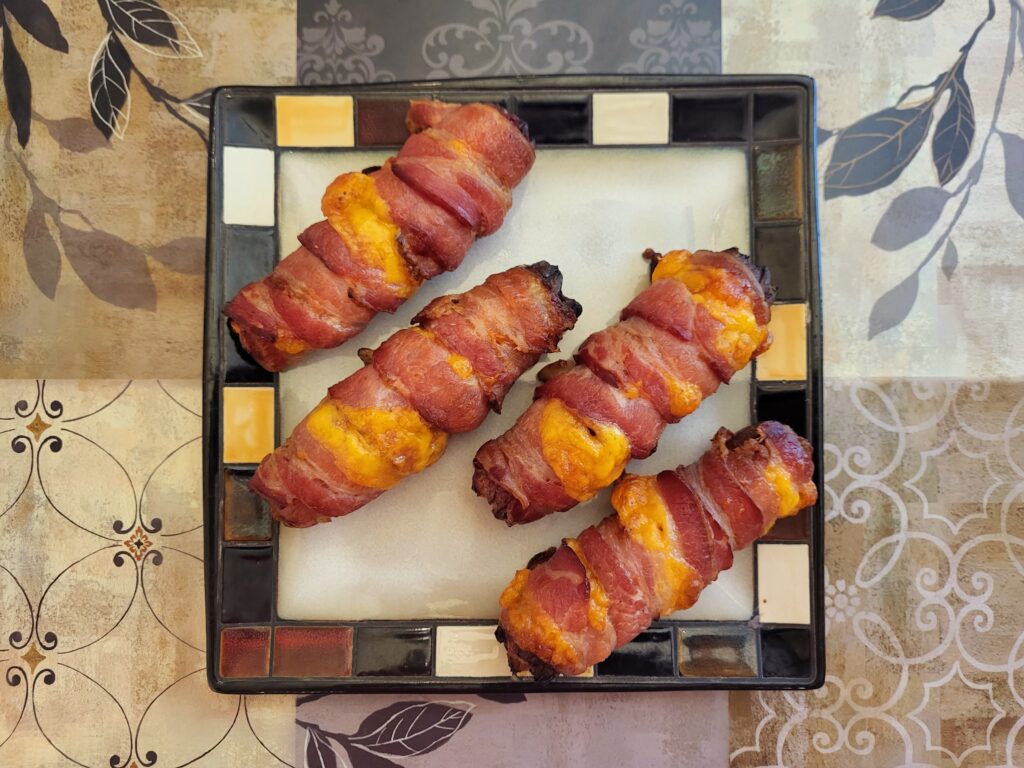 "My Mom would make these for us when we were kids. And when I had kids, I continued the tradition." – Calla Ferre
"Getting the cheese to stay put in these is always a challenge, but even if it doesn't these are still really tasty. I grew up eating these with a knife and fork, it never dawned on me to put them in a hot dog bun until I was searching the internet for tips on keeping the cheese stuffed inside. Sweet-Hot mustard goes great with the salty bacon!" – April Ferre
Pigs (Bacon-Wrapped Stuffed Hot Dogs)
Ingredients
Hot Dogs

Cheddar Cheese

Thin-Sliced Bacon Strips

Hot Dog Buns

Optional
Instructions
Slice hot dogs lengthwise 3/4 of the way through and not quite to the ends, forming a pocket.

Place pieces of cheese in the pocket.

Wrap hot dog with two slices of bacon to hold in cheese; secure bacon with toothpicks.

Broil in oven, 3 inches from heat until cheese has melted and bacon is cooked.

Alternatively, preheat oven to 400 degrees, place pigs on a baking sheet with a wire rack, and bake approximately 30 minutes until bacon is cooked.
Recipe – Jean Hansen