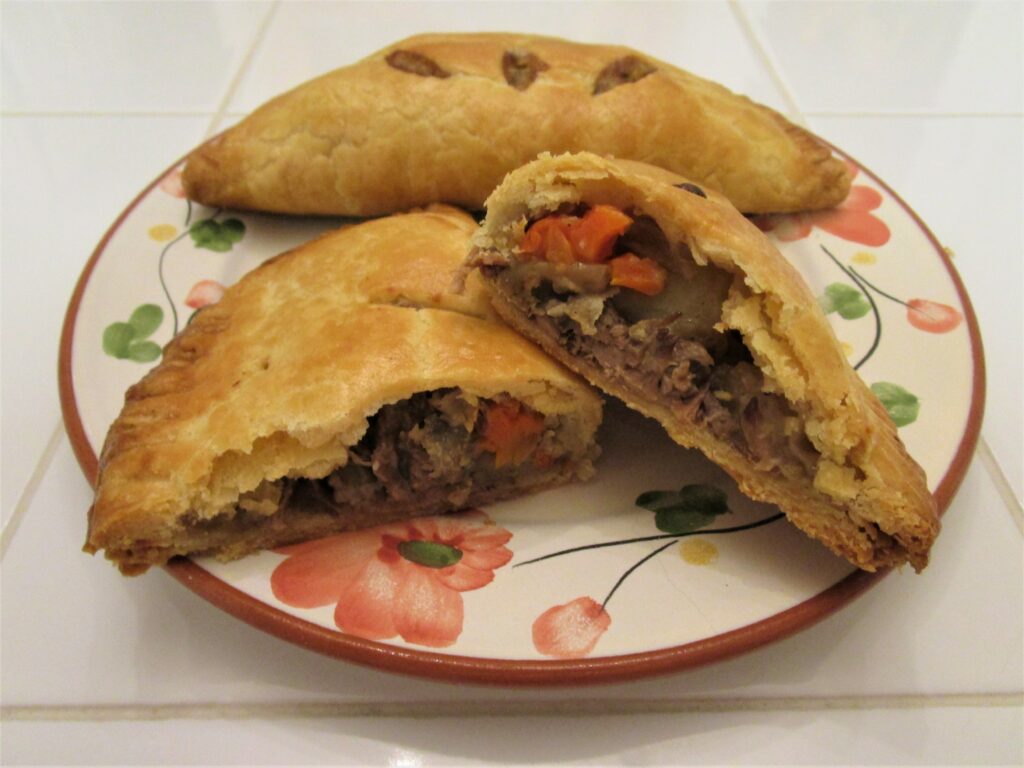 "This is a very old recipe. It came from the Griswold side of the family in England where they worked in the coal mines." – Jean Hansen
"My mom used left over roast beef to make these. My husband, Steve, likes them with extra gravy. When you make them, keep the gravy cold, so it is easier to seal more into the pies." – Calla Ferre
Pasties
Ingredients
3

Cups

Flour

Sifted

1 1/2

Teaspoon

Salt

1

Cup

Shortening

6

Tablespoons

Water

Left Over Roast Beef

Cut Into Bite Size Pieces

Left Over Gravy

Potatoes

Peeled & Cubed

Carrots

Sliced

Onion

Salt

To Taste

Pepper

To Taste
Instructions
Mix together flour and salt. Cut in shortening. Sprinkle with water and form into ball. Divide into five portions.

Roll out five circles of crust. Place filling of roast beef, potatoes, carrots and onion on half of each pastie. Add salt and pepper.

Moisten with left-over gravy. Fold and crimp edges as for pie crust. Bake at 350 to 375 degrees for about 1 hour.
This recipe originally came from England and has been used in the Stacker/Hansen family ever since we can remember.