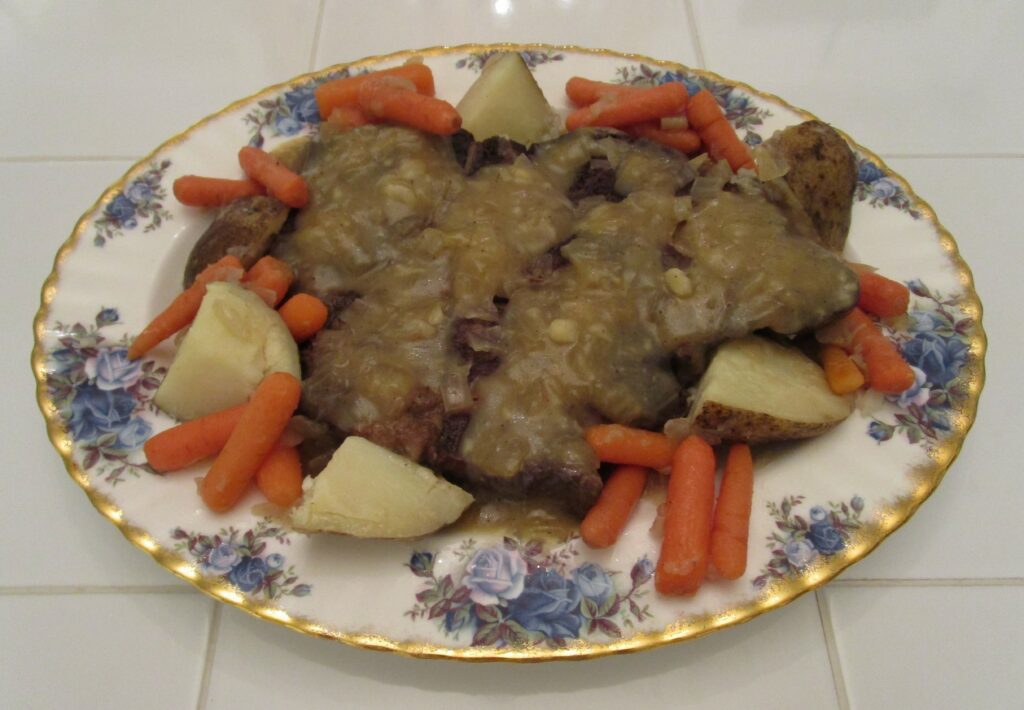 "My Mom makes the best pot roast! Somehow, it took awhile for us to realize the recipe wasn't in our cookbook, so this recipe is a lot older than 2017." – April Ferre
Mom's Pot Roast
Ingredients
Chuck Roast

Salt & Pepper

Olive Oil

To Cover Bottom of Pan

1 to 2

Bay Leaves

Onions

Chopped

Carrots

Potatoes

Flour or Cornstarch for Thickening
Instructions
Remove any visible fat from sides of meat. Season meat with salt and pepper. Brown meat in deep frying pan that has been heated with olive oil in it. Brown well; dark brown, but not black. The darker brown will help color your gravy. At this point you have to decide if you are cooking on the stove top or in the oven. Both end up with equally good results.
If cooking on the stove top:
Add water to near the top of the fry pan, it does not need to cover the meat. Cover meat with chopped onion, half on top and half on sides in water. Chances are you will need at least one full onion, maybe one and a half for a 3 to 4 pound piece of meat. You can vary the amount of onion to your own taste.

Before adding bay leaves, break in a couple of places to help release oils. Bay leaves will be removed before serving, so for easier removal break in a manner so that the vein of the leaf remains intact.

Simmer with pan covered until done, there is no need to turn meat over. Watch to make sure pan does not go dry. Allow enough water to evaporate to make room for adding vegetables.

When meat is done it will be very tender and nearly ready to fall apart. This should take approximately 3 hours. Time will vary according to size and thickness of meat.
If cooking in the oven:
Place meat in a 9×13-inch pan (use a smaller pan if roast is small.) Choose a pan that allows for roast and just enough room to have vegetables placed around it and so that the liquid needed to cook does not dilute juices that will be used for gravy.

Then proceed with adding water to the pan and add ingredients the same as if done in a fry pan. When adding water keep in mind you will be adding vegetables, so do not over fill. Not much, in any, water will evaporate when cooking in oven. Remember, you do not need to cover the meat with water. Cover pan with foil during cooking.
For both methods:
Half way through cooking, add carrots and potatoes. Do not over load pan with carrots; cook only the amount that you will be using. Too many carrots will change the taste of the gravy. Use baby carrots or cut whole carrots to this approximate size. Small potatoes can be left whole, but larger ones should be halved or quartered.

You will need to watch carrots and potatoes so that they do not over cook. If vegetables are done before meat, remove from the pan. These can be added back to reheat when meat is done or reheated in the microwave before serving.

Before serving, remove bay leaves and discard. Remove meat and vegetables and place on a serving platter.

Thicken juices with flour or cornstarch to make gravy. If using cornstarch for thickening (making this a gluten free meal) then add a splash of milk to make gravy look more traditional.
2017 Original Recipe – Calla Ferre